International Day of Climate Action Celebrated at California's Phantom Spires
Heading out the door? Read this article on the new Outside+ app available now on iOS devices for members! Download the app.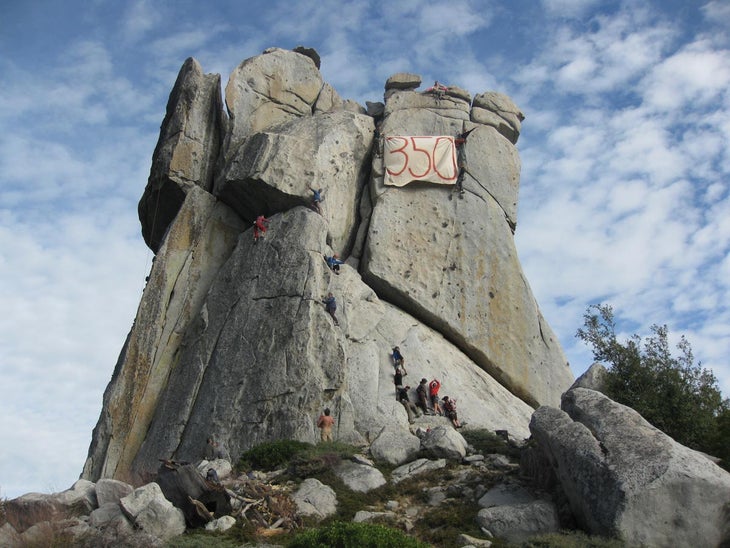 On Saturday October 24th, a bunch of friends and I got together to participate in the 350.org campaign while climbing in South Lake Tahoe (and celebrating my friend Katie's birthday). People, communities and countries all over the planet were asked to recognize this day by hosting an event or taking a picture to symbolize the need to reduce atmospheric carbon to below 350 parts per million which is a safe and sustainable level.
We are currently at 390 and progressive policies are needed to curb this level by all governments the world over. Our participation included a big big sign which we hung from the top of one of the Phantom Spires, Candyland (5.10c) – a monolithic structure which matches the measures we need to take but a beautiful formation which is a metaphor for the world we live on.
About 350:350.org is an international campaign dedicated to building a movement to unite the world around solutions to the climate crisis — the solutions that science and justice demand. On 24 October, people in 181 countries came together for the most widespread day of environmental action in the planet's history. At over 5200 events around the world, people gathered to call for action on the climate crisis. Over 22,000 photos have been submitted so far! See them all on Flickr.com
Did you take part in 350: International Day of Climate Action? Upload your photos here!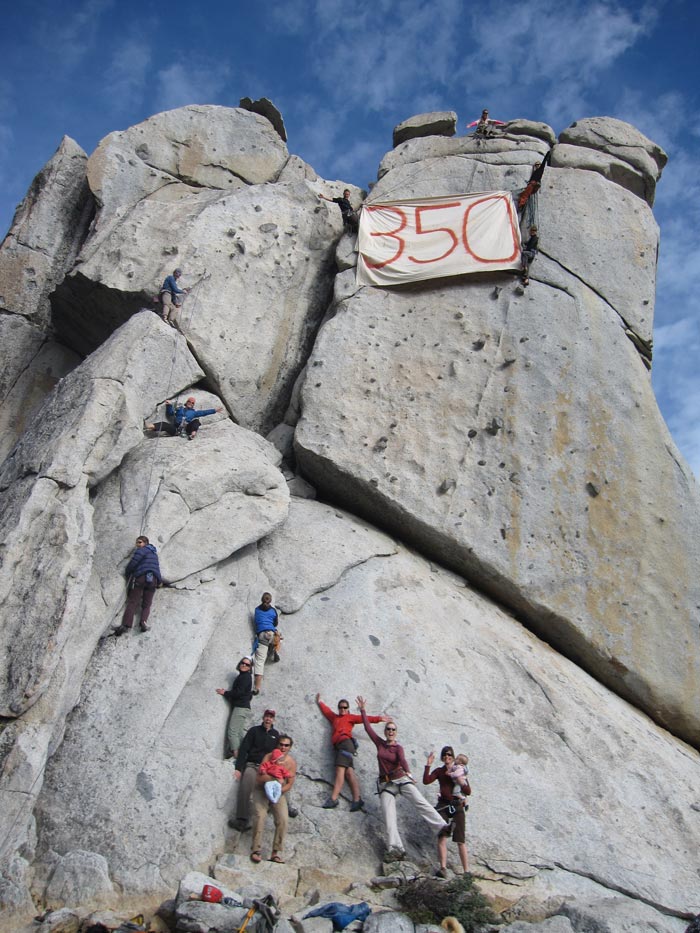 More about 350: What does the number 350 mean?350 is the most important number in the world — it's what scientists say is the safe upper limit for carbon dioxide in the atmosphere. Two years ago, after leading climatologists observed rapid ice melt in the Arctic and other frightening signs of climate change, they issued a series of studies showing that the planet faced both human and natural disaster if atmospheric concentrations of CO2 remained above 350 parts per million. Everyone from Al Gore to the U.N.'s top climate scientist has now embraced this goal as necessary for stabilizing the planet and preventing complete disaster. Now the trick is getting our leaders to pay attention and craft policies that will put the world on track to get to 350.
Is 350 scientifically possible?Right now, mostly because we've burned so much fossil fuel, the atmospheric concentration of co2 is 390 ppm — that's way too high, and it's why ice is melting, drought is spreading, forests are dying. To bring that number down, the first task is to stop putting more carbon into the atmosphere. That means a very fast transition to sun and wind and other renewable forms of power. If we can stop pouring more carbon into the atmosphere, then forests and oceans will slowly suck some of it out of the air and return us to safe levels.
Is 350 politically possible?It's very hard. It means switching off fossil fuel much more quickly than governments and corporations have been planning. Our best chance to speed up that process will come in December in Copenhagen, when the world's nations meet to agree on a new climate treaty. Right now, they're not planning to do enough. But we can change that — if we mobilize the world to swift and bold climate action.
Visit:350.org for more