Interview: Adam Ondra On What It Took to Climb the World's First 5.15d
Ondra talks about his groundbreaking ascent, and why he named the world's first 5.15d Silence.
Heading out the door? Read this article on the new Outside+ app available now on iOS devices for members! Download the app.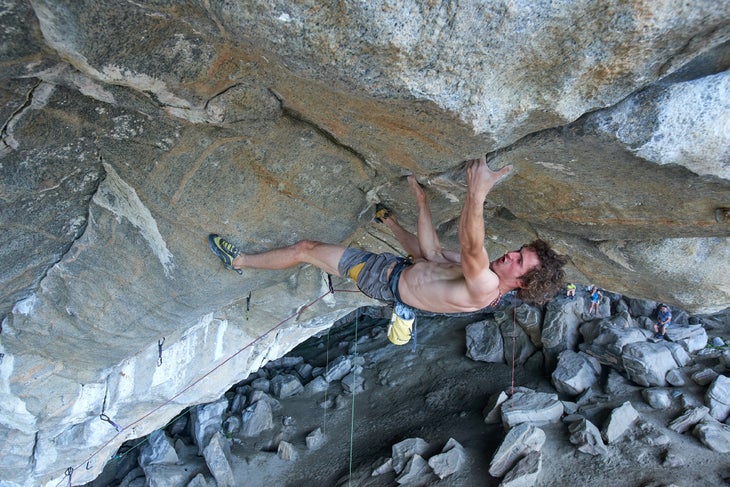 Watch most any video of phenom climber Adam Ondra and you may want to turn the volume. His scream is his trademark. It echoes through groundbreaking ascents like his 2014 onsight of the 9a (5.14d) route Il Domani (Tomorrow) in Balzola, Spain and 5.15c redpoints like Change and La Dura Dura. The guttural roars releases from his lungs as he engages through the cruxes.
"I shouldn't' scream more than 10 times per route," he said with a smile over Skype. "I try to reduce the screaming until I get to the crux. I think about which moves I will scream, and which ones I will not." He grinned through the entirety of our one-hour conversation.
Conversely, he didn't release his legendary shrieks while completing the 45-meter Project Hard, on September 3, which he has named Silence.
The route required four years of work spread over seven visits , including five weeks this summer. The crux of the line ascends a radically overhanging 10-move V15 crack feature.
Ondra, from Brno, Czech Republic, climbed (9a) 5.14d at age 13. He's now climbed more than 140 routes at that grade or higher, and more than 25 rated 5.15a or higher. He's won Gold three times at the World Championships, and in 2012 was the first to climb 9b+ (5.15c), with his route Change. Many consider him the best climber in the world.
Strøm, Flatanger in northwest Norway, home of the Hanshelleren Cave (Han's Cave), has more than 50 granite routes and contains some of the hardest lines in the world. Development of the area has gone on for 20 years,. Due to its proximity to the Arctic Circle, summers here have 24-hour daylight. The main cave contains a 260-foot overhanging wall with a 160-foot headwall.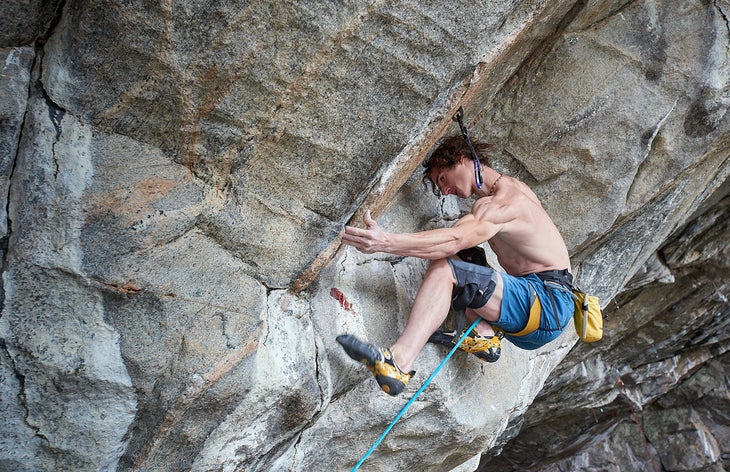 At 7 a.m. in Norway we chatted. The following interview is edited for clarity.
You're not a morning person but here you are on the phone with us at 7 a.m.
Adam Ondra: It's a rest day and we want to make a trip to the Hanshelleren Cave in Flatanger, and I still have all these interviews to do. We have a scheduled flight for the 15th. We have the camera crew here. In the meantime, I'm trying another 9b+ project that I bolted.
Have you decided on a name for Project Hard yet?
I decided yesterday. It's called Silence.
I had to look for a name that would be simple and easy to remember. If I came up with something complicated people would still call it Project Hard. I was surprised how quiet I was. I was so much in the rhythm and the harmony that it kind of felt silent. I usually feel at war when I am my limit.
Tell us about your cadence while climbing this route.
It's very difficult on this route to have a rhythm. Those 10 crux moves are very [demanding]. I never thought I could climb through the crux so fast.
It's 25 meters of pretty easy climbing [5.13+], with a sprint up to the knee bar. You have to relax 100 percent on the knee bars, which are bat hangs. It's climbing mode, then relax mode, and then at the last knee bar to the crux you have to switch to fighting mode. But at the crux I forgot to turn on the fighting mode. I have no clue how I did it that way. I thought there was no way I could do it that relaxed.
Precision is everything. I think I tried this section 2,000 times for sure. Every time it felt so different. A lot of foot jams and finger locks.
The route Change, also in the Hanshelleren Cave, was the first 9b+ (5.15c). Silence is the first 9c. What other routes did you bolt there?
Change was the first one I bolted there. I came back and bolted 10 different routes including Project Hard and Project Big. Project Big is not the line I'm trying next. Project Big is massive, maybe not harder [than Silence] but it is stacked with boulder problems. Project Hard had one super hard boulder problem in the middle of the route.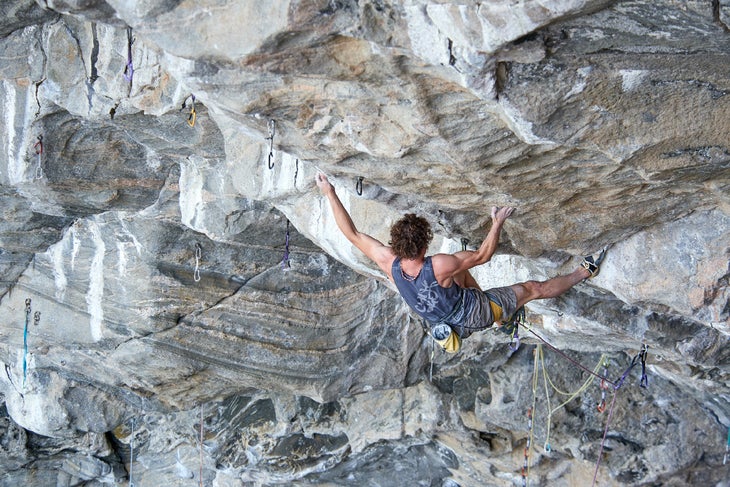 You've said: "Doing something easily does not really make any impact on your life. That's why a challenging goal is what really motivates me, or frustrates me. Or both—you can hardly have one without the other." How did that apply to Silence?
During the process there were lots of ups and downs. I could do all the moves on my first trip but it took four trips to link the moves. With every trip, I thought it was harder and harder. But at the same time the journey was easy. I was moving quite well on the project. And then the moment when I was like, wow, I can do this was on the last trip in July. And I sent it on the first day of this trip. The route never went into the nightmare mode even though it took seven trips.
I will always remember it. All those trips helped me define the tiny details and [helped me get] the route more and more dialed.
It's the most important route in my climbing career. It was so much about precision and not just about how good you feel and luck. After so many times of trying the route, I minimized the luck—it was in the memory of my finger muscles and my feet. And then I would visualize the moves. Every time I made the sequence I would visualize how it felt and remember it all over again.
You trained your side abs and calves for this route, right?
For sure with calves. [Doing so] helped me go from 15 seconds in inverted knee bars last year to 4 to 5 minutes during the actual ascent. It's natural that if you hang upside down for that long you don't feel very good, but your body gets used to it and [eventually] your head doesn't feel so full of blood.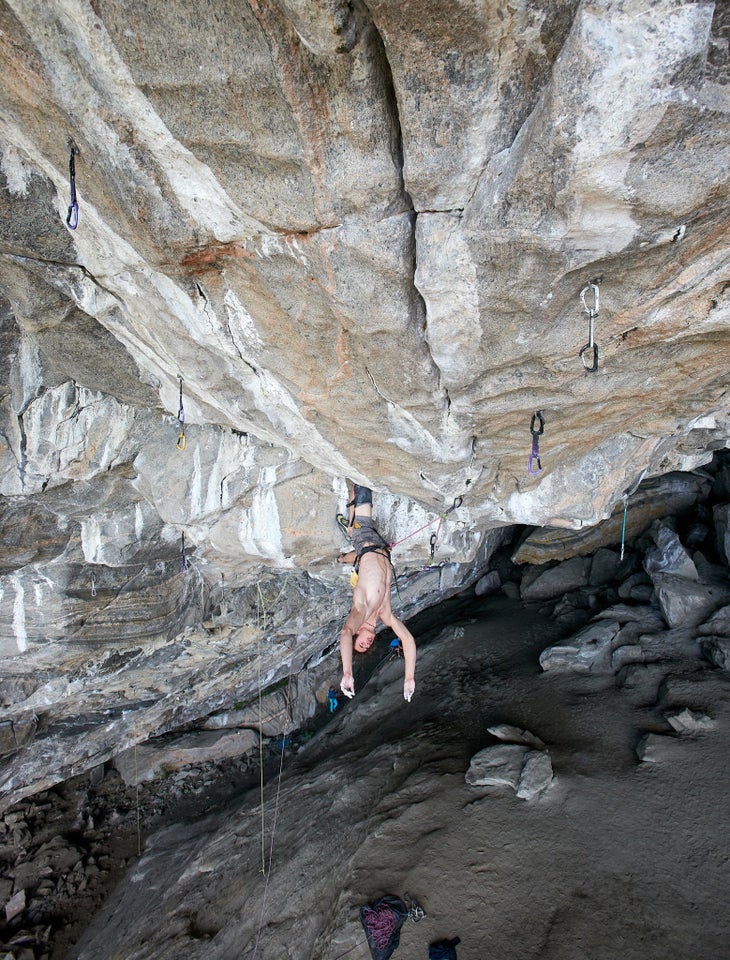 That's what the climbing is all about on Silence: The ability to rest 100 percent and climb hard through sections to the next rest.
What's it like working with your team? You've recruited Patxi Usobiaga as your coach, Klaus Isele as your physiotherapist, Pavel Blažek as your business manager and Zuzka Musilová as your media and schedule manager.
Since I came back from the Dawn Wall [2016], the media frenzy became too much. Having a manager and PR agent is very helpful—without them, I wouldn't have the time to train and climb. Patxi and Klaus help me get better.
How did you self-coach yourself before Patxi?
I was already coaching myself when I was 8, 9 years old. I was always thinking about training, building more endurance and preparing for comps. I thought through trial and error I could find a way that worked.
When I was 8 [when he onsighted 5.12c], I thought climbing was the best thing ever. That's when I decided that's what I wanted to be [a climber] and ever since then I've done everything I can do to follow that dream, but at the same time, it didn't feel like a sacrifice. I would go to the gym 2 to 3 hours a day and I went there with all the excitement I could have.
I think many kids these days have climbing programs when they're young. That adds pressure and takes away fun. I didn't have that; I just climbed with my feeling and fun and developed an approach. It's much more important to develop the right climbing technique, which only happens when a kid is having fun. With more climbing more power will happen.
In the end, it's better to have a coach to consult and train—two is better than one.
What drives you?
I love being out there and feeling the air below my feet. What drives me to train and work so hard? When I see routes in the [Hanshelleren Cave], 8a's, Silence looks so much cooler. I have [a better time] on the harder routes than on the easy ones. How it feels to be so fit and flow up those routes— it's addictive.