The Problem is "Unchanged by the Number": Aidan Roberts on the 2nd Ascent of Alphane
On October 20, Aidan Roberts made the second ascent of "Alphane," a V17 established by Shawn Raboutou in Switzerland last spring. We caught up with Aidan to chat about it.
---
Join Climbing
Create a personalized feed and bookmark your favorites.
Join Climbing
Create a personalized feed and bookmark your favorites.
Join for free
Heading out the door? Read this article on the new Outside+ app available now on iOS devices for members! Download the app.
By my count, six boulder problems have credibly worn the V17 grade. Of those six problems, three remain unrepeated,* two have been downgraded by at least one subsequent ascensionist,** and one… well, one of them—Shawn Raboutou's Swiss masterpiece, Alphane—was repeated two weeks ago by Aidan Roberts, who says its his hardest problem to date. 
*Burden of Dreams by Nalle Hukkataival, The Return of the Sleepwalker by Daniel Woods, and Megatron by Shawn Raboutou, though Shawn has not publicly confirmed having sent this last problem.
**Both Ryohei Kameyama and Nico Pelorson downgraded Charles Albert's No Kpote Only, with Kameyama proposing V16 and Pelorson ("with climbing shoes and optimized beta") solid V15. Nico Pelorson has also proposed V16 for Simon Lorenzi's Soudain Seul, though Camille Coudert, who nabbed the third ascent, thinks V17 might be accurate.
But who is Aidan Roberts?
---
Aidan Roberts, now 24, is one of the strongest climbers the UK has ever produced. He grew up in Northern England's Lake District and began his career as a comp climber, competing in international youth comps and, later, in a number of Boulder World Cups.  Though he "really enjoyed the social aspect of those competitions," he lived an inconvenient distance from any major training facilities and did most of his climbing alone, on a 50-degree overhanging home wall, a board whose small wooden holds very much influenced the static, strength-based climbing style that has served him so well on real rock.
He climbed outside only intermittently during those early years, bouldering in the Lake District when weather allowed and slipping in short trips to Fontainebleau and Magic Wood between competitions around Europe. His first long climbing trip was to Rocklands in the summer of 2018, where he sent, among other things, Monkey Wedding (V15), Amandla (V14, 3rd try), Oliphants Dawn (V14, 3rd try), and Bloody Mary (V14). It was the first time he realized "how much fun I could have climbing outside." 
The next summer, on vacation from his studies at the University College of London, Roberts traveled to the U.S. for the 2019 Vail World Cup. He intended to dedicate the two weeks preceding the comp to training in the gym, after which he'd gift himself several weeks to sample Colorado's boulders. Instead, Roberts was "on the rock from the get-go," living in a bare-bones van decorated with Christmas lights and amassing an impressive list of hard ascents on the Front Range—including the first ascent of a "crimpy little board-style thing" called Railway (V15) and third-try ascents of both Jade (V14) and Ode to the Modern Man (V14). 
"That was really my transition point," Roberts told me over Zoom. "I was like 'Oh yeah, I am far more inspired by rock climbing.' "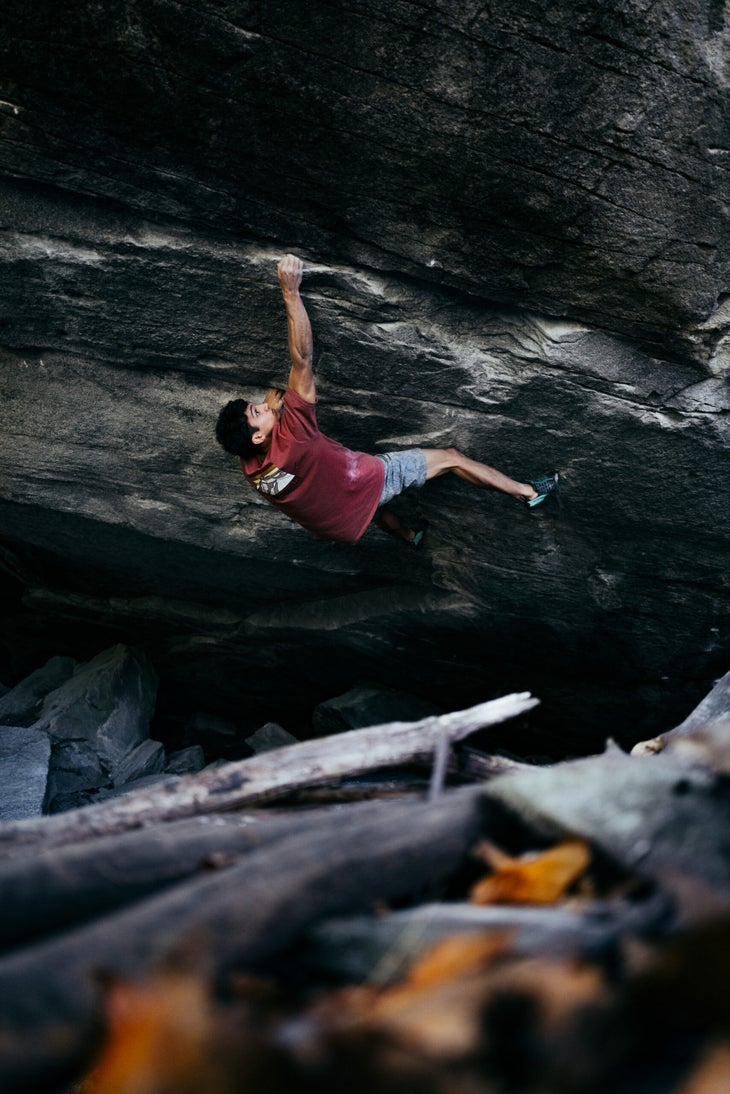 The Vail World Cup, as it happened, was Roberts's last international competition. Returning home, he did some local comps, continued his studies, and then, like everyone, found himself limited to local climbs during the early stages of the pandemic—something that made him think more about the environmental impact of his travel. 
Though he's now been full-time climbing for just over a year and a half, and therefore has much more time and seasonable flexibility for trips, Roberts is committed to "trying to keep it more local." With the exception of two pilgrimages to Europe each year—"coming overland"—he devotes much of his outdoor energy to exploring the UK where he's knocked off some of the country's hardest projects, including numerous V15s and V16s. The experience "has given me more appreciation of the quality in my locality. I've definitely found a lot of value in that." 
---
Roberts's process on Alphane began last spring, when Shawn Raboutou—who was in the final stages of projecting it—showed him the line. Though he didn't intend to dive into a project, Roberts devoted more than 12 days to the climb before conditions grew too warm and his trip came to an end. 
This October, after recovering from a finger tweak, FAing a V16 called Isle of Wonder Sit in North Wales, and training on a replica of Alphane on his home wall, Roberts returned to Chironico with Will Bosi, sending Alphane at the start of his fifth day trying the problem that trip. 
In our conversation, which has been edited for length and clarity, Roberts spoke at length about his experience on Alphane; about how trying hard boulders doesn't need to be about "enduring austerity"; about how Switzerland still has a "mind blowing" number of high quality projects; and about how, even though Alphane is his hardest boulder to date, he believes that today's strongest climbers are capable of far harder.
The Interview
Climbing: What was your personal discovery of the boulder like?
Roberts: I didn't even know the boulder existed before I went to Ticino last spring; it hadn't been done yet. But about halfway through my trip I started climbing with Shawn [Raboutou] and Daniel [Woods] and the rest of the Mellow crew. It was actually quite late on in Shawn's process on the boulder. You can see it in the Alphane video, but on my first session I was spotting when he stacked it from the very end. That was the first time I saw him on the climb, and the moves looked pretty effortless. He was just floating up this thing, and I was still just trying to figure out the moves. It was pretty inspiring. I was like "Wow, that is another level." I was just so impressed with how coordinated he was. Everything was going so smoothly.
Climbing: Did you know right away that it was something you were going to invest a lot of time into?
Roberts: I didn't really intend to project it, actually. I tried it, and I did all the moves the first session, but they felt low percentage, so I would never have actually said "this is my project right now." But the climb was so fun to try, and my progression on it was completely linear: I went from doing the individual moves to doing a move and a foot move, then two moves, then just slowly stringing it together. When every session is better than the last, it is really easy to stay motivated. I didn't expect myself to delve into the projecting process but I got sucked in.
Looking back over my time working on Alphane, that's actually the most positive thing for me. Obviously I'm glad to have done it. But the thing that feels really valuable to me now is that I just followed what I wanted to do and kind of stumbled upon it as a project. My experiences on it were overwhelmingly positive, and that has given me a lot of faith in the process. Trying to do things that feel hard for you is not just about enduring austerity. I was able to feel passionate about the climb the whole time. I didn't really realize that projecting could be like that.
Climbing: You did it rather differently than Shawn, right?
Roberts: One of the coolest things about this boulder is that it's very physical, but it's also very complex and intricate. There are so many methods, so many different ways to do each move—and every one is a bit of a puzzle. The way I do it is quite different from the way Shawn did it—at least for a couple of the moves. My way you get a little more extended out of your feet, and you do one slightly harder move, but you save yourself from having to do some foot moves, which worked better for me. My endurance is pretty bad, so cutting time was crucial.
Climbing: Talking with Tom Randall on the Lattice Podcast you estimated nearly 20 days on the problem. Was this your longest project?
Roberts: For sure. This is far and away the longest I've ever spent on a climb. Before this I think it was like ten sessions [on Superpowers, a V16 in the Lake District, UK] which is still quite a few. But those ten sessions were spread out over four years. You have to have a very different mindset to try something solely. And it's especially hard in Ticino where there are so many amazing boulders and yet you're like "I'm going to remain focused on one thing even though my dream climb is just over there." For me to commit to that, I felt like I had to find something that was really fun for me.
Climbing: I know you don't want the grade to be the focus here. But you've established some very hard boulders in the UK, and I was wondering: Is Alphane the hardest boulder you've done?
Roberts: Yeah, I think it is. It's weird; it's very consistent in its difficulty. It's definitely not the hardest moves that I've done. But that's not the crux of this boulder. The crux is the transitions. They build heavily. They're complex and they're very physical and your body has to stay coordinated the whole time under a lot of tension. So that's definitely the difficulty of Alphane. So I do think it's the hardest thing that I've done—and it's taken me like twice as long as anything else. 
But I don't feel that I have the experience to comment that much on the grade. I feel like those guys who collectively graded it have so much more experience. It's quite liberating. Maybe some people will comment on the grade in the future, but I don't mind so much. The thing that I've done is unchanged by the number. I learned so much and had such a positive experience; whether it's 9A or 7A doesn't matter.
Climbing: Did you ever fall off the end like Shawn did? 
Roberts: No, I didn't actually. First time I put that heel-toe in I went to the top. I actually didn't rest at all. I'm not a route climber, and I knew I wouldn't recover much, so I didn't stop at all until I was over the lip. It felt like a weird flow state. I didn't really realize what was happening until I was shaking out over the top.
Climbing: Has your process on Alphane given you insight into how you approach other longer-term projects in the future?
Roberts: Yeah. I've learned so much about how to approach complex moves. I've been having some mindset coaching from Hazel Findlay, actually, and we talked a lot about explicit versus implicit systems. I feel like my attention to detail on climbs is generally quite good, but it has always been quite an explicit thought process for me. Generally when I climb I've got a pretty loud internal monologue that's telling me explicit instructions for the moves—things I've learned about each move that I condense into little nuggets of information. This can be quite mechanical and clunky. You're holding quite a bit of information in your mind at once. Those details are important since they reduce random error, but committing more time to a project allows you to transfer that information to an implicit system. That way I could climb with a clear head and have faith that my body knew what it was going to do. This is quite an unfamiliar state for me; that transition phase feels like it's quite slow for me compared to other people, just because I'm so used to climbing with that internal monologue. 
Climbing: What's an example of one of these nuggets?
Roberts: On Alphane, for example, I'd be trying the moves, and every time I'd fall off I'd try to identify what had gone wrong. It might be like "oh, I need to internally rotate my knee on this move, which makes it easier to keep weight on this foot so it doesn't blow." I'd try to gather loads of information like this about each specific move, and then try to condense it down into quite obvious cues so that I could recite them in the moment—like instructions for me to follow. I've always felt like this was a good tactic; I've never had much faith in my intuitive movement; so this reduced a lot of randomness to how I was climbing; and I think that is quite helpful. But when something is really hard and quite long, you have to retain a lot of things, and it's hard to relax into the climbing. I move really slowly when I climb, but I have to try to move not quite as slowly on this one. So I felt like I had to take a different approach on Alphane. And I think that having faith in my implicit system is something that I think will be quite invaluable for me going forward. 
I also think I've got more confidence. Not confidence in terms of like, "Oh, I'm a great climber now," but confidence in how much I can improve on something if I apply myself to it. The first session I had, all the moves felt pretty hard in isolation. And linking two moves was desperate. But over time I recruited into the moves, and I think there's confidence to be had from how well my body can learn those kinds of movements—how something that had previously felt so concept could come to feel effortless. I think that will lead me to try things which are harder for me.
Climbing: Even harder than Alphane?
Roberts: Obviously this climb was really hard for me, but I don't think it's necessarily at my limit. The moves and sections felt easier every session, and on the go I did it, even though I knew I must have been trying really hard, the actual process felt relatively effortless. It feels to me that if I can climb something perfectly, if I can understand the moves perfectly, there's no reason why you couldn't understand every move and execute them perfectly but still have every move be at like the living end.
Climbing: It makes me think of sport climbing. You'll work moves so that you have each little section dialed. But when you actually send you're absolutely redlining. So maybe you're looking for the bouldering equivalent of that. 
Roberts: Yeah, yeah. Like if you took the absolute hardest moves in the world and strung eight of them together, you'd be looking at something so far above what we have at the moment. Yet theoretically it's possible. Even with the physical capabilities of the climbers that we have right now, we're still so far from the potential that we have to climb. People are strong these days.
Climbing: Yes they are.
Roberts: So that's been cool. It's been quite eye opening for the potential that the sport has. And it's exciting. It makes me want to try to find something like that. Obviously you're limited by what you find. But we're not lacking options, especially around here. 
Climbing: You're very good at static shouldery moves. Has that always been a trademark style? 
Roberts: It's always been a style that has suited me. In my head I had a style which I felt was, like, nice—or at least a good style that I should pursue. I don't know where I conjured this idea up. But I've always been a bit of a perfectionist in the things I do, so if I didn't climb something well, I often wouldn't be satisfied until I did. So whenever I climbed I'd end up verging towards a specific style. I think a lot of it had to do with control. I felt that if everything is really in control, it's really reliable, and that is climbing well. And having control is easier if you're going really slowly. So I always hit that message—that form of training stimulus—whenever I climbed. And I was fortunate that it applied quite well to rock climbing, and to the nature of the rock near my home, which tends towards smaller and more incut holds. You usually do a lot better in that style if you can move a bit slower between the holds. So I think it cascaded from there. It is definitely still my style at the moment. I often find myself approaching boulders that wouldn't conventionally be climbed in that style and try to mold them into it. Which sometimes works and sometimes not. I've got a little niche for myself.
Climbing: Do you do any off-the-wall training? Do you lift? Or run on rest days?
Roberts: I don't run. I've got a lot of metalwork in one foot. (I took a climbing fall when I was younger. Shattered my heel. It wasn't ideal…) But I do do a lot of off-wall stuff. I do weights, and I do quite a bit of conditioning.
Climbing: You're a devoted high-angle crimper. Have you had any finger injuries?
Roberts: I've actually had quite a lot of finger injuries, especially in the last four years. I've never blown a pulley, but I've had tenosynovitis in my A2—inflammation in the tendon sheath—and it's taken me until this year, really, to learn to deal with it. But now I've got a good protocol that allows me to recover far quicker than I used to. I do density hangs and finger-boarding for rehab; I find finger-boarding is quite good for loading in control and having a measurable stimulus; it's always felt much safer to rehab and strengthen on a board. So, yeah, I've definitely not been injury free, but I'm managing.
Climbing: You mentioned you were studying a lot until a year ago. What were you studying?
Roberts: Math. 
Climbing: That checks out to me.
Roberts: [Laughs.] Yeah, it's an acquired taste. But I absolutely loved it. I found it really interesting. There are fields of math that I'm interested in delving into, but it's been put on the back-burner. Climbing first. It felt like I had a very unique opportunity to do this thing that I love so much full-time. I was uncertain about [full-time climbing] initially. I didn't run straight into it. I definitely struggled to see what contribution I could make to the world through climbing. I mean, I still do. But I like to think it's not all meaningless. Maybe it is, but…
Climbing: I ask myself about that, too. 
Roberts: It's a good question, right?