Interview: Daniel Woods Talks Shoe Design and Future Goals
Heading out the door? Read this article on the new Outside+ app available now on iOS devices for members! Download the app.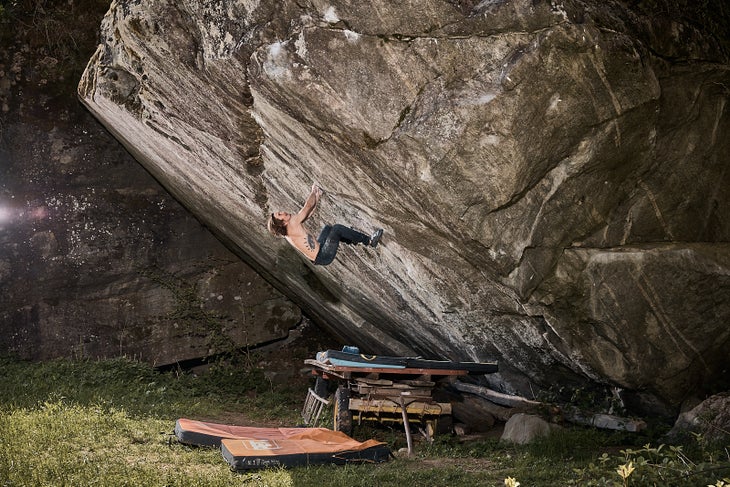 Daniel Woods is one of the most accomplished boulderers in the world, with more V16 ascents to date than anyone else. The prolific crusher recently embarked on a different kind of project. Woods partnered with Evolv to design a high-performance bouldering shoe: the Phantom. I caught up with Woods over email while he was climbing in Switzerland to talk about the new shoe, which will be released Friday, March 13. Climbing wrote about the Phantoms in our 2019 shoe review. Our testers were impressed, calling it an "an elite-level, specialist's shoe [that] excelled at its intended use: steep climbing for advanced climbers." Woods has already put them to use. Just a day after this interview he finished Off the Wagon Sit (V16) in Val Bavona, adding a sixth V16 to his tick list.
Tell me a little a bit about your current trip. Where are you and what have you been up to?
Currently, I am in Ticino, Switzerland, climbing in Val Bavona. The focus is repeating some of the areas test pieces and looking for new blocs to FA.
Do you pursue bouldering differently when you're traveling? Does the time limit of the trip factor into what you work on?
I go in with the same mindset with bouldering overseas as I do at home. My time limit is three months, so that is plenty of time to project hard blocs. If I find a line that interests me, then I will try to climb it.
So you helped design the new Evolv Phantom. Tell me about the shoe.
The Phantom is one of my top favorite shoes that I have worn. The process was a long one. It started with going to the Evolv factory and looking at some prototypes that Matt Birch created. One sample in particular caught my eye. The shape was very unique. It had a wide toe box that perfectly curved over your toes into a sharp point for the big toe. It is important to have a shape that puts all the power into your big toe for ultimate precision. The prototype also had a criss-cross like strap system that allowed the shoe to suction cup to your foot like a glove.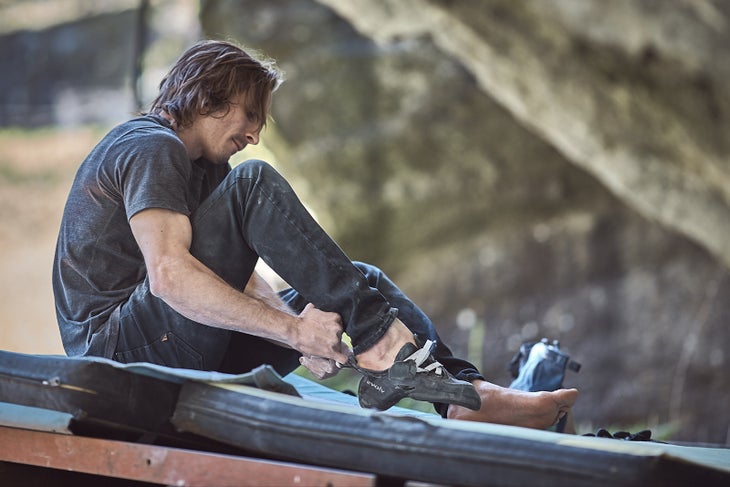 What do you think is the most unique feature of the shoe, that you're the most psyched on?
Honestly I love how the shoe fits my foot. It is downturned and has a sensitive toe cup, which allows your toes to be curled in a crimp like position. This allows you to toe into small edges and have your feet act as your hands would. Another amazing thing about the shoe is that it is comfortable to wear. You can perform well without having your feet feel like they are going to break.

What's the ideal terrain for the Phantoms?
The best terrain is overhung climbing, but they also smear well. I use the shoe for all terrains. They can foot jam, smear, toe into small edges, toe hook—kind of the ultimate shoe to have.
What were the first steps in your work on the Phantoms? What did you tell Evolv that you were looking for in the shoe?
I told Evolv I needed a shoe that allowed me to climb with my feet as I do with my hands. I am a very controlled climber and toe into holds a lot while maintaining tension. I am not into cutting my feet so much. I needed a shoe that would be aggressive enough to give me confidence to climb in my style. Flat shoes do not work for me. They are good if you can cut your feet a bunch and campus around.
And then what did your work on the shoe look like throughout the process?
In the beginning it was all Matt Birch and I. He gave me a few prototypes to test. Some had stiffer toe rands, some softer. Some had stiffer toe cups, some softer. Also the shape of the heel was very important to design (and how stiff/sensitive to make it). I took these prototypes to Rocklands and gave him feedback on which ones I preferred. Next step was colors. I was always into black and white, so that is the color scheme I wanted. I picked out the style of strap as well. Paul [Robinson] came up with the name, along with the confirmation of what Birch and I discussed.
How many Phantom prototypes did you test? What changes came as the result?
I probably went through 10+ different prototypes. Changes made were mostly for the heel and toe rand. Other changes included subtle things like logo design and placement on pull tabs and what color they should be.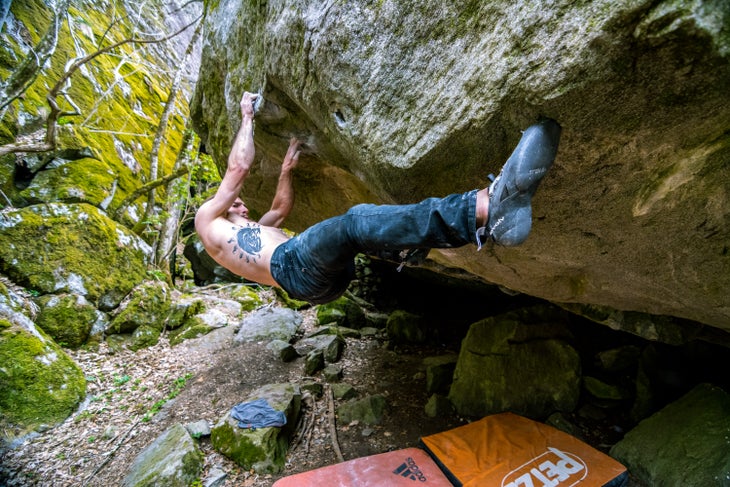 How do you size your Phantoms?
I wear a size 9.5 street shoe and an 8 Phantom. I may go 7.5 Phantom as well for very small [footholds].
How hard do you think you could climb in a flat, gym rental shoe that's been used by 100 different people for their first days climbing ever?
Depends on the climb. If the foot holds are big and the style of climbing is powerful, then [I] could climb hardish in rentals. Most of the hard climbs outside require a shoe with perfect precision to be able to stand on "non-existent" footholds though. So to push your climbing level it is important to have a shoe that gives you confidence to do this. Climbing shoes and sizing is def important to climbing hard in general.

One thing I've been curious about… It seems like bouldering standards have stepped up in the past year and a half or so. Before, there were only a few V16s that mostly were unrepeated. Now the grade seems established What do you think changed for that to happen?
More online beta, more people getting into climbing and being motivated to send, better gear development, surplus of gyms with necessary training tools to get strong… Climbing has grown a ton in the last decade and continues to grow. With growth also comes more climbers able to send harder grades.
Certainly with your bouldering resume, it's normal for people to wonder if you're pursuing V17. Is that something that you're interested in?
Yeah. I mean, I have two projects that I believe are V17. One is Sleepwalker Sit Start, which adds three moves of V12 along with some foot moves into the stand which is V16. I got close to doing that, but then injured my thumb. The other is in Eldo that is a step up from Sleepwalker Sit Start. I would like to try Burden of Dreams as well and see what it feels like again. V17 is hard and so is V16. I want to have done multiple 16s before I throw the V17 grade out there, but it exists.