New Seven-Day Route in China's Tien Shan: Interview with Dmitry Golovchenko
Heading out the door? Read this article on the new Outside+ app available now on iOS devices for members! Download the app.

At the end of August, the Russian alpinists Dmitry Golovchenko, Sergey Nilov, and Dmitry Grigoriev established a bold, high altitude route in China's Tien Shan mountains. The trio opened Impromptu (Russian 5b 55°; 3,000 meters) on the massive Southwest wall of Military Topographers Peak (6,873 m), for the mountain's fourth route, and almost entirely in alpine style—save for the morning of the first day and a fixed rope on the summit push. 
Golovchenko, Nilov, and Grigoriev have made headlines before. In 2016, they won the Piolet d'Or for their new route Moveable Feast (ED2 M7 WI5 5.10a A3; 1,400 meters) on the North Buttress of Thalay Sagar (6,904m) in the Indian Gangotri; in 2013, Golovchenko, Nilov, and  Alexander Lange won the award again for opening the North East spur of the Muztagh Tower in Pakistan; and let's not forget Golovchenko and Nilov's intense 17 days up the then-unclimbed east wall of Jannu (7,710m) in Nepal. For the latter, a vicious storm pinned them to the face and created serious avalanche risk on the slopes below them. Unable to bail down their route, the duo made an onsight descent of Jannu's opposite side, down the French Route, faced with seracs, crevasses, and poor visibility.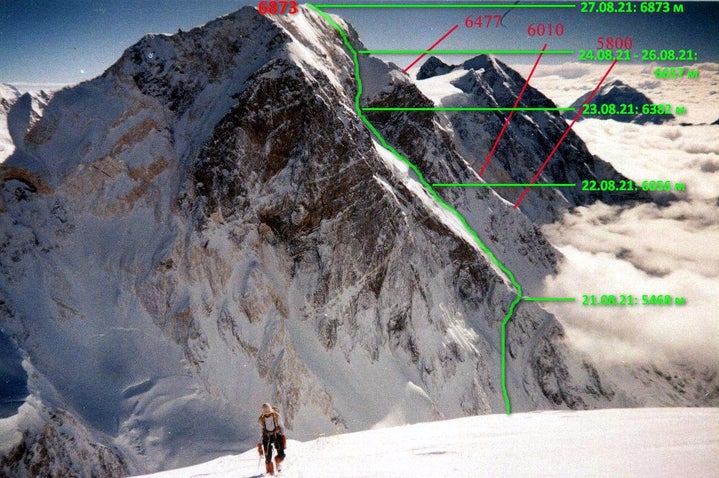 No such epics occurred this time, however, and after departing base camp—which lies on Kyrgyzstan's eastern border, beside China's Xinjiang Region— the trio left the bergschrund on August 20, reaching the summit seven days later. 
This interview has been edited for clarity and length. 
[Bernardi]: Did you want to attempt a new line on Military Topographers Peak or were you open to other choices?
[Golovchenko]: Yes, this was the plan from the very beginning. There are many variants there and initially we expected more of a big wall route, and even carried all the equipment for that, but later we found this line and decided to attempt it.
When you cross and descend the Chonteren Pass to the glacier under the Southwest face of Military Topographers Peak you are in China. Were you worried about not having a Chinese permit there?
In fact, the whole Military Topographers peak now is in China because it was sold to them around 20 years ago. In reality, there are many cases of crossing the Chinese borders to climb. In our particular case, we were not worried. We had the same experience before on Kyzyl Asker (5,842m), where our route was in China, and we were pretty sure that we would not have any problems. 
From the pictures it seems that the climbing was almost all in snowy couloirs, corniced ridges, and some mixed sections, correct? How were the overall condition of snow and terrain you climbed?
Our line is on the south side of the summit. You are right that the majority are ice and snow sections. Overall conditions were good, not too deep snow, not too hard ice. But definitely there were some difficult places with loose ice and deep snow.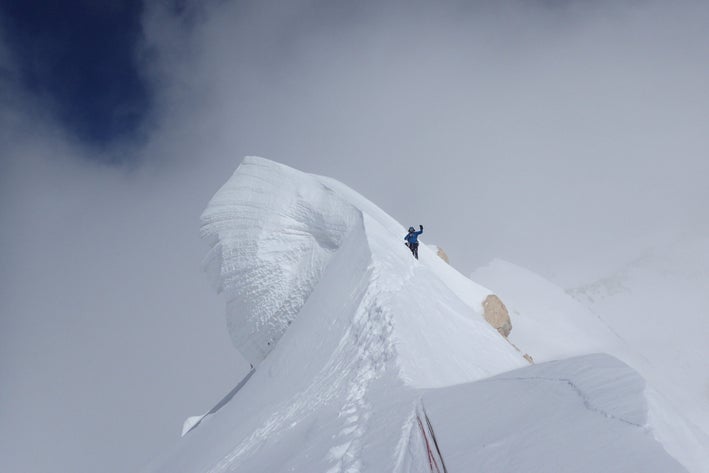 Did you climb in alpine style, as your previous climbs, or did you equip some sections with fixed ropes? How much gear did you take with you?
We had a lot of equipment to be able to climb a big wall—except we didn't have a portaledge, we expected to find natural ledges on the route. But, in fact, the majority of this equipment stayed at the bottom of the haul bag. The majority of the route was climbed in alpine style, only twice did we fix our four ropes to increase our speed for the next day. Once, when we fixed on our first day after we found a spacious crevasse and decided to put our tent inside. We had two or three hours of daylight left, so Sergey and I climbed and fixed the ropes while Dima [Grigoriev] prepared a place for the tent. The second time was the day before we summited. The weather was very tough—huge winds and lots of snow—so as not to lose a day we decided to fix our ropes and go back to the tent.
Did you experience any bad moments while climbing?
Not long before the summit we experienced very bad and rough weather. Then, Dimtry Grigoriev got ill and fatigued and we had to stop for a while. After summiting we had to run down quickly because of his illness and frostbite.
[Ed. note: Though unknown at the time, Grigoriev also had blood clots in his lungs. He is recovering well in Moscow. – Anthony Walsh]
Can you describe the climbing's difficulties? What about the route's name?
The slopes were approximately 50-65°. I still need to calculate the average angle, but I expect it should be in this range, so let's say 55°. The higher we climbed the steeper it became: we started from 45° and closer to the summit it is more than 60°. As for number of pitches, we climbed four on the first day (all fixed), 13 on the second day, 18 on the third day, 9 on the fourth day, 12 on the fifth day, four on the sixth day (all fixed), zero on the seventh day as Dima felt ill, and three final pitches to the summit on day eight, so 63 pitches in total. And we ranked this line as 5B Russian grade. As for the name of the route, I thought it should be an international word; Impromptu means to improvise.
I know from reading the history of the Tien Shan range that weather, even in summer, can be very harsh. How was it during your expedition? Did you experience strong winds or serious bad weather?
Yes, this is a very tough region. It could be hot on the glacier during the sunny and calm day, but as soon as the sun disappears it will become very cold, usually with huge winds and it changes the weather very fast! It is very nice for Himalayan preparation!
How was the line of descent different from the ascent route?
It was completely different! And it was planned from the very beginning that we would try to descend the West ridge directly to the Chonteren col where we left one day's worth of equipment and food.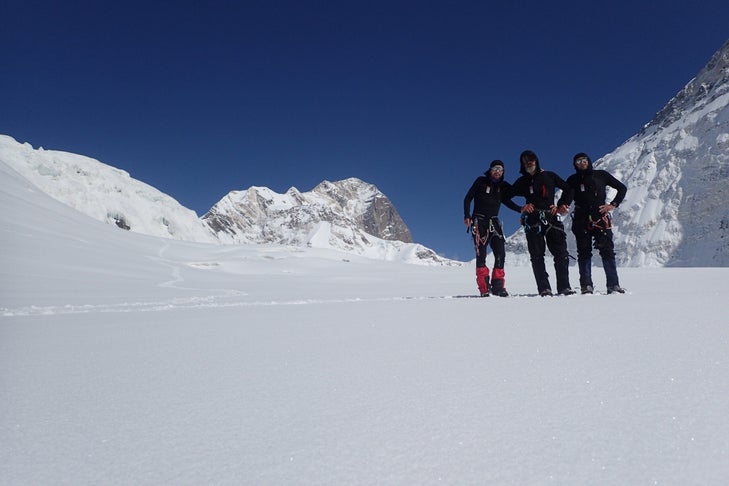 This article is free. Sign up with a Climbing membership, now just $2 a month for a limited time, and you get unlimited access to thousands of stories and articles by world-class authors on climbing.com plus a print subscription to Climbing and our annual coffee-table edition of Ascent.  Please join the Climbing team today.