Ukranians Make Historic First Ascent on Annapurna III, Besting 40-Year Highpoint
The Southeast Ridge has repelled attempts from some of the world's greatest alpinists. Three climbers have solved another "last great problem" in impressive alpine style.
Heading out the door? Read this article on the new Outside+ app available now on iOS devices for members! Download the app.
Ukrainian climbers Nikita Balabanov, Mikhail Fomin, and Viacheslav Polezhaiko have made the coveted first ascent of one of the Himalaya's most prized unclimbed features: the complex—and utterly massive—Southeast Ridge of Annapurna III (7,555 meters).
The ridge was first attempted by British climbers Steve Bell, Nick Colton, and Tim Leach in 1981. Their high point of 6,500 meters stood for the next 40 years as the world's best alpinists threw themselves at the route, none getting closer than a vertical kilometer from the summit. In 2016, Austrians David Lama, Hansjörg Auer, and Alex Blumel reached about the same elevation, but a foul storm forced them to turn around.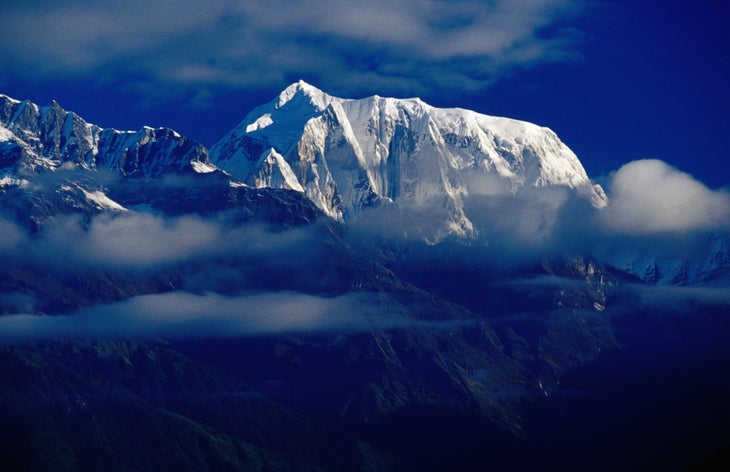 The Southeast Ridge gains 3,000 meters of elevation and is an incredibly serious undertaking. It is threatened by seracs, unrelentingly steep, and has loose, crumbly rock on all of the mixed pitches. Past attempts have successfully bailed from their respective highpoints, but retreat becomes near impossible at the summit; going up is the "easiest" way off the mountain.
Nikita Balabanov, Mikhail Fomin, and Viacheslav Polezhaiko are experienced and bold alpinists; in 2014, they were shortlisted for the Piolets d'Or for their ascent of Snow Queen (ED WI 4 M5; 1,500 meters) on Langshisha Ri (6,412 meters); then Balabanov and Fomin won a Piolets d'Or for their first ascent of Daddy Magnum Force (ED M6 A3; 1,700 meters) on the Northwest Pillar of Talung (7,348 meters) in 2016.  The trio first attempted Annapurna III's Southeast Ridge in 2019. Climbing spoke with Balabanov to learn more about this historic climb. 
[This interview has been edited for clarity and length. -Ed.]
*
Bernardi: Can you describe the character of your route? How did the line differ from your team's 2019 attempt?
Balabanov: Yes, we followed the same line as in 2019. It starts to the right of the line David Lama's team had previously chosen. Our line is definitely more difficult technically, and has more delicate ridge climbing in the lower part, but it's also safer in terms of objective dangers. It's difficult to give a summary of such a big route; it starts at 4,600 meters, so it gains 2,950 meters of elevation. 
The lower part is more or less moderate with sections of difficult mixed and lots of vertical snow and difficult ridges without protection. The technical crux comes between 6,000 and 7,100 meters. It's a mixture of vertical rock, hard mixed, ice, and super steep snow ridges. Then, the Southeast Ridge connects to the south ridge and there are easier snow slopes and ridges up to the summit.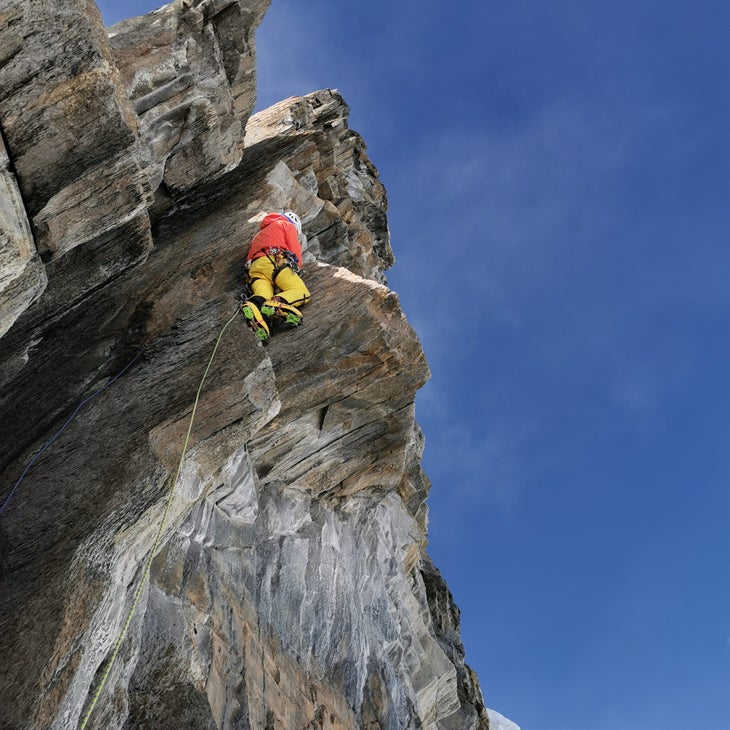 The overall difficulty was up to M6, 6a (5.10a), A3, 80° ice, and 90° snow. Regarding the style, as usual, we wanted to climb in only pure alpine style. We climbed in a single push, with no fixed lines or pre-established camps. And for such a big route, for us, it was a real challenge full of entropy and the unknown. We haven't written this anywhere yet, but we thought of naming the route Patience, of course you understand why. Also, we want this line to be a kind of a tribute for David Lama and Hansjörg Auer, who unfortunately passed away, and whose vision and attempt for Annapurna III in 2016 become an inspiration for many climbers, ourselves included.   
Bernardi: How much gear did you take with you? Did you run out of food or gas?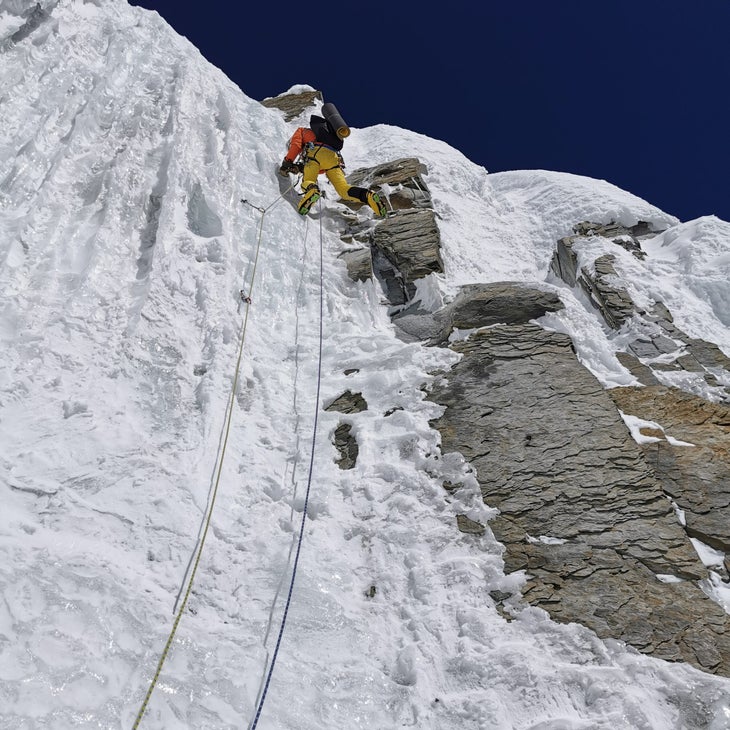 Balabanov: As usual, we did not take too much. One Black Diamond Firstlight tent for the three of us, three skinny ropes, 10 cams, seven ice screws, one set of nuts, and a bunch of pitons in case we needed to retreat and for progression. We calculated we would need food and gas for 12 days, so we took it. In fact, the conditions were especially difficult this year, especially the snow—and the weather turns bad every day—so all the climbing lasted 18 days up and down. Somewhere in the middle of the route we understood we needed to cut our rations if we wanted to eat something every day. Regardless, on day 17 we were out of gas and food. 
Bernardi: How was the weather? We knew there were strong winds up there.
Balabanov: According to the forecast, the weather was good and clear. But there are some local peculiarities; almost every day, some wet clouds would hit Annapurna III from late morning until 6 pm. We had strong wind and snow almost every day, but we didn't have any option except to continue climbing. On the upper mountain the winds were especially strong. On November 5 we had an attempted summit day, but the wind was so strong that we couldn't reach the summit from 7,100 meters, so we spent the night in a snow hole at 7,400 meters, and continued to the top the next day.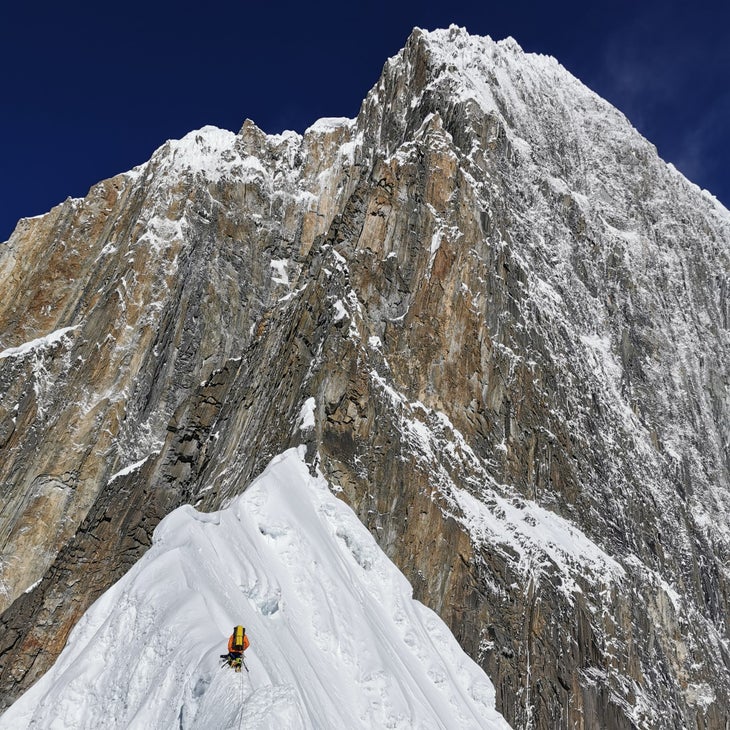 Bernardi: Tell me about the psychological aspect of the climb.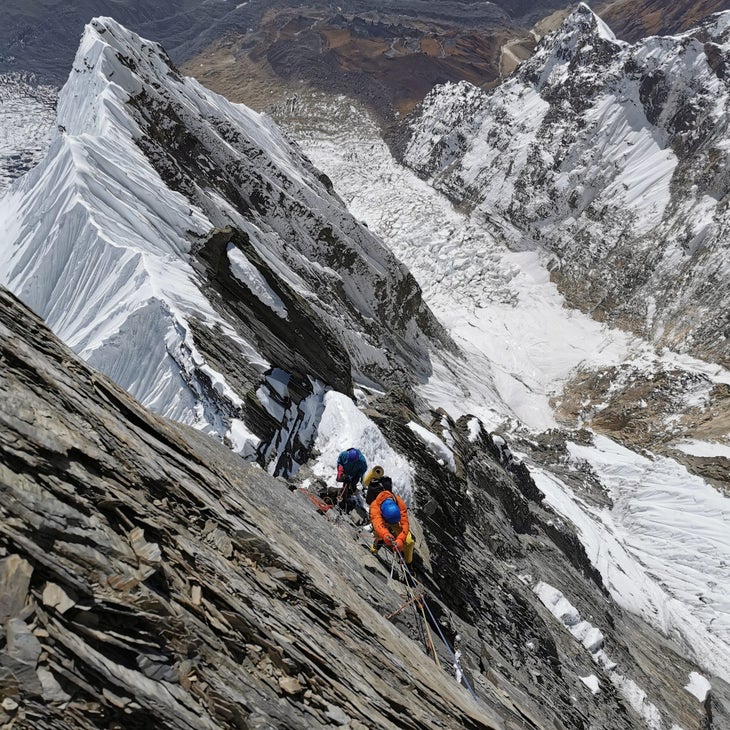 Balabanov: Yeah, the psychological aspect was really intensive, as every day we faced some new obstacles and didn't understand until the end if we would be able to climb it or not. The higher you climb every day, the more difficult it is to get down in case of an accident, and we understood this. But all in all we manage to overcome everything together. The descent is another story. At first we planned to go down by way of ascent. But we realized it would be too dangerous and complicated and decided to go down the Manang side, by way of the first ascensionists. But to get to these gentle snow slopes you must traverse three-and-a-half kilometers of ridge at 7,300 meters, which was impossible under 100-kilometer winds, so we started our descent on the west side, which we hadn't planned before. We rappelled and downclimbed for two days without any topos or even photos of this side of Annapurna. But we managed to find a good way thanks to our experience and luck.
*
The trio was airlifted by helicopter from an altitude of 5,000 meters after deciding that the circuitous route back to their basecamp was unreasonably risky due to the unknown terrain and their location on the opposite side of the mountain. They have since returned to Ukraine, and, despite losing 20 pounds each and suffering minor frostbite, they are reportedly in high spirits.
This article is free. Sign up with a Climbing membership, now just $2 a month for a limited time, and you get unlimited access to thousands of stories and articles by world-class authors on climbing.com plus a print subscription to Climbing and our annual coffee-table edition of Ascent. Please join the Climbing team today.