Interview: How Kevin Jorgeson Is Bringing Climbing to the Next Generation
Heading out the door? Read this article on the new Outside+ app available now on iOS devices for members! Download the app.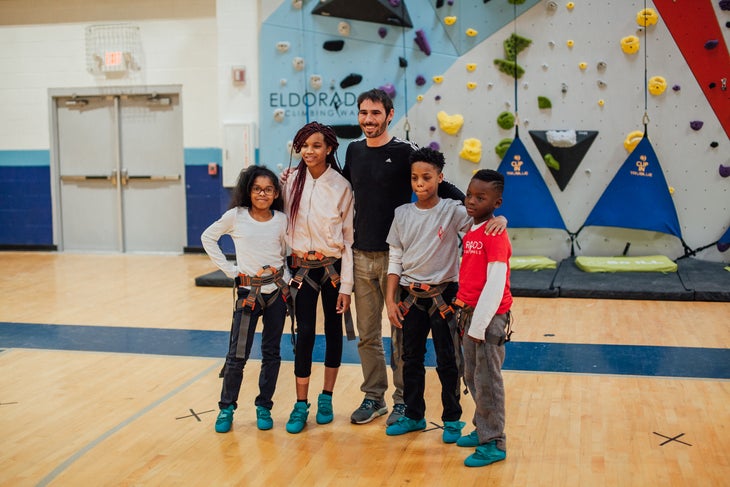 Kevin Jorgeson is no stranger to audacious goals, from hard highball first ascents like the 50-foot V11 Ambrosia to, you know, that Dawn Wall thing. Now he's turned his ambition to the next generation. Specifically, Kevin Jorgeson wants to bring rock climbing to 100,000—or maybe a million—kids. To do so, Jorgeson founded the nonprofit 1Climb, along with So Ill founder and CEO Dan Chancellor. 1Climb is both taking kids to climbing gyms and bringing climbing to them by installing climbing walls in Boys and Girls Clubs around the country.
To date, most of the funding for 1Climb's walls has come from major donors, but for their next round they've turned to crowdsourcing. Via a collaboration with So Ill and Toms Shoes, you can donate to the cause on IndieGogo by buying climbing or walking shoes. The So Ill climbing shoes feature unique designs, while the Toms Shoes are outfitted with So Ill's Dark Matter sticky rubber. Every purchase contributes to the next wall.
I spoke to Jorgeson about 1Climb just before the nonprofit's third wall opened in LA on August 30.
How would you summarize 1Climb?
Kevin Jorgeson: It's about bringing climbing to the next generation instead of waiting and hoping for them to find it. The root of it all was in 2010, long before the Dawn Wall. I felt like the opportunities for kids to discover climbing were pretty narrow. If you weren't invited to a birthday party or your friend didn't turn you on to the sport, you weren't going to become aware of it. But this network of Boys and Girls Clubs of America serves four-and-a-half million kids a year. Why not use that infrastructure to introduce kids to the sport?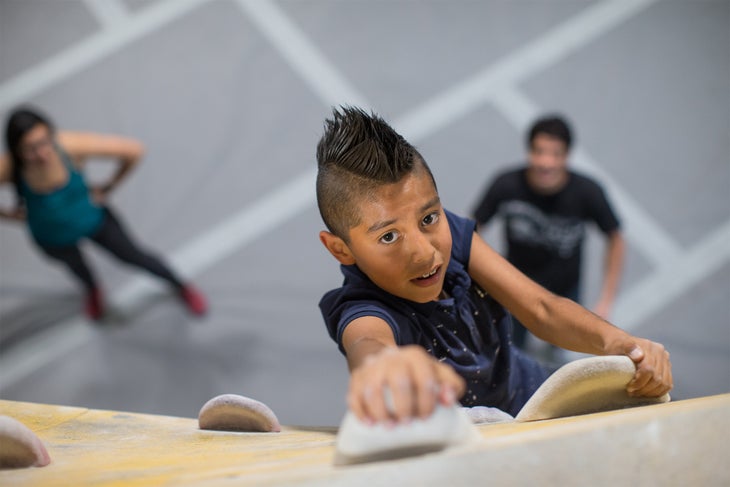 Where do things stand now?
Our third wall is opening in LA on August 30. And that's the one that we're opening with Toms. Toms was the primary funder of the Los Angeles wall.

How did you get hooked up with Toms?
I met Blake, the founder, four years ago at an event that we were both speaking at. He had just started climbing. I went to his tall; he came to my talk. We connected and decided to go climbing together, and kept going climbing together. I was evangelizing this dream that became 1Climb, and he was like, "Man, this is so cool. I wonder if there's a way that Toms could get involved."
It began with the personal relationship with Blake. Then it just so happened that Toms was looking to broaden how they do their giving programs from the one-to-one model that they are known for, to giving their customers an opportunity to contribute to a nonprofit that's in their neighborhood when they purchase a product. That's what led us to do a project together in LA, and that's what led to the product collaboration with So Ill and Toms as well.
Do you know how many kids you've reached so far?
I think we're around 6,000 by now. It's definitely nascent, but everything has to start somewhere.
Your stated goal is to reach 100,000 kids, but you've also been pretty open that you're shooting for one million.
That's where the dream started. I was like, What would it take to get a million kids climbing? Dan had to reel me in—he was like, "Dude, we gotta pick a number that we can actually calculate and achieve. It'll be more motivating that way." I was like, "OK, OK. We'll say 100,000, but really…"
The goal is 100,000, but the dream is a million. If we get the model right—I think we're getting close—then it's just a matter of replicating. Most of these clubs serve 500-1,500 kids per year. For each wall, think about that many kids being exposed to climbing every year. The numbers start to climb exponentially.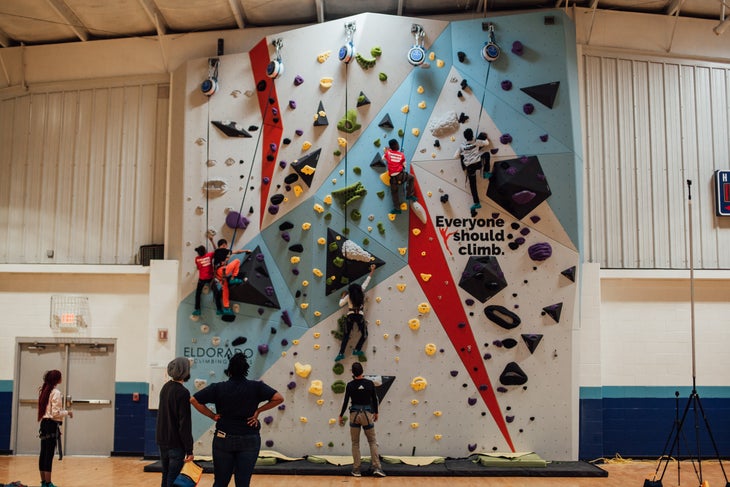 Is there a structure in place to make sure these clubs can continue to use these walls?
That's the magic of 1Climb. We're not just gifting them a wall and saying "Have fun with it." We're not turning it into an amenity that might or might not be used. The key to the program is that we only install walls where there is a commercial climbing gym down the street. For most of these programs, you can walk from the climbing gym to the club. The prerequisite is that these climbing gyms—whether it's Climb So Ill in St. Louis or Touchstone in Los Angeles—treat this 1Climb wall as a sister facility. They take it on as their own.
Already in LA we've brought two or three groups of kids to LA Boulders to introduce them to the sport and get them excited about this thing that we're about to unveil for them. The Touchstone setters are the ones who are going to be doing the opening setting job, which is happening right now. It's the staff that go over there and work with the staff at the Boys and Girls Club. You create this partnership between the local climbing community via the climbing gym and the Boys and Girls Club. It turns into a whole ecosystem, instead of just a basketball hoop or a swimming pool that's up to them to figure out how to use.
What do you think you'd be doing now if no one had introduced you to climbing as a kid?
Oh, man. I've gotten that question one other time, and I really don't know what I'd be doing with myself. I'm building a climbing gym right now, and I'm having a lot of fun in the architecture phase. I'm like, "I can see myself being an architect, maybe in a third or fourth chapter of my life," but… I don't know. That's a hard one.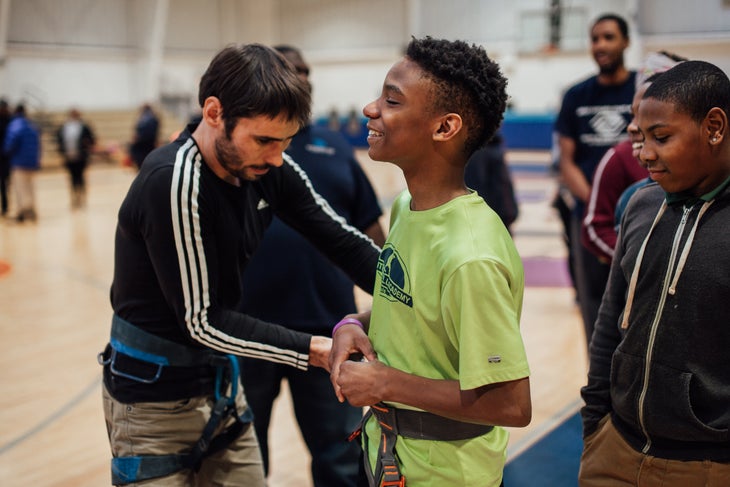 Where's the gym you're building?
My hometown. Santa Rosa, California, like an hour north of San Francisco.
Tell me about the 1Climb wall opening in St. Louis. What was that like?
It was super emotional and really exciting because it was two years in the making. These things take time, to get the Boys and Girls Club, not just on board, but to get the board members on board, get the funding in place, and all of these things. It was this project that we'd been working on for so long, and to walk in and see the wall complete, you know? And then to do the ribbon cutting and see the kids climb on the wall, like they've been doing it their whole life, but it's their first time. It was just amazing.
What was it like approaching the Boys and Girls Clubs with the idea?
There's a standard bunch of questions that most Boys and Girls Clubs have, but because we've done it two going on three times, we've kind of got the model figured out. It's questions like, "Is this gonna be covered by my insurance?" We haven't experienced a club where this activity isn't covered by the policy they already have. For example, in LA they have a pool. A pool is the most dangerous thing you can have around kids, so they're insured to the gills. When they asked if their insurance covered a climbing wall, it was like, "Yeah, no problem. You've got a pool." Likewise in Sonoma—they had playground equipment that was statistically more dangerous than the wall we were putting in.
Insurance is a common question. Also, where's it going to go? Are kids going to be able to climb on it when it's not open? We have these pads that slip up seven feet and cover the bottom of the wall when it's not being used. In Sonoma we had standard topropes, but starting in St. Louis we're using autobelays, and that has increased utilization exponentially by not needing a staff to be trained to belay. It helps the wall be open more often, and therefor the kids use it more.
There's lots of little things we learn with each one, and there are always standard questions that folks have. But if everyone's super excited about the idea, then it's just the question of "How do we do it?" Then we go through the process of getting everybody comfortable with the idea, getting the money lined up, and getting it rolling. What's nice is we're using the same partners as we did in 2010, like Eldorado Walls installed the first one in Sonoma, and we're still using Eldo. It's all the same people from eight years ago, just as passionate about it today as they were then.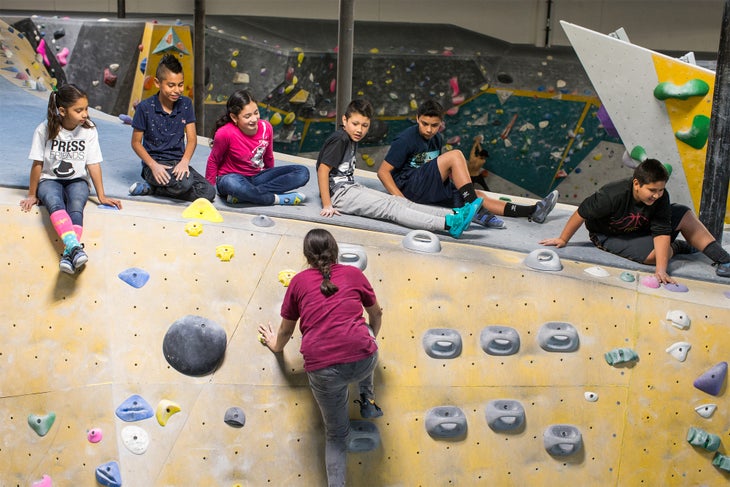 What have you been climbing since the conclusion of the Dawn wall? I've seen reports that you were exploring climbing-by-raft opportunities and then something about swinging around on other faces of El Cap.
I've looked at some new lines left of the Dawn Wall that I'm excited about, but I've spent most of my time in the Valley on a new line on Higher Cathedral Spire, which is kind of an obscure feature. It's got one moderate classic that goes up the back side, but there's a really stunning free line that goes up the original aid route on the northwest face. It kind of peters out halfway up, so half the line follows the original aid line, and then the top half of the route is all brand new pitches. Super cool, mid- to high-end 5.13, tons of variety: wide stuff, thin stuff, roofs, offwidths, face climbing, finger cracks, everything. It's an all-around challenge. I'm going to finish that this fall and then start looking for the next thing. I'd say my passion is still Yosemite-focused and first-ascent-focused. I don't think that's going to change anytime soon.
Any words about the Dawn Wall movie releasing this month?
I'm just really proud of those guys for making an awesome movie. It was their own big climbing project and now it's coming; now they're about to top out. I'm excited for them. They put in so much work, and the end product is great. I hope people get a chance to go out and see it.
Visit Indiegogo and buy a pair of shoes to help fund more 1Climb walls.
Related: