Interviewing Fred Beckey at 90 Years Old
Heading out the door? Read this article on the new Outside+ app available now on iOS devices for members! Download the app.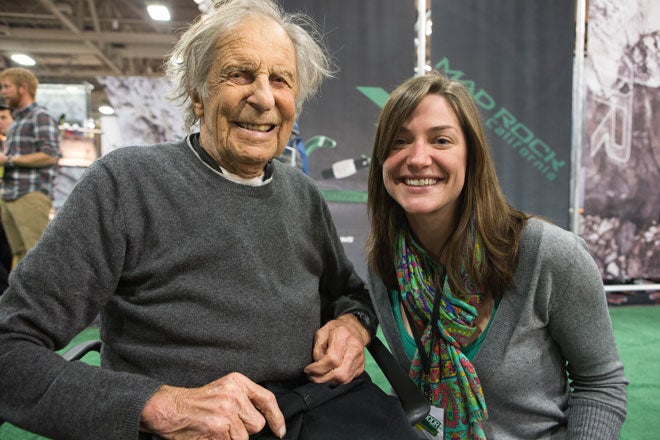 It's not every day you get to meet the man who's got more first ascents than anyone on the planet. For that matter, it's not every day you meet anyone who's lived through the Great Depression, WWII, and the Civil Rights Movement, and who still climbs.
But at the 2013 Outdoor Retailer Winter Market, I sat down and chatted with [more like yelled to; he's really hard of hearing] the man himself: Fred Beckey. That evening, Adidas presented him with the Outdoor Industry Lifetime Achievement Award. Beforehand, climbers clamored around him, waiting in line to tell him how inspiring he's been, and how much they love his routes. (I'm embarrassed to say I haven't done some of his most classic routes, though I've got plans to.] Beckey sat there, nodding and smiling, seemingly oblivious to the rush around him.
Talking to Fred was no easy task; I don't think his hearing aid was turned on, and I'm pretty sure everyone in a 20-yard radius was an unwitting audience to my loud projections. I repeated every question several times, enunciating like a melodramatic high school theater teacher. Sometimes Fred answered my questions, and other times he misheard me and went off a tangent. No matter. The message I took away was unmistakable: the master loves to climb, and he doesn't give a damn about awards. [And yes, he's still a ladies man.]
Here's an excerpt from our interview. You can read the full text at snewsnet.com, where it was printed in the Outdoor Retailer Daily. Below is a video that aired as an introduction to Beckey at OR.
At 90, you're still climbing. Do you get out often? I climb whenever I can. I made a trip to Joshua Tree, California, recently [where he climbed the three-pitch Tranquility (5.6)]. I couldn't climb anything in October [in Seattle, where he lives] because it rained every day. It was the pits.
How does it feel to receive a lifetime achievement award from your peers? I just climb for the fun of it. I'm always motivated to try something that people haven't done. I guess you get a reputation that way, and an award goes out because of it. I'm not into awards. I don't do stuff for awards. I do what I feel like doing.
You've made more first ascents than anyone. Are there any other routes you wish you'd gotten to first? There's always something, like some climbs in the Bugaboos, that someone else did. But I never felt competition from anyone. It was all friendly.
What about the little black book? Does it exist? [Rumor has it Beckey kept a book with potential FAs that he'd cross off as he did them.] It's not true. Someone made that up—you tell me who. Once someone starts some rumor, everyone else picks it up. It's the way life is.
How have you been motivated to keep going all these years? I don't know what inspires me; I can't explain it. It's hard to put into words. Why does anyone do anything? I like to do it; it's fun. I have as much fun climbing today as I did 20, 30 years ago.
Any advice for today's generation of climbers? Keep on belay. There are too many screw-ups and mistakes from people not paying attention.
See the full interview at snewsnet.com.