"It Was a Poetic Process": Allison Vest on Sending her First V14
"There's a really strong generation of Canadian women coming up behind me. Hopefully this pushes them, shows them what's possible."
Heading out the door? Read this article on the new Outside+ app available now on iOS devices for members! Download the app.
On February 5, 2022, after 11 days of effort over the course of several weeks, Allison Vest sent Show Your Scars, in Ogden, Utah. It was her first of the grade—and a first for a Canadian woman.
Established by Pete Lowe in 2017, Show Your Scars is perched on the western slope of the Wasatch, in Ogden, Utah, and its sustained, athletic movements, has made it a hard classic in the Salt Lake area. Vest first tried the climb briefly eighteen months ago, in fall 2020, but didn't start concerted efforts until January this year, when she decided that one of her goals for 2022 was to send a V14.
"I quickly got obsessed," she told Climbing over the phone. "I was going up there day on, day off, until I did it. It took me 11 sessions, but they were all within the span of two or three weeks."
Vest was born in the United States but raised in Canmore, Canada, and she's no stranger to national accolades. She's a three-time Canadian National Champion, and in 2019 became the first Canadian woman to climb V13, sending The Terminator in Squamish after another condensed flurry of effort. She's also well known for her comical Instagram challenges, many of which co-star the American Olympian Kyra Condie, and her insane finger strength (she's working on hanging an 8mm crimp with one hand and once shotgunned a non-al while hanging a 20mm edge).
Climbing caught up with Vest by phone to chat about projecting hard boulders, about competitions, and about what it feels like to be the first Canadian woman to send the grade.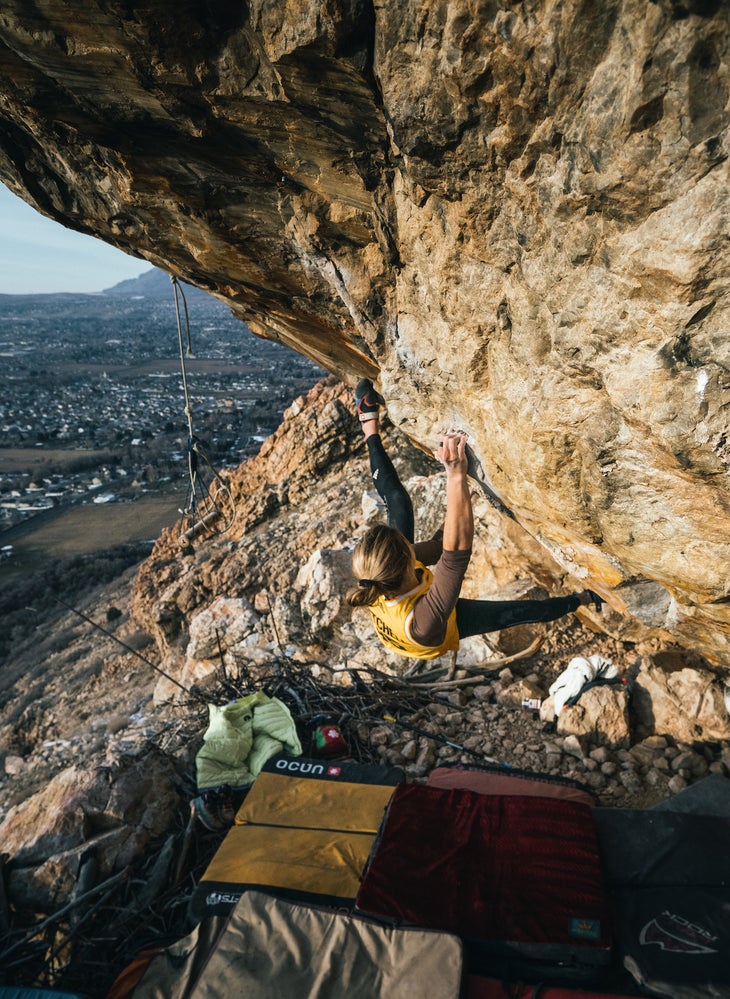 Climbing: In the video about your send of The Terminator, you talk about having a similarly obsessive approach to the projecting process. Is that common approach for you?
Vest: [Show Your Scars] was a similar mental battle to The Terminator. I would say I don't get like that on every boulder, but there have been a few that get so into my brain that whenever I'm training, they're all I'm thinking about it. I fall asleep thinking about the beta. I have a relatively obsessive personality. Or occasionally obsessive.
Climbing: I'm sort of jealous of that. If I can't do a move in a few tries, I tend to give up.
Vest: This is definitely the most sessions I've ever put into a boulder. It helped to remind myself that it was fun. The boulder is high up on the hillside, and it gets direct sun, and sometimes it's above the inversion, so you get out of the smog that hangs over Salt Lake. It's really nice out there and it helped to remember that if I didn't [send the problem] today, it just meant I was able to have another session on it later. I could frame it as a positive thing instead of getting frustrated.
But I haven't yet had the ability to commit to a problem for [a really long time]. I think it'd be cool to have a project that you could go to sporadically—to acknowledge that you want to do it, and that you're working towards it, but not to get so obsessed that you have to put the rest of life on pause just so you can do it.
Climbing: What was it about this problem? You said it was a logical candidate once you set your V14 goal, but was there anything about the boulder itself that lent itself to that more passionate type of projecting?
Vest: I think, for me, it was a poetic projecting process, which doesn't always happen. A lot of times, for whatever reason, you have regression sessions. Maybe you don't feel very good one day or the weather's off or whatever. But I only had one day that was like that, and it was when I tried to climb two days in a row on the boulder. The second day was almost a complete right off. But other than that, almost every session I felt like I progressed, which made it really motivating.
Climbing: What was the crux for you?
Vest: It's sort of an interesting boulder. The first few moves are not very hard, but the rest of them are a very similar difficulty, and [the crux] ends up being to link them together, figuring out what your beta is. I think I fell on every move at least once. So I would say that while the end section [which features a large slam dunk move] isn't super hard in isolation, once you've done all the other moves, you're pretty gassed. It's very consistent in difficulty. The meat and potatoes is the middle of boulder, but it's unrelenting until you get to the lip.
Climbing: Did you do any specific preparation?
Vest: Not really, but I did actually read Ethan Pringle's article about breathing that you guys published, and I actually thought about that a lot. Controlled conscious breathing. I thought about that a lot and think I was able to develop some new mental tactics thanks to it. So that was pretty cool: To read about it and then see it work. I messaged Ethan after I read it and was like, "I need to do it more!" And I did. And it worked out.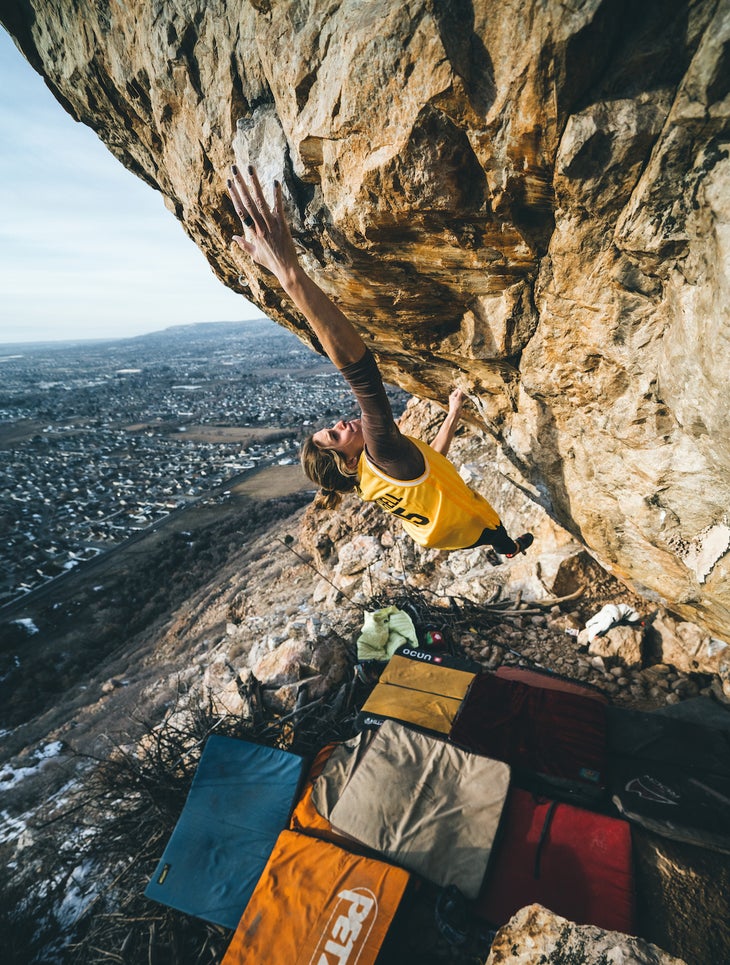 Climbing: You've done four V13 or harder boulders in the last five months, which is more than you'd previously done altogether. Is this a result of training, or your change in emphasis toward outdoor climbing, or both?
Vest: I think it's a lot of things. I decided to take a step back from competition climbing this year. Partially it's like I said before: When I get focused on something, it's sort of all that I'm focused on. Throughout my climbing career, I've focused on competition climbing, and it's been hard for me to mentally to go outside and find a project and work on it because I feel like that's time I'm taking away from training for comps. Taking time off competitions has allowed me to push my goals and motivations outside, which has allowed me to find new ways of challenging myself within the sport.
I've also learned that outside you can find boulders that fit you well, or that you like. You can play to your strengths, playing up the things you're good at and either avoiding the ones you're not as good at or projecting them at a lower level. You can't do that in comps. So I have had the opportunity to explore more outside and find boulders that fit me. I've also learned what it means to try really hard on rock, to push your limits there.
Climbing: Is this break from competitions a permanent thing, or is it just something that you did to change things up a bit?
Vest: The intention has always been to go back to competing. But I needed to take a break was because I just wasn't psyched by it anymore. I found myself dreading competitions and being afraid of failing, which was not a healthy mindset for me as an athlete. So I decided to take a break and go back to it when I was psyched to challenge myself in that way again. I anticipate going back, but I also haven't missed it yet, so I don't know when that will be.
Climbing: You're the first Canadian woman to send V14. What does that mean for you?
Vest: I mean, it's definitely cool. In my head it was sort of cooler for it to be my first V14, versus being the first Canadian woman to do one. But it's cool, obviously. It's cool to see the sport in Canada growing, especially for women. We've had some really strong male climbers out of Canada, both on rock and in competitions, and we've had strong women over the years too, but the level is rising in Canada. There's a really strong generation of Canadian women coming up behind me, and hopefully this pushes them, shows them what's possible. If that could be the impact of this, that would be what I would want out of it.
Climbing: You set a goal of doing V14 and 2022 and you accomplished it more or less right off the bat. What's next?
Vest: I would like to set my sights on some other hard boulders as the year goes on. I also haven't really traveled. I climbed in Squamish when I lived in Vancouver. And I have visited areas that are close to Utah. But I haven't really bouldered outside anywhere else, so this year I would like to make some more trips to new places. I'm going Hueco in a few days, which I'm excited about, since I've never been. I am also excited to try some of the sport climbs in the area, even just for the mental training. I'm a bit of a wimp on a rope, so it's always good to me to push myself outside of my comfort zone.