James Pearson Flashes 7-Pitch 5.13d
Heading out the door? Read this article on the new Outside+ app available now on iOS devices for members! Download the app.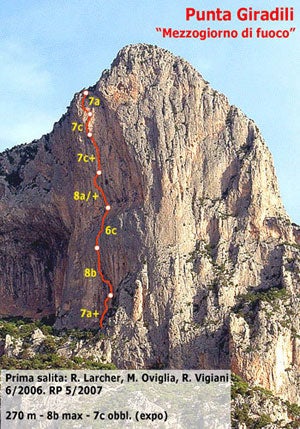 4/12/12 –
James Pearson and Caroline Ciavaldini repeated Mezzogiorno di Fuoco (5.13d, seven pitches) at Punta Giradili in Sardinia, Italy.
They also climbed
Amico Fragile
, another seven-pitch 5.13d, at Monte Donneittu, Sardinia.The pair climbed
Mezzogiorno di Fuoco
in a day, with Pearson flashing every pitch. Ciavaldini redpointed every pitch, taking no more than a few attempts each on the harder pitches.On
Amico Fragile
, Pearson onsighted every pitch except for a dirty 5.12b section higher on the wall.Pearson and Ciavaldini have been in Sardinia for about a week, and plan to stay until the end of the month.
Mezzogiorno di Fuoco was bolted in 2006 by Rolando Larcher, Maurizio Oviglia, and Roberto Vigiani, with Larcher making the first free ascent in 2007. The route is very exposed with runouts up to 30 feet long. It breaks down as 5.11d, 5.13d, 5.11a, 5.13c, 5.13a, 5.12d, 5.11d.
Amico Fragile was first attempted by Fabrizio Fratagnoli and Marco Vago in 2005, but was not completed until 2006, by Vago and Simone Pedeferri. Pitch breakdown: 5.10c, 5.11a, 5.13d, 5.12b, 5.10a, 5.10d, 5.10b
The pair just finished up a trip to Spain, where they climbed their hardest yet: Ciavaldini redpointed Mind Control (5.14c) and Fish Eye (5.14b) at Oliana. Pearson completed his first 5.14d, Esclatamasters, also at Oliana.
Date of ascents: April 2012
Source: James Pearson
MORE NEWS