Top Trad Crusher James Pearson Does His First V15
James Pearson has been a leading trad climber for 15 years. Now he's returned to his bouldering roots and is climbing harder than ever.
Heading out the door? Read this article on the new Outside+ app available now on iOS devices for members! Download the app.
In case you didn't already know, trad-crusher James Pearson can also crush boulders. Last week, the 36-year-old father of two sent Junero Sit, a V15 in Albarracín, Spain. It's his hardest boulder problem to date, and it further solidifies himself as one of the world's best all-arounders.
Though largely known these days for his trad climbing exploits, Pearson first made headlines for his bouldering in 2007, when he became one of the first climbers to flash a climb graded V13—and then did it multiple times in a season. In 2008, Pearson made the first ascent of Walk of Life, initially suggesting a grade of E12, though it was eventually downgraded to E9 (the grading controversy is described in the 2014 film Redemption: The James Pearson Story). In 2020, he made the second ascent of Jacopo Larcher's Tribe, in Caderese, Italy, which is one of the hardest trad routes in the world and is speculated to be 5.14d. Pearson and his wife, Caroline Ciavaldini, also a leading climber, have recently gotten attention for their open portrayal of how parenthood integrates (or conflicts) with the professional climbing life.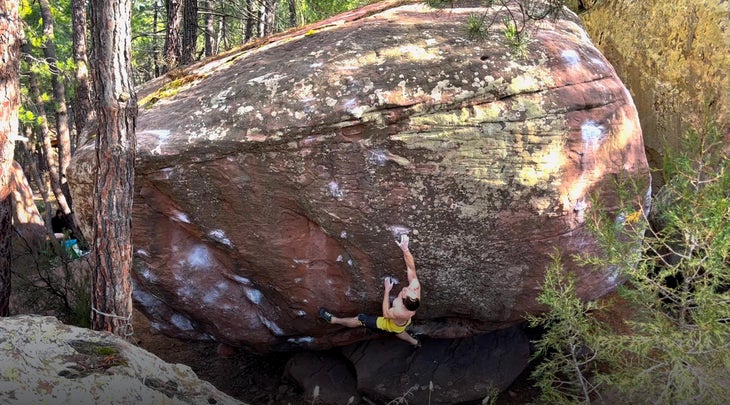 Accompanied by Ciavaldini and their two young kids, Pearson travelled to Albarracín and immediately set his sights on Junero, a technical V15 first ascended by Rubén Díaz. Writing on Instagram, Pearson noted that he sent the stand start (also graded 8C / V15) "relatively quickly," and that even though the first two moves of the sit don't add much difficulty, they made the problem far harder to complete. "I struggled like hell to link it all together again and success came right down to the wire, really about as close as you could get! I don't know how many times I fell on the crux move from the sit but it must have been well into double digits."
Pearson had all but given up on Junero sit by the time he sent—on one of his last days in Albarracín. The rains were coming, and the knee-bar would only sometimes stick, and when it did stick something else would go wrong and Pearson would suddenly find himself on his crashpads.
"I felt exhausted and powered-out on the holds from a week of climbing almost exclusively on the same problem," he wrote. He continued to fall, lower and lower, and eventually packed up and left. But as he hiked out, something told him to go back for a final try.
"Trying the same problem day in and day out takes its toll on you mentally and physically," he writes on Instagram. "It's a fine balance between learning the subtleties of each move and so appearing to get stronger, but actually getting tired and weaker on the moves through over repetition.
"In a past life I'd have extended our trip, taken a week off and then come back again, probably only to fail through some form of performance anxiety. Nowadays, with Arthur going back to school and a whole family to think about, I don't have the luxury of almost endless time."
Read this: A New Life: James Pearson and Caroline Ciavaldini Navigate Parenthood
When Pearson tried Junero Sit a final time, he half-expected to fall with each subsequent move. But somehow, reaching the topout, he was still on the wall. In the video he posted of the send, Pearson places a delicate heel-hook, then sticks the knee-bar before hitting a crimp and then slapping to an edge: you can hear the disbelief in his own voice as he sees the end in sight. "When I caught it and realised everything had stuck, I was suddenly transported back to the here and now, instantly aware of what I'd just done, but also how exhausted I was."
Check out the video: