Heading out the door? Read this article on the new Outside+ app available now on iOS devices for members! Download the app.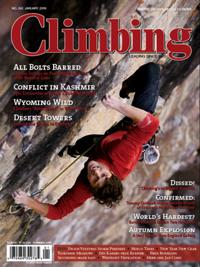 Cover:The Path (5.14 R), Back of the Lake, Lake Louise, Alberta, Canada, as strolled by Sonnie Trotter. Photo: Cory Richards
FEATURES
GALLERY Adios, autumn: Tim Kemple nails East Coast foliage in a special Gallery, from the steeps of Rumney, to the rustic Adirondacks, to the dream boulders of Pawtuckaway.
VERTICAL ETHIOPIA Ingredients: four women climbers, one photographer, one guide, and the infinite (but crumbling) sandstone spires of northern Ethiopia. Bake at 100 F under the African sun for two weeks and serve well-roasted. By Majka Burhardt Photos by Gabe Rogel
THE LINE OF CONTROL Kashmir is known for its conflict, sure . . . between India and Pakistan. But when two Americans going alpine style on the Shafat Fortress butt heads with 11 Italians poised for a siege, international tensions really begin to rise. By Micah Dash Photos by Jonny Copp
WYOMING WIND Wild, remote, and lost to history, the monster granite of Wyoming's Wind River Range offers an alpine-rock paradise unparalleled in the Lower 48. Join Cedar Wright, Renan Ozturk, and friends on an epic first-ascent voyage to Ambush Peak. By Cedar Wright Photos by Andrew McGarry
NECESSARY EVOLUTION Clean climbing is back, stronger than ever, and it's high time we think before we drill, says Sonnie Trotter. By Sonnie Trotter Postscript by Doug Robinson
DEPARTMENTS
CONTRIBUTORS Gabe Rogel, Sonnie Trotter, Molly Loomis, and Micah Dash — unedited and uncut
EDITORIAL Walkabout: an editor's riff on the transformative power of travel
LETTERS BASECAMP HOT FLASHES OFF THE WALL JUST OUT TEN THINGS WHIPPED ROADKILL SUSTAINED
CLASSIC CLIMBS Sea of Holes (II 5.10- R), Hueco Tanks State Historic Site, Texas — two juggy but sparsely protected pitches to ratchet your head down tight
TECH TIPS Alpine: Seven tips for safe passage through a total whiteout Trad: A guide's technique for keeping a close eye on novice seconds
PERSPECTIVE Herb and Jan Conn: explorers, spelunkers, trailblazers, climbers; Custer, South Dakota