Jason Momoa and Chris Sharma on Creating Reality Competition Show 'The Climb'
HBO Max's new show, 'The Climb,' airs today. 
Heading out the door? Read this article on the new Outside+ app available now on iOS devices for members! Download the app.
Reality TV is an iconic contribution to American culture—like a greasy cheeseburger. Who doesn't remember Snooki's drunken escapades? Or Randy, Paula, and Simon's brutal takedowns of teary-eyed wannabes? HBO Max is finally airing a first of its kind climbing reality show, created by none other than the climbing legend Chris Sharma, and Hollywood's Jason Momoa. Across eight episodes 10 intermediate-level climbers compete at crags located across the world. The grand prize? More than World Cup competitors can win in a year—$100,000 and a year-long prAna sponsorship. All told, the show gives off more Dancing with the Stars vibes than So You Think You Can Dance.
Sharma has already done more than most to bring climbing into pop-cultural zeitgeist. He was the world's first climber to do 5.15a and 5.15b, he's established two climbing-gym companies (Sharma Climbing and Sender One, located in Spain and California, respectively), developed climbing shoes for Evolv, and created Psicobloc, America's first deep water soloing competition. For Sharma, a reality show felt like a continuation of those efforts—just another way to spread the stoke.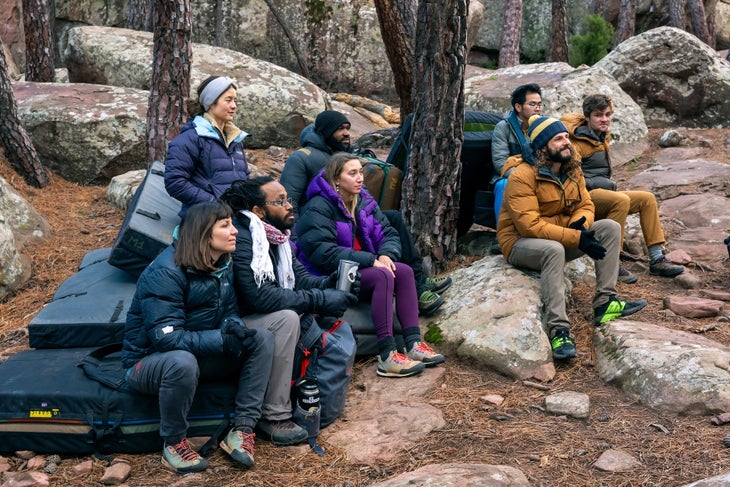 "I'm blown away when I walk into Sharma Climbing here in Barcelona and I meet someone who just started climbing a month ago, and their life has completely changed," says Sharma to Climbing. "I know that feeling—I was that kid in 1993, and it changed my life completely. And so I'm really excited by all the new kids that we're going to turn on to climbing through this show." 
The Climb is amalgamation of amateur participants, dazzling destinations, and all the emotions that come when rock and resolve collide. The 10 contestants try their hands at sport climbing, deep water soloing, bouldering, and even trad. The episodes are fairly predictable—all participants try a climb or boulder together and are ranked based on the highest hold they reached and the time it took to get there. The lowest-ranked participants do an exciting climb-off on a new challenge, and the loser is eliminated and goes home.
The idea for the show arose six years ago, "Through our friendship," Sharma says. Sharma and Momoa met in Hueco Tanks in the nineties. Their paths crossed again at a bouldering competition in Phoenix and, later, in Bishop. The two bonded over their mutual rejection of societal norms and, of course, their love of climbing. 
"Climbing is something that's been in my blood since I was 13 or 14," Momoa tells Climbing. "The way that I act, the way that I move, the way that I see the world—this comes from a lifestyle of climbing." Momoa got his start in the sport after his mom, Coni, took him to the Needles, in South Dakota, where a guide introduced him to bouldering. He returned home and built a campus board in his garage, then began begging his mom to take him to the gym—which was four hours away. "Right now, I'm passing the baton to my children," says Momoa, with, of course, "Uncle Sharma." 
Characteristically, Sharma wanted The Climb's format to be different from that of other climbing competitions. Much like Psicobloc, he hoped to create something new. For this reason, The Climb's challenges all take place on real rock rather than plastic. Destinations include both the famous deep water soloing in Mallorca and the far-less-frequented Wadi Rum. 
Although Momoa is not present for large portions of the show (he just appears at the start of each episode), pro climber and former American Ninja Warrior Meagan Martin stars as a co-host. Drawing from her experience commentating at IFSC World Cups and the Olympics, Martin is both effortlessly charismatic and authentic. She offers competitors feedback, cheers them on, and analyzes their performance for the benefit of the non-climbing audience. She, alongside Sharma, draws out emotion. Tears shed are offset by screams of relief and genuine encouragement.  
The show's defining distinction is perhaps its combined men's and women's field. "I think one of the things that I'm really proud of in this show is that it is a gender-blind competition," says Sharma. The participants came into the competition climbing  5.11 to 5.12, or V4 to V6. Producers looked at applicant's "storylines and plots," as Sharma put it—people with personality. Several of the participants are coaches. One competitor—April Welch—is 53 years old, while another, Brad Burns, is fresh out of college. André Braga, a.k.a. Deco, co-founded a wall company based in Brazil. Cat Runner is the founder of the Queer Climber's Network, a community-building platform that includes a living calendar of U.S.-based queer climbing events.
While The Climb does accurately showcase important elements of our sport—the drama, the range in skills, the fear and the struggle—I couldn't help but wonder if the producers could have captured the artistry of climbing a little better. I wanted more of the process. The painstakingly slow, hard and, oftentimes solo efforts that come only sparingly, when training and mind and the spirit align. I wanted non-climbing viewers to see the high-level technique and strength that only arise from years of devotion to the sport. While I appreciated the diverse cast, I questioned whether participants who climbed a little harder would have been better demonstrators of our sport.  
Prior to the show's release—but in anticipation of what it would be like—a friend remarked: "You can't show top-level climbers on reality TV. They've all sacrificed too much to get there. They're too… weird."
I disagreed. I floated a question about the grades the participants were capable of to Sharma. His response stuck with me.
"If you want to see Olympic athletes, you can watch the Olympics, right? But these guys [on The Climb] represent the masses, in a way. And I feel like a lot of our viewers are going to be able to see themselves in these guys."
When selecting magazine covers from a pool of images, we at Climbing used to ask ourselves the question: Which one sells the dream more? Which might someone see from a distance and think, I want to be doing that? I applied the question to The Climb. Between the showcased destinations, the camaraderie, and, as Sharma put it, the relatability of the participants, the new HBO show inarguably delivers.