"It was the best climbing trip of my life": Jonathan Siegrist Crushes His Anti-Style in Spain
In a five-week period, Jonathan Siegrist sent two 5.15a's, one 5.14d/5.15a, and two 5.14d's. It was the best trip of his life—but it wasn't what he'd planned.
Heading out the door? Read this article on the new Outside+ app available now on iOS devices for members! Download the app.
Jonathan Siegrist has spent a lot of time in Catalunya. He's made months-long pilgrimages to Siurana, home to Ramon Julian's classic 5.15a La Rambla, and to Oliana, where he's sent a half-dozen routes 5.14d and harder. He's spent almost a month in Margalef and several weeks in Montserrat ("a Catalonian crag that people normally skip") and weeks in Catalunya's various satellite crags.
"Basically," he told Climbing over the phone, "I'd hit every major climbing destination in the region and somehow—deliberately—skipped Santa Linya."
Best known for its gigantic cave, La Cova Gran, Santa Linya is home to more routes 5.14d and harder than any other single cliff in the world except for nearby Oliana. The climbing there is steep and complicated, the routes long and powerful, the grades stiff. "It was just the whole package of intimidation," Siegrist admitted. "I was a little afraid of it. But I also felt like it was an area that deserved my attention."
And so, this March, deciding he was finally ready to "get my butt kicked," he planned a six-week visit.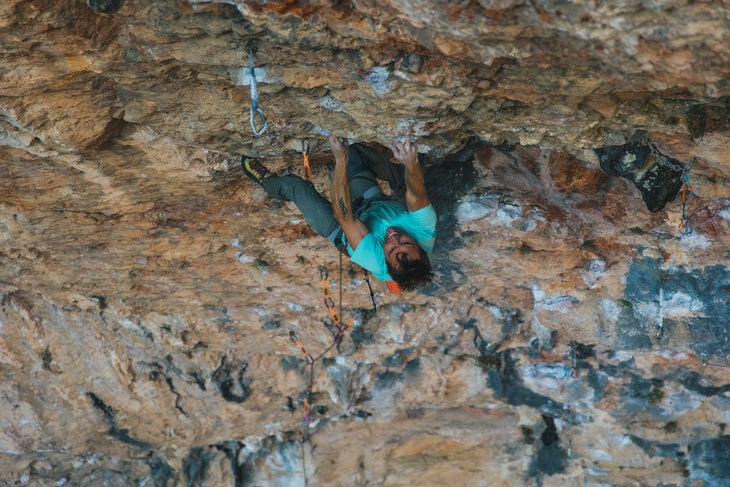 Siegrist is famously goal oriented. He picks a hard objective, schedules a trip, and then trains with that objective in mind. It's an approach that has worked well for him in the past: Of the 21 5.15s he's ticked to date (according to 8a.nu), 12 are located in either France, Spain, or Italy. So he went to Santa Linya with the express goal of sending Stoking the Fire—an often-tried but seldom-repeated 5.15b established by Chris Sharma in 2013 and subsequently climbed by Adam Ondra, Jakob Schubert, Sachi Amma, and Stefano Ghisolfi. 
But after just a week in Spain, Siegrist uncharacteristically—and in a decision he described as "labored"—pivoted away from Stoking the Fire and instead turned his attention to doing hard mileage and "[earning] my way to climbing the hardest route at the crag."
This article is free. Please support us with a membership and you'll receive Climbing in print, plus our annual special edition of Ascent and unlimited online access to thousands of ad-free stories.
By the time he returned to his home in Las Vegas, he had redpointed Seleccion Anal (5.15a), Open Your Mind Direct (5.15a), La Novena Enmienda (5.14d/5.15a), JoeDan (5.14d), Fuck the System (5.14d), Blomu (5.14c), and La Novena Puerta (5.14c)—and flashed Digital System (5.14b). He was calling it the single best climbing trip of his life.
Climbing caught up with Siegrist to learn more about his pivot, about the fine art of projecting abroad, and about why some of the strongest climbers in the world haven't reached their full potential.
*
Climbing: You said on Instagram that this was perhaps your most successful trip ever. What does that mean, exactly?
Siegrist: It feels that way! It's hard to judge what makes one trip better than the other, but this trip had a lot of moments when I thought I wasn't going to do a route because I was feeling tired or had bad weather or felt unprepared—but then things just worked out in my favor. It was the most hard climbing I've done in that amount of time.
Climbing: You've traditionally been quite goal oriented. Was it hard to pivot away from Stoking the Fire?
Siegrist: My decision was labored, yeah. It took me a week to decide to officially stop trying it. There were a number of factors that went into my decision. For one, I hit the ground running and on the first day, still jet lagged, went straight up the route. And it's a really hard route, but it certainly feels harder when you're pooped from travel. So that built up its difficulty in my mind. Also, there's a move in the bottom—a drop knee move—that's really height dependent. It's the kind of move where there's more or less one fixed foot, and it's pretty hard even for taller climbers. I was never actually able to do that move in the standard way and that further discouraged me. The rest of the route was feeling good. But not being able to do one of the moves definitely threw me off—even though I was eventually able to find an alternate method.
But the biggest thing, I think, was that it was difficult for me to be [in Santa Linya] and feel like I didn't understand the style. Other people at the crag would ask me, like, "Oh, have you tried this? Have you tried that?" And I kept having to answer, "No. No, I've never been here." Eventually I realized that instead of going straight in for the hardest route at the crag—which I've certainly done before, and it's worked out for me—maybe I should take the forever-student approach and try to earn my way to climbing it. I saw people like Edu Marin, who I really respect, and Seb Bouin and Domen Škofic, and they were all trying Stoking the Fire, and they're all incredible climbers, and all three of them have taken multiple trips to Santa Linya and have had a lot of success there, and all three of them were having a really hard time on the route. It felt like a good time to take it down a notch and try to build up my confidence in the cave.
But honestly, it was really hard for me. I didn't want to change plans. When I finally decided to stop trying Stoking, I felt—and I know this is ridiculous—but I definitely felt shame. I had been looking forward to trying it for months. I had prepared for it. And it's really difficult for me to turn away from a project that I feel dedicated to. So I felt like if I wasn't going to try Stoking, I needed to have a challenge that felt just as hard. I wanted to feel like I was honoring all the training that I had done. And since I had never been in a cave with probably a dozen routes 9a and harder, none of which I'd previously tried, I looked back through my old journals and in my 8a.nu scorecard and was like, "OK, I've had two trips in the past where I did four 9a and harder routes, but I've never had a trip where I did five 9a and harder routes—and those trips were like two months long, not five weeks."
So that became the goal. In the beginning, I was too afraid to even tell my friends what I was trying to do. I was like, "This is psycho." I didn't really think there was any way. But that was the only way I could walk away from Stoking the Fire and still feel proud, not like I had shied away from a challenge and bailed into something easier.
Climbing: And it was a pretty close thing, wasn't it?
Siegrist: I got really lucky with JoeDan (5.14d), sending on a day when I felt like utter dog shit. Then, at the very end of the trip, I was really close on Fuck the System (5.14d), but conditions were horrible, so I had to try to talk myself off the ledge. I was like, "I did really good, and I tried really hard, and if this doesn't work out, it's going to be okay." But then, miraculously, I was able to do it on the second to last day.
Climbing: "Utter dog shit?"
Siegrist: I just kind of felt like I was crumbling after weeks of steep hard climbing. I was trying JoeDan and La Novena Enmienda [a 50-meter 5.14d/15a out the belly of the cave] at the same time—which was an adaptation I made on this trip: trying two different projects at once. I would have one project that I would try first, then a second project that I would try later in the day. I almost never do that because I prefer to be hyper-focused; but in this case, it was really helpful. With La Novena Enmienda the climbing is so steep, so full body. It almost felt annoying how big it was, how long it took to go up the route. My back hurt. Even my legs were tired. There's not very much easy climbing and learning all the details just felt like a chore. So I'd try that in the morning and JoeDan in the afternoon.
Climbing: You sent La Novena Enmienda first?
Siegrist: [Yes.] Then I tried JoeDan, twice—and it was the first time I'd ever tried that route twice in a single day. And after that I woke up and felt almost ill. But looking at the weather forecast and the schedules of my climbing partners, it seemed best to go and see how I felt. We actually waited until 4:00 p.m. to go to the crag because I was so tired; I was just like, "This is totally worthless." I wasn't certain that I'd even bother to try the route until I picked up the rope and was like, "Well, let's just see what happens."
It was probably the most unexpected send I've ever had. I mean, I'd put in the work; I knew the route and was ready for it; but it really didn't feel like it was going to happen that day. I wish I could say that there was some takeaway or lesson-learned—that this was some convoluted way of having no expectations—but it was something different. I was literally like, "I am going to do damage to my body if I climb this route today," and yet I still sent. I guess if you try to climb your best over and over, you're inevitably going to get lucky a few times.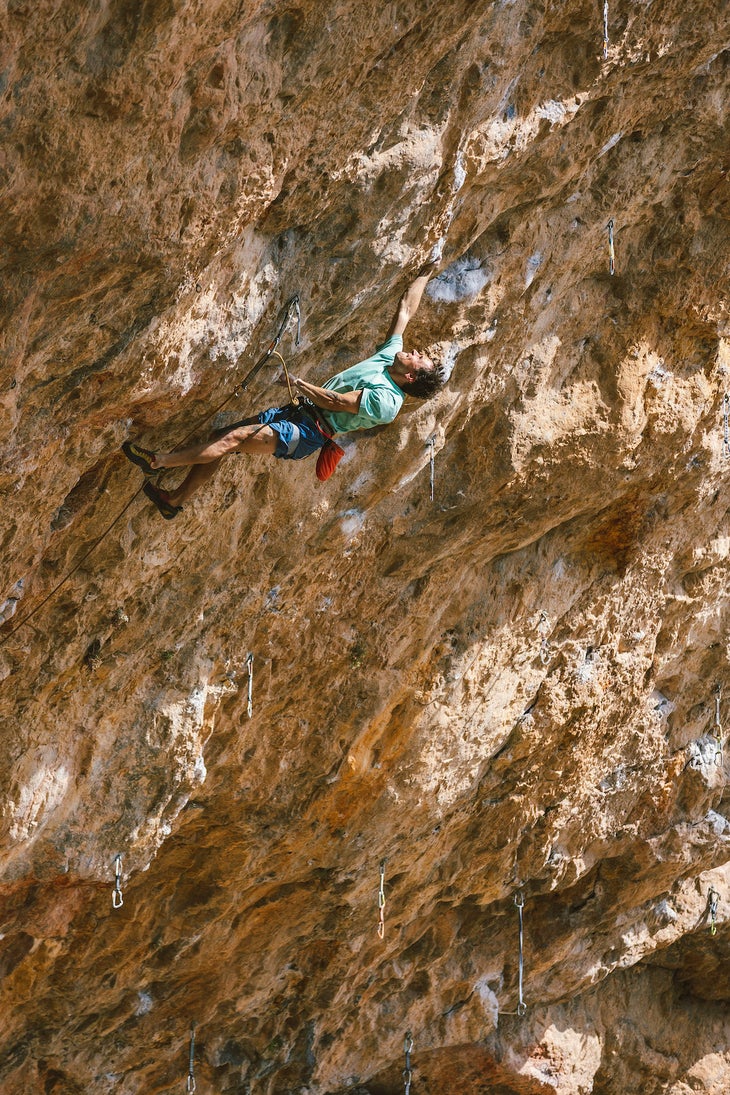 Climbing: You've described the climbing in Santa Linya—and in places like the Hurricave—as your anti-style, and it's something you've been actively working to improve over the last few years. Given your successes on this trip, can you say you've managed to turn your anti-style into one of your strengths?
Siegrist: Yeah, actually! And it was a really, really nice feeling. By the end of the trip, I felt really confident in the cave. Having that experience of climbing so much terrain was super cool. None of the hardest routes I sent share any moves, so I just did so many new meters of climbing and didn't feel like I was getting as pushed around as I expected.
Climbing: Are you going back for Stoking the Fire?
Siegrist: I already have plans and time marked out!
Climbing: You've said that one of your favorite things about climbing is the travel. How do you avoid getting sidelined by all the pastries and wine?
Siegrist: I think what I have that a lot of climbers don't have—even really devoted and skilled climbers—is time. They don't have the opportunity to go abroad very often, and when they do it's too hard to have that focus mindset because it's just so fun to be in a new place and to see new things and eat the food and drink the wine. One thing that I'm fundamentally blessed with, and certainly grateful for, is that I have a lot of time as a pro climber.
Climbing: So you do or don't forgo the pastries?
Siegrist: I kind of dangle the idea of celebrating at the end of the trip with too many pastries and beer and other things that would be detrimental to my climbing if I indulged them too much every day. I don't know if this is healthy, but they're like a reward to me. I always have a bit of extra time added into my trip when I can just fully let go and be a tourist. So basically business comes first, and then I can party. If I can hold off until the end, I really feel like I earned it, and I enjoy it much more as a result. I know that not everyone is like that, but that's just how my personality works.
Climbing: What do rest days look like?
Siegrist: Every rest day I try to do something—so I'm actually able to do a lot of touristy stuff. While we were in Santa Linya, there were a number of climbers just living in the car park, and on rest days they would just come to the crag and hang out. I could never do that. No part of me wants to go to the crag on a rest day. I want to try to forget about climbing as much as I can on a rest day. And I don't want to return home from Spain and be like, "Oh man, I just sat in a dusty cave for two months." I want to go jump in a lake somewhere or walk around some cool little quaint village. On this trip we kept finding these rad lunch spots and having Spanish-style three-hour-long lunches. We'd get some rad food and maybe have a drink, but not go totally overboard. I like to stay on the program, but I'm not going to skip dessert.
Climbing: Do you think taking time to think about other things might actually help your recovery?
Siegrist: Honestly, very much, yeah. I've definitely been in a situation where if I'm not climbing, I'm just obsessed with how my skin is doing and how sore my shoulders feel, and you can get so wound up in your own head. Whereas if you walk away, drive somewhere, do something fun, you can forget about that stuff. That's why companies like Google have ping pong tables at the office. They want people to disengage and come back to work with a fresh mind. It's the same for climbing. It's really helpful to look up at 6:00 p.m. on a rest day and be like, "Oh yeah, we're climbing tomorrow. Cool."
Climbing: You've said that you consider yourself quite weak compared to a lot of the other top climbers out there. Could you speak to that?
Siegrist: I think what I mean by that comment is that I see overqualified climbers all the time. Or at least that's the terminology that I would use. There are so many younger climbers who're just so crazy strong on paper but have a harder time putting that talent to use on rock for some reason. Ethan Pringle and I joke about this all the time. We look at the kids, and we're like, "Dude, if I could be as strong as that kid, I would send everything in the world!" I'm not actually sure how much stronger I can get, maybe not much at all! But I still feel like I might be able to send harder and Ethan feels similarly. And I think the reason we say that is because we might have something critical for sending that is as valuable as the raw strength but just different.
Climbing: Any idea what that thing is?
Siegrist: I suspect that it's the ambition to be outside, to try hard repeatedly, and to just put in time on rock. That's the one thing that I don't really see people doing as much these days. I know tons of 20-something-year-old kids who you've never heard of who would just blow me out of the water in the training room but then, for whatever reason, we get on real rock and they can't make it happen in the way I would assume they could based on how crazy strong they are. I think the answer is time on rock. So many people climb two or three or four nights a week in a gym, and they have incredible training tools, and over time that's enough to get you pretty damn strong. But I guess after all that's mostly making you a better gym climber. There's still a lot of knowledge and skill required to transfer all that into actual outdoor sending. It's not to say that these climbers aren't capable. They absolutely are. But I think it's important for people to remember that guys like Adam Ondra or Stefano Ghisolfi are crazy strong—they can do any of the party tricks and every MoonBoard problem—but they're also spending heaps of time on rock every year.
Climbing: Last question: How many pairs of La Sportiva Testarossas have you gone through in your career?
Siegrist: Oh my God. In my life? Oh my God. Probably… probably… uh… let's see. I would say, conservatively, 30. But maybe 35.