Kilian Jornet: Up and Down Denali in Under 12 Hours
Heading out the door? Read this article on the new Outside+ app available now on iOS devices for members! Download the app.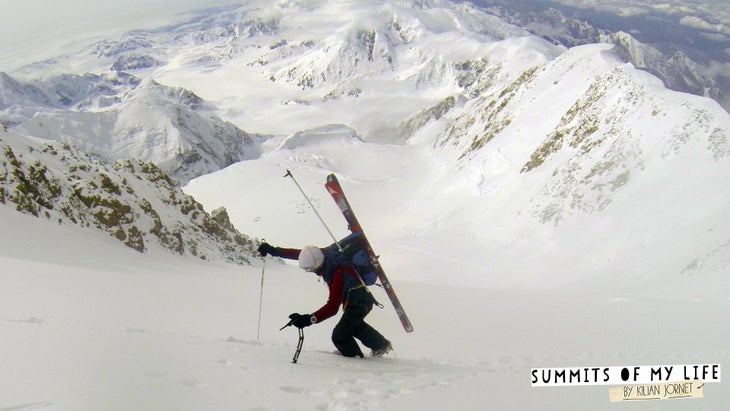 6/13/14 – The mountain runner Kilian Jornet has set a dramatic new speed record for climbing Denali, North America's highest peak. Jornet raced up and down the West Buttressroute, with the Rescue Gully variation, in 11 hours 48 minutes. This is nearly five hours quicker than the previous fastest known time.
The West Buttress route starts at Kahiltna base camp at 7,200 feet, the landing site for air taxis on the Kahiltna Glacier, and climbs to the 20,237-foot summit over about 16.5 miles of glacial terrain—or 33 miles round-trip. Jornet used skis and crampons for the ascent, and skied most or all of the way down. He reached the summit in 9 hours 45 minutes and descended all the way to base camp in just over two hours.
Jornet and his teammates (Vivian Bruchez, Seb Montaz, and Jordi Tosas), who were there to help him acclimatize safely and to film the speed attempt, flew to the mountain in late May. They climbed to the 14,000-foot camp on the West Buttress route, and spent several days exploring the upper mountain, including a trip to the summit. Jornet decided to make his attempt by the Rescue Gully, a 40° snow couloir that ascends straight from the large basin above the 14,000-foot camp to the 17,200-foot high camp below Denali Pass. This route is more direct than the usual West Buttress route and more suitable for skiing, and as Jornet explained at his website, "We opted for an alternative route, a bit more technical, to avoid a stretch with fixed ropes. We want to climb mountains in the purest way possible."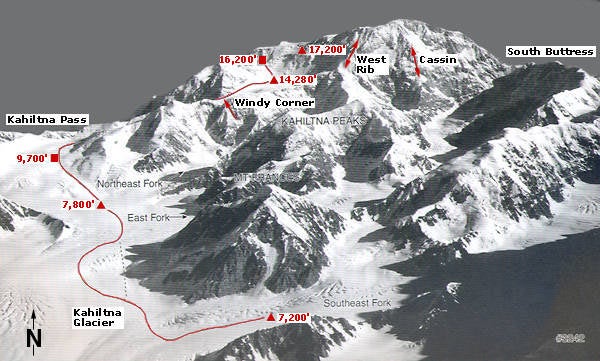 Poor weather plagued the expedition, with only three good  days out of the 16 they spent on Denali. So when they got a good forecast for June 7, Jornet decided to make the attempt then, despite having spent only seven days acclimatizing at 14,000 feet or higher. After returning to base camp, he set out on June 7 at 7:10 a.m. with the temperature at –20°C (–4°F) and wind gusting to 25 mph. He wore insulated ski boots and a light ski-racing suit with shell pants and jacket, plus two warmer jackets in reserve in a 25-liter pack. He had one liter of water and 300cl of  energy gels.
"I set off well and at a very fast pace as far as 4,000m [around the 14,000-foot camp]," Jornet said at his blog. "From there up to 5,000m [16,400′] there were strong winds and my feet got quite cold. The real bad weather started at 5,000m. From there onward to the summit I found it hard going, due to both the intense cold and the difference in altitude, which was starting to take its toll. I had to stop every so often to warm up, and that slowed me down a bit. On reaching the top, it took me about 10 minutes to get my skis on and to prepare myself for the descent. It was still windy and very cold. From there, I skied down, feeling a bit better, but visibility was poor and so I had to be careful."
Once below the steep Rescue Gully, Jornet—a champion ski mountaineer—opened the throttle and flew down the lower mountain to base camp. "It has been an amazing experience, and two striking memories will remain: the moment I reached the summit, not because it was beautiful, because there was fog [and] I could not see a thing, but because I thought 'Now my legs will finally stop hurting,' and the moment I got to Rescue Gully, where Jordi and Vivian were waiting for me [to film] and we shared a few moments together, which were very special."
Speed records on Denali have never been officially timed or tracked, but the fastest reported time for the round trip on the West Buttress was clocked just last year: 16 hours 46 minutes by Air Force veteran Ed Warren from New Hampshire. Warren reported taking 12 hours 29 minutes for the ascent. In 2003, the late Chad Kellogg reported an ascent of Denali in 14 hours 22 minutes, returning to base camp in less than 24 hours.
Jornet earned a 2013 Golden Piton from Climbing for his speed records on Mont Blanc and the Matterhorn. The Catalan runner now has his eyes on Elbrus, Aconcagua, and Everest as part of his multi-year Summits of My Life project.
Date of ascent: June 2014
Sources: Blog.summitsofmylife.com, Desnivel.com, Facebook.com/kilianjornet