Renowned Alpinist Korra Pesce Killed by Icefall on Cerro Torre, Patagonia
Corrado "Korra" Pesce and his partner had completed a new route on Cerro Torre's east and north face when a rime-ice mushroom collapsed on him.
Heading out the door? Read this article on the new Outside+ app available now on iOS devices for members! Download the app.
The 41-year-old Italian alpinist Corrado "Korra" Pesce has died in Patagonia while descending Cerro Torre's north face. Pesce and his partner, Tomás Aguiló, established a new route up the mountain, beginning on the east face and finishing on the north, where they crossed paths with the Italians Matteo Della Bordella, David Bacci, and Matteo De Zaicomo, who had also completed a new route on the east face. 
The two parties joined forces for the final 1,000 feet of climbing up the north face with Pesce in front. "[He was] the freshest and the strongest and immediately [took] the lead…. It's a huge psychological advantage being able to follow [such] a machine," Della Bordella wrote on planetmountain.com.
Once on the summit, Pesce and Aguiló immediately prepared to rappel. It was 6 p.m. on Thursday, January 27 and the pair wanted to take advantage of the cold nighttime conditions for their descent; loose rock and unstable ice formations had a greater likelihood of staying in place. Pesce invited the Italian party to join them but they declined. Exhausted from their multi-day effort, they chose to bivy on Cerro Torre's summit and descend the Southeast Ridge (commonly known as the Compressor Route) the next morning.
Disaster struck Pesce and Aguiló a few hours before sunrise. A rime-ice mushroom broke loose from above, sending a torrent of rock, ice, and snow on top of them. Aguiló was seriously injured but remained mobile, while Pesce was "completely paralysed and unable to move due to the extent of his injuries," Della Bordella wrote. Most of the pair's bivy kit was lost, as well as much of their climbing equipment, and Aguiló began rappelling the steep wall alone to retrieve help. Lower down the mountain he found their Inreach in the snow and called for a rescue. 
Kiff Alcocer, an American currently climbing in Patagonia, was in the Niponino base camp when he heard talks of an accident on Cerro Torre. Though unaware of Aguiló's Inreach message, someone had seen a headlamp's SOS signal high on the mountain and roused a group of ten, including Alcocer and the German alpinist Thomas Huber, to hike two hours to the base of the glacier (Noruegos Camp) to investigate. Alcocer, Huber, and two others continued past the high camp, across the broken glacier, to the base of the east face. Aguiló soon came into their view and they watched him slowly descend to a prominent triangular snowfield, still 1,000 feet of technical climbing above the glacier.
By 5 p.m. on Friday, Della Bordella's team had finished their 30 rappels down the Southeast Ridge and met up with Alcocer and the rest of the rescue party at the base of the wall. Horrified to learn of the accident, Della Bordella used his drone to pinpoint Aguiló's location on the wall and readied himself for a rescue mission. "What the Italian team did was remarkable," Alcocer told Climbing. "To climb a new route on Cerro Torre [and] then, without hesitation, climb back up for an injured comrade was inspiring."
Though mentally and physically drained, Della Bordella knew he was the ideal person to lead a rescue. He'd climbed that section of the east face just days before; he knew where to go and the gear to bring. Alongside Thomas Huber, Roger Schaeli, and Roberto Treu, the rescuers climbed the first seven pitches of the Maestri Route—including runout 5.11 slab with bad gear—in just three hours before traversing another rope length to reach Aguiló and the snowfield. "They really strung it out trying," Alcocer said of the rescuers. "It's serious climbing up there."
Della Bordella reported that it was midnight when Treu and Huber began to descend with Aguiló. He and Schaeli, a dear friend of Pesce, remained on the wall, unwilling to give up on their rescue. Despite an incoming storm and just one rope between them, they waited on the triangular snowfield until 3 a.m. for any sign of Pesce. Temperatures plummeted. The wind howled. It wasn't until Della Bordella began to hallucinate from exhaustion that they too began to descend. 
"I realise that it's time to get off the mountain, because in this state I can hardly look after myself," he wrote on planetmountain.com. "It's a bitter decision, but unfortunately we're way past our physical and psychological limits; we realise that [Pesce] will remain on that mountain forever."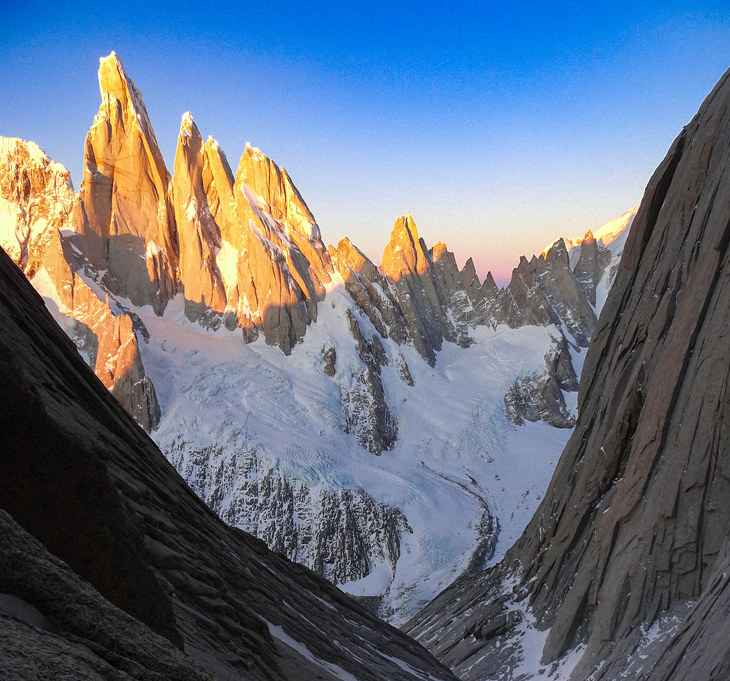 By the time Della Bordella and Schaeli had returned to the glacier, Aguiló's rescue was in full swing. Alcocer estimated that roughly 15 climbers met Aguiló at the base of the east face and took on the nightmarish task of "wrestling a stretcher for hours" down the steep and heavily crevassed glacier. Another 30-odd rescuers waited for Aguiló at the bottom of the glacier where an Argentinian Army helicopter flew him to a hospital in Calafate, treating him for a punctured lung, broken clavicle and ribs, among other injuries, where he is expected to recover. 
A drone continued to search for Pesce but any further rescue attempt was called off due to the mounting storm. Carolina Codo, head of Argentina's El Chaltén Alpine Rescue Centre, told Explorersweb, "Corrado Pesce can no longer be alive. Today, we were able to zoom in on the images of a drone flown near ​​the accident. Pesce's body can be seen. It slid 50 metres below the platform where he spent the night…. Without adequate protection, death from hypothermia occurs within two hours."
*
Corrado Pesce was one of the greatest alpinists of his generation, having climbed serious routes throughout the Alps, Himalaya, and Patagonia. In 2019, in a team of five including Aguiló, he made the second ascent of the immense Psycho Vertical (5.10b A3 M8 90°; 950 meters) on the south face of Torre Egger; in 2016 he repeated Impossible Star (ED; 2,000 meters) on Bhagirathi III (6,454 meters) in the Indian Himalaya; in 2015 he repeated Rolling Stones (WI5+ 5.10a A3 80° ED; 1,100 meters) on the Grandes Jorrasses; and in 2014 he climbed Directe de l'Amitie (VII M7/A3 90°; 1,100 meters) on the same mountain.
"[Pesce] was a shining force for climbing and the history of the art," Renan Ozturk wrote in a memorial on Instagram. "He was selfless in the hardest alpine moments, stoic, strong…but also soft and hilarious at the end of the day."
A fundraising page has been created to help support Pesce's 13-year-old daughter, Leia, in his absence. You can donate here.