Heading out the door? Read this article on the new Outside+ app available now on iOS devices for members! Download the app.
Dai Koyamada on The Wheel of Lifewww.8a.nu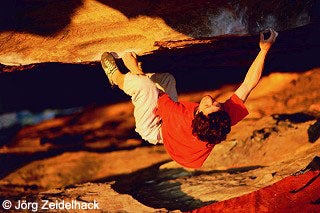 Japan's Dai Koyamada has completed a massive link-up at the Hollow Mountain Cave in the Grampians of Australia and rated it 8c+ (V16). Koyamada called his big new link-up The Wheel of Life. Fred Nicole and Klem Loskot, along with some of Australia's top boulderers, had established the problems and variations that make up the enormous cave traverse: Under Siege (V14), Sleepy Hollow (V12), Cave Girl (V12) and Dead Can't Dance (V12). Over the past several years, various climbers had worked to connect the problems: Nicole linked Cave Man to Dead Can't Dance to produce Eve Rêve (V13/14); Australian Matt Wrigley connected Cave Girl to Dead Can't Dance to create Pretty Hate Machine (V14); and Sharik Walker of Australia linked X-treme Cool (V9/10) with Sleepy Hollow to create Under Siege. Planning 50 days in Australia, Koyamada's goal from the get-go was to link them all. With more than 60 moves, this long-anticipated traverse is much more like a climb than a boulder problem — either way, it is undoubtedly one of the world's hardest. During his multiweek visit to the Grampians, Koyamada climbed just about every other hard boulder problem and traverse in the area and established several new ones. Hardest of the lot was the precursor to his complete link-up: the traverse of Sleepy Hollow, Cave Girl and Dead Can't Dance, which he graded (8c/V15) and called Sleepy Rave.According to www.australianbouldering.com, fellow Japanese Soichi Niimi and Hirotaro Hoshina didn't do too badly, either, with Niimi climbing Sleepy Hollow and Hoshina ticking Under Siege, Pretty Hate Machine (hard variant, V14/15) and Eve Rêve (V14).