La Sportiva Celebrates Fall Climbing Season at Rocktoberfest
Heading out the door? Read this article on the new Outside+ app available now on iOS devices for members! Download the app.
Sport climbing in the Red River Gorge, KY.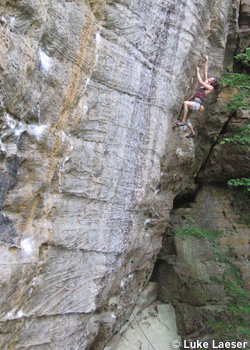 With the fall foliage emerging and temperatures dipping, Fall climbing season has finally emerged in the Southeast. To celebrate, La Sportiva, the Italian performance mountain footwear brand, is stepping up their partnership with the Red River Gorge Climbers Coalition (RRGCC) as a sponsor of Rocktoberfest.
On October 10th, over 500 climbers from all over the country are expected to attend Rocktoberfest. This annual climbing festival near the Red River Gorge in Kentucky features climbing clinics, the must see REEL Rock Sharp End movie, and stellar music from multiple bands.
It is also a party with a purpose. In 2004, the RRGCC purchased the Pendergrass-Murray Recreational Preserve, 750 acres with over 400+ climbing routes. That purchase comes with a heavy mortgage payment. All of the money raised through Rocktoberfest will go towards paying that mortgage.
La Sportiva is donating 100 pairs of V5 Leather Flip Flops to the Red River Gorge Climbers Coalition to be sold for $20 a piece ($40 retail value) with all proceeds to benefit the organization. La Sportiva will also provide gear demos, including a full fleet of its award winning Solution, Miura VS, and Cobra climbing shoes.
Online registration is available through www.rrgcc.org and registration will also be available on-site at the Bee Rock Campground in the Daniel Boone National Forest in Kentucky.
In addition to sponsoring the event, two La Sportiva athletes and a representative from the RRGCC have decided to step up and help the local community. Morgain Sprague, a member of the RRGCC board of directors, Emily Harrington and Daniel Woods, both members of La Sportiva's climbing team, will teach seniors at the Powell County Public High School about outdoor sports, especially rock climbing.
"We are doing this as an educational component to the RRGCC's mission. Obesity in children is at epidemic levels, especially in Eastern Kentucky. These children live in an area with outdoor activity readily available. They just have to walk out their back doors to be in the foothills of Appalachia," said Sprague. "Most of them, however, stay indoors and play video games. What we want to do is encourage these kids to get outside and learn some fun activities, like rock climbing."
Woods and Harrington are participating in this educational event as part of their effort to satisfy the "I Will" pledge they both made to The Outdoor Foundation. By taking this pledge, these two La Sportiva athletes promised to take at least two kids outside and introduce them to an outdoor sport. Through this program they will introduce at least 150 students to the joys of rock climbing.
ABOUT LA SPORTIVACelebrating their 80th anniversary, La Sportiva brings a strong alpine mountaineering and climbing heritage to their line of performance mountain footwear. This core experience enables La Sportiva to offer the most versatile technical climbing, mountaineering, Mountain Running® and hiking shoes on the market. For more information on La Sportiva visit www.sportiva.com or check out the new online interactive community, La Sportiva LIVE, at http://www.sportiva.com/live