La Sportiva Partners with Green Living Project
Heading out the door? Read this article on the new Outside+ app available now on iOS devices for members! Download the app.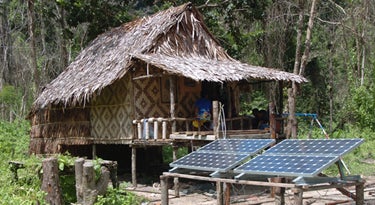 Boulder, Colo. July 21, 2008 – La Sportiva is partnering with Green Living Project™, a media production and marketing company that showcases sustainable initiatives around the globe. Green Living Project™ is documenting current examples of sustainability or 'green living' around the world. Green Living Project is currently traveling through Africa to pre-selected locations to take HD video, photographs, video podcasts, and stories of projects that illustrate the benefits of green living for all socio-economic classes.
Laura Fryer, La Sportiva's marketing manager said, "This relationship is completely in-line with our goals as a company. We established a corporate social responsibility platform that addressed workers rights, environmental impact, and philanthropy. It is only natural that part of our marketing efforts go towards sponsoring socially and environmentally responsible expeditions like Green Living Project."
To date, Green Living Project™ recently visited East Africa (Uganda, Rwanda, and Tanzania) where they documented 16 different projects that embraced different aspects of sustainability. They worked with local governments, non-profit organizations, private companies, and international conservation organizations such as the African Wildlife Foundation and The Gorilla Organization. Overall, these projects included sustainability themes such as renewable energy, oganic farming, wildlife conservation, water conservation, responsible tourism, eco-lodges, volunteerism, and community development.
"La Sportiva makes some of the best hiking shoes in the industry, so we wanted to make sure we had quality and durable products to get us around East Africa. Their hiking shoes performed beautifully during our recent expedition. We look forward to using them again as we return to Southern Africa in October 2008, said Rob Holmes, founder & president of Green Living Project.
"In addition, we have been very impressed with their energy and enthusiasm for making La Sportiva a more sustainable and environmentally responsible company. In this day and age, it is so important for all companies to analyze their total impact on the environment in order to see what steps can be made to be more responsible. La Sportiva is doing just that and we have been impressed," continued Holmes.
The Key Goals for each expedition include:
Sustainability: Increase awareness of successful sustainability projects around the world

Exposure: Increase exposure and awareness of unique Partner Projects embracing sustainability

Education: Educate individuals and communities on living a more sustainable lifestyle

Entertainment: Entertain & inspire individuals via professional and interactive multi-media content
Following this first African expedition, Green Living Project will use the video and imagery it captures in a multi-media tour. Green Living Project will visit multiple R.E.I., L.L. Bean, Eastern Mountain Sports, and other public venues around the country.
ABOUT LA SPORTIVACelebrating their 80th anniversary, La Sportiva brings a strong alpine mountaineering and climbing heritage to their line of performance mountain footwear. This core experience enables La Sportiva to offer the most versatile technical climbing, mountaineering, Mountain Running® and hiking shoes on the market. For more information on La Sportiva visit www.sportiva.com or see us on Facebook.
About Green Living Project™Green Living Project™ (GLP) is a media production, marketing and entertainment company that showcases sustainable initiatives around the globe. Through photojournalism and HD video, GLP aims to educate, inspire and entertain while encouraging individuals and communities to adopt a more sustainable lifestyle. In 2008, Green Living Project™ highlights Africa, documenting projects administered by leading non-profits, eco-lodges, conservation organizations, travel companies and local tourism boards. GLP promotes thes projects on its website (www.greenlivingproject.com) and through an international lecture series launched in partnership with National Geographic Adventure, Recreational Equipment, Inc. (R.E.I.), and other strategic partners. For more information, please visit www.greenlivingproject.com.