Ladders On Everest: Big Changes For A Big Mountain
Heading out the door? Read this article on the new Outside+ app available now on iOS devices for members! Download the app.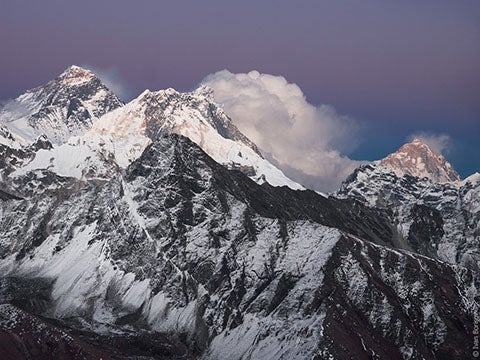 3/21/14 – Facing dangerous conditions due to overcrowding, rising tensions, and ever-accumulating garbage, the Nepalese Tourism Ministry is introducing a list of new policies for Mount Everest, and discussing other changes.
This week, the tourism ministry proposed fixing ladders on the Hillary Step. The idea was first suggested last year and is now being considered again. The Hillary Step is a 40-foot rock face located 300 feet from the summit. It's a notorious bottleneck, sometimes leading to a wait of several hours at dangerous altitudes. Sherpas have already to decided to fix a second rope to reduce wait times at the Hillary Step and other high-congestion areas this year, such as the Geneva Spur, Yellow Band, and Balcony.
Ed Viesturs, who has summited Everest seven times and is the first American to climb all 14 of the world's 8,000-meter peaks, criticized the plan in a New York Times op-ed last year.
"I think the ladder is a bad idea. It won't solve the real problem, which is overcrowding on the most famous route in mountaineering," said Viesturs. "At its best, installing a permanent ladder to surmount the Hillary Step would be like slapping a Band-Aid on an artery that's hemorrhaging."
What could alleviate overcrowding at the Hillary Step are the strides Nepal is taking to encourage climbing on other mountains in the region. The tourism board is reducing fees and opening summits that were previously closed to climbers. They're also considering the idea of leasing peaks to be managed and promoted by private tour companies.
Those aren't the only changes. Soldiers will now be stationed at a new office in basecamp. The decision was sparked by a 2013 incident where Ueli Steck, Simone Moro, and Jon Griffith were assaulted by Sherpas during an expedition up the Lhotse Face, when they got in the way of a Sherpa rope-fixing team. The new soldiers will be available to diffuse tensions should any more conflicts arise.
Each climber will now be required to carry at least 8 kg (17.6 lbs) of trash off the mountain, not including their own. The rule goes into effect this April, and applies to all climbers that ascend beyond basecamp. Nepalese officials are threatening steep fines and legal action against those that don't comply, but enforcement and penalty specifics are still vague. Toilets will also be added at basecamp to deal with human waste problems.
The fee structure for Everest has shifted, too. Previously it cost $25,000 for a solo climber, or $70,000 for a group. Starting in 2015, all climbers will be charged a flat fee of $11,000.
"The change in royalty rates will discourage artificially formed groups, where the leader does not even know some of the members in his own team," tourism ministry official Tilakram Pandey told Reuters. "It will promote responsible and serious climbers."
All of these changes will hopefully move the world's tallest mountain in the direction of becoming a cleaner, less expensive, and safer mountain. While this is in many ways a step forward, critics believe a ladder at the Hillary Step would convince more climbers they're capable of summiting the mountain and draw bigger, less experienced crowds. If Viesturs is right, the ladder will only make the mountain more dangerous.
The 2014 climbing season is already under way. Sherpas arrived at base camp on March 13 to begin fixing ropes. Everest chronicler Alan Arnette predicts a record 800 climbers will attempt the mountain. Ueli Steck will be absent from the Himalayas this year, but there are a number of notable expeditions. Joby Ogwyn will attempt to be the first person to BASE jump from the summit in a wingsuit. Climber/director Renan Ozturk will be on the mountain as the high-altitude director of a feature-length Sherpa documentary. The film will chronicle an Everest expedition entirely from the perspective of the Sherpas.