Heading out the door? Read this article on the new Outside+ app available now on iOS devices for members! Download the app.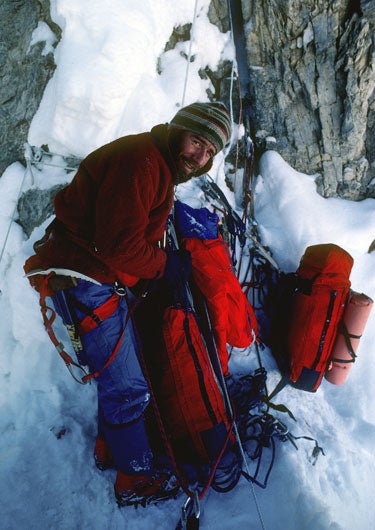 Grant more than doubles for 2008 Mugs Stump Award
As long as it was at least a little bit out there, Mugs Stump was always psyched for something, be it a big wall, long free route, frozen waterfall, or high alpine face. A true "climber's climber," he wanted to stay on the edge, pushing the envelope of possibility, getting to that rare place where you climb intuitively, fluidly, unburdened by doubt and fear. It's a legacy worth celebrating, and the Mugs Stump Award, established in his memory in 1993, has recently more than doubled the grants available for 2008.
On May 21, 1992, Mugs died while guiding two clients down Denali's South Buttress in a storm, the victim of a simple misjudgment and a substantial dose of bad luck. Investigating the route ahead, he'd strayed too close to the unstable edge of a huge crevasse. When it collapsed, Mugs fell and was buried beneath the jumbled mass of ice.
At a memorial service in Salt Lake City later that summer, several of us came up with an idea: why not establish an annual grant in Mugs' name, so new generations of climbers could draw inspiration and sustenance from his memory? The Mugs Stump Award began as a back-of-the-envelope affair, and remains so today. Started in 1993 by Black Diamond Equipment, Ltd., Climbing Magazine, Patagonia, Inc., and W.L. Gore & Associates, Inc., the Mugs Stump Award has grown to include Mountain Gear (in 2001) and PrimaLoft (in 2007) as sponsors. For 2008, $30,000 is available to help committed climbers fulfill their dreams of fast, lightweight, leave-no-trace ascents in the world's remote high places.
Although Mugs readily shared his experiences with friends in conversation and letters, he seldom wrote or lectured about his climbs. The act of climbing — the doing itself — was the important thing. The Emperor Face on Mount Robson in the Canadian Rockies, the East Face of the Moose's Tooth and the Moonflower Buttress on Mount Hunter in Alaska, his two big solo routes on Mount Gardiner and Mount Tyree in Antarctica, and his one-day solo of the Cassin Ridge on Denali were all precedent-setting climbs, but he wasn't primarily concerned with either physical performance or making history. Mugs was more than just a superb athlete — he pursued his climbing as a quest for enlightenment, or, as alpinist Bill Belcourt puts it, "…a means of stripping away the bullshit so only what matters remains."
After returning empty-handed from a 2002 trip to the Alaska Range with Scott DeCapio, Kelly Cordes summed up Mugs' continued legacy as reflected in the Mugs Stump Award: "While we are naturally disappointed that we didn't succeed in climbing any of our objectives, we realize that in coming back, and in learning about ourselves, the trip was a success," he wrote. "Big routes, in good style, don't come easily. … We are incredibly grateful to all of those who support the Mugs Stump Award. … In a world laden with over-commercialized ascents, unsubstantiated hype, and movie-crew climbing, you are helping to keep the soul of alpinism alive."
Fun facts:
The Mugs Stump Award has given out $187,000 in its 15-year history, in grants ranging from $500 to $6000. The average grant was about $2500.

Two climbers have been recipients of the Mugs Stump Award five times – Steve House (in 1997, 1998, 2000, 2003, and 2005) and Sean Isaac (in 1997, 1998, 2001, 2003, and 2005). Six have received it three times: Mike Bearzi (in 1993, 1998, and 2001), Carlos Buhler (in 1994, 1998, and 1999), Kelly Cordes (in 2000, 2002, and 2005), Scott DeCapio (in 2000, 2001, and 2002), Mike Libecki (in 2000, 2002, and 2006), and Josh Wharton (in 2003, 2005, and 2007).

Three still-unclimbed objectives have been attempted multiple times by Mugs Stump Award recipients: the North Face of Devil's Thumb (in 1993 and 1998), the North Ridge of Shingu Charpa (in 2001 and 2004), and Meru Shark's Fin (in 2002, 2003, and 2004).

With ambitious objectives the norm, success isn't a given — in 2003, not one of the five teams supported by the Mugs Stump Award got up its proposed route. The overall success rate for 1993 to 2006 (four of five 2007 teams are still in the field) was just 42 percent. Notable accomplishments by Mugs Stump Award recipients range from technical gems like the 1994 first ascent of Deprivation (Alaskan Grade 6, ED+, 90 degree ice) on the North Buttress of Mount Hunter in the Alaska Range, by Scott Backes and Mark Twight, to exploratory epics like the 2004 first ascent of the remote Avellano Tower in Chile, by Dave Anderson, Nacho Grez, Steve Herlighy, and Jamie Selda.
Info:
Further information, past trip reports, and applications are available at mugsstumpaward.com. Climbs proposed should present an outstanding challenge — a first ascent, significant repeat, or first alpine-style ascent — with special emphasis leaving no trace of your passage. Teams and individuals from North America, and climbs taking place between March 1, 2008, and February 28, 2009, are eligible. You don't have to be famous, and men and women are equally encouraged to apply.
Please submit electronic applications to mugs_stump_award@patagonia.com (subject line "2008 Mugs Stump Application"); or mail 12 copies of your application to Kristo Torgersen, Patagonia, 259 W. Santa Clara St., Ventura, CA 93001. Applications for the 2008 Mugs Stump Award will be accepted from October 1 through November 30, 2007, and awards will be announced by January 31, 2008.