Let's Stop Bashing Speed Climbing And Accept That It's Legitimate
It's easy to say that speed climbing shouldn't have been in the Olympics, that it's not "real" climbing. Here's why those notions are just wrong.
Heading out the door? Read this article on the new Outside+ app available now on iOS devices for members! Download the app.
This article is free. Sign up with an Outside+ membership and you get unlimited access to thousands of stories and articles by world-class authors on climbing.com and rockandice.com, plus you'll enjoy a print subscription to Climbing and receive our annual coffee-table edition of Ascent. Please join the Climbing team today. 
As we collectively bask in the afterglow of climbing's Olympic debut—and presumably catch up on some much-needed sleep—we suddenly find ourselves in unfamiliar territory, reflecting on the whole Tokyo whirl rather than hyping it up. We can now gaze back and see where and when Nathaniel Coleman's dream began. We can even hear directly from Colin Duffy what it was like to be part of Olympic history. But one of the more peculiar ruminations in this Olympic dusk is the feeling that Speed—one of the disciplines within the 2020 Olympics Combined format—is not real climbing. We've all heard these faux-arguments before; attempting to delegitimize speed climbing is unfortunate-but-recurring rhetoric in our sport. But denigrators now have the greatest reference point of all, the Olympics themselves.
The most recent jabs at Speed (as an event) and speed climbing (as a competitive form) largely stem from the determining scores in the men's division at the Olympics. Spain's Alberto Ginés López is by no means a speed specialist, yet he won the Olympics' Speed portion…undeniably aided by a false start from his opponent, Team USA's Colin Duffy, in an opening heat, and a low slip by Japan's Tomoa Narasaki in the final heat. 
Ginés López' victory in those heats would not only prove shocking, they would be crucial to his eventual Olympic gold medal. In fact, Ginés López' results in the successive portions were middling at best, somewhat unremarkable at worst: seventh place in the Boulder portion (in a field of seven active competitors), and fourth place in the concluding Lead portion. Yet, the Olympics' multiplied scores worked out the way they did to mean that Ginés López ultimately won it all—and all the credit should go to him, fair play. Still, it's worth noting that speed climbing, a specialty that is unquestionably less popular with the climbing masses than bouldering or lead climbing…or MoonBoarding…or hangboarding…ended up being the most significant of all at the Olympics. You can grumble, but don't say that I didn't warn you. 
Spectators and climbers are entitled to their opinions, and it's fine to spar about the Olympics' multiplied scoring system. I'm not in love with it either. As an alternative, if the Olympics' Combined format is in theory a gauntlet for determining the best all-around climber, shouldn't Colin Duffy—the only men's finalist to place in the Top 5 for each—be wearing the gold medal instead of Ginés López? Some people online have made strong cases for this. But it seems like those arguments occasionally go too far, and eventually contort into that nonsensical rationalization, yet again, that speed climbing isn't real climbing.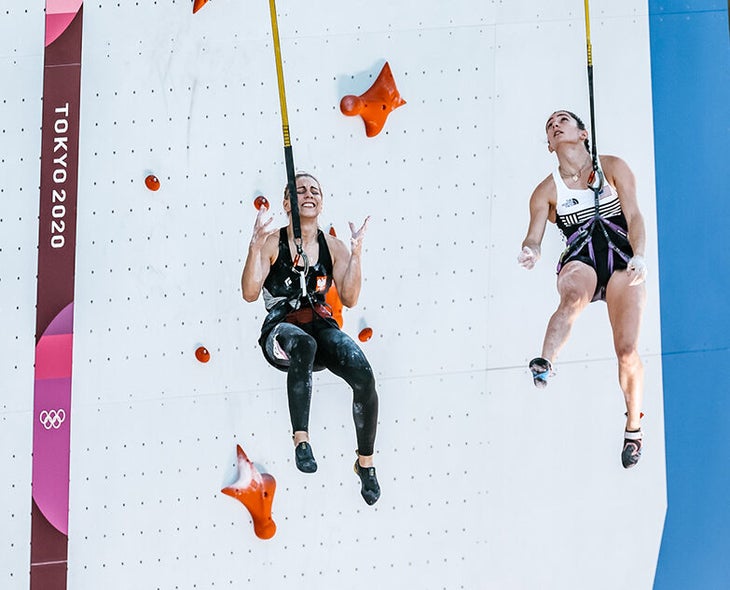 Speed is nothing new
On a literal level, speed climbing entails going from Point A to Point B on a vertical plane. That makes it climbing, of course, but this also seems like a snarky and literal response to more conceptual reproach of the Speed discipline. 
So, instead, let me start by pointing out that Speed happens to be the oldest of all competitive climbing disciplines, in the organized and invitational sense. In the 1992 edition of The Sport Climbing Competition Handbook, the first-ever book to focus exclusively on American competition climbing, author Peter Darmi wrote: "Competition climbing began in the Soviet bloc countries in the mid-1970s with speed climbing contests, generally held on natural rock surfaces. Only speed counted. Whoever got there first won." 
Some historians will note that other types of speed climbing contests existed even prior to that, as far back as the mid-20th century.
Of course, just because something has been around a long time in various forms doesn't necessarily mean it's a good thing. But any anti-Speed arguments lose force because wiping speed climbing from the figurative canvas risks discrediting much of climbing's foundation, not to mention some of climbing's widely-accepted metrics for improvement. 
Consider the famed Speed records of the Nose on El Capitan. Europe and other parts of the world would have had their own instances of increased climbing efficiency, which have also evolved at times into all-out Speed records. Then there are speed ascents of the Eiger and Matterhorn, Denail and Everest—no one says that those ascents, where fast times are about all that matters, aren't real climbing. Say what you will about climbing Mount Everest and "the circus that is the commercial Everest industry," as Climbing's Michael Levy dubbed it earlier this year.  Say what you will about climbing's inclusion in the Olympics too. But climbing history is in many ways a chronicle of elements that the current Speed discipline simply highlights, magnifies, and celebrates to the fullest: Efficiency, economy of movement, and the binary win/lose dynamic of competition.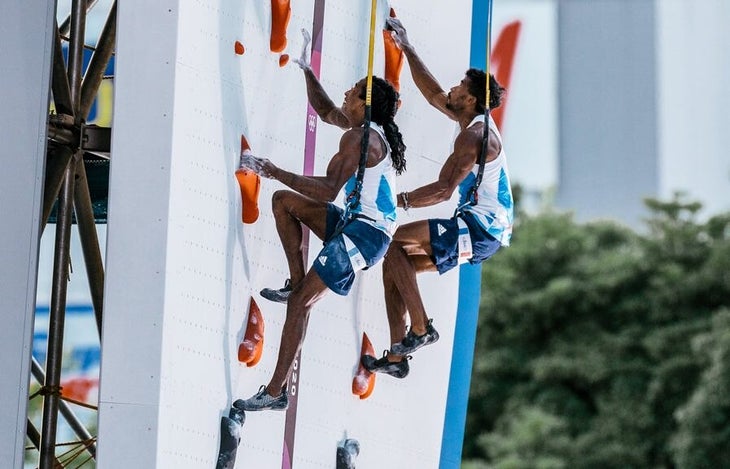 The Ondra Paradox
More than anything, it just feels to me like speed climbing is low-hanging fruit for folks who want to be critical of competition climbing on the whole. With its standardized route, its knockout style-format, and the muscle memory inherent in its training, speed climbing is quite different in core and concept from all other climbing disciplines. It's also the type of climbing that is farthest removed from the social configurations of most people's recreational climbing hobby—hanging out at the gym, projecting with friends at the crag, discussing and figuring out beta with others on the crash pads. 
It's also noteworthy that many of the climbers who are considered to be the best climbers in the world—the Czech Republic's Adam Ondra, first and foremost—have traditionally struggled at the Speed discipline. This puts a big target on Speed because the discipline produces such anomalous results; how could Ondra(!) not be good at a certain type of climbing? Well, surely it must be the type of climbing that is flawed, not the climber himself. And like that, detractors of competitive speed climbing will argue that Ondra's toil proves their point, whereas fans of Speed will say it precisely underscores the Speed discipline's unique legitimacy. 
It's the Ondra Paradox: a non-Speeder becoming supporting evidence for either side of the debate. 
Room for all
I'm not expecting to change the minds of speed climbing's most vocal critics, but there's no denying the excitement of a good race…or the sport allure of a new world record being set, as Poland's Aleksandra Miroslaw did when she clocked 6.84 seconds in the Olympics. 
Instead of squabbling any more about speed climbing's past or present, I'd prefer to gaze at the future of the discipline. I'm all for seeing how much faster climbers can go on the current standardized Speed route…because there's greatness there, as there is greatness in the other climbing disciplines as well, just a different type of greatness. Could there be a way to somehow organize speed climbing relays too? Count me in—there'd also be unique greatness in those. Could we bring back the idea of having ever-changing speed routes that would have to be onsighted at competitions as well? Yes, please. And maybe somewhere in there, in the wide-open post-Olympic future of speed climbing, some of the detractors will eventually come around. 
And if people still don't want to watch, fine. If they have no interest in cheering speed climbers, that's cool. But, in my opinion it's their loss. The Speed portion of the Olympics is just the newest maturation of a really old soul. And it definitely is climbing.