A Longtime Climber on Losing His Home to the Oak Fire
He was diagnosed with an autoimmune disease. Then he lost nearly everything to the Oak Fire. Climbing grounds him, as it always has.
Heading out the door? Read this article on the new Outside+ app available now on iOS devices for members! Download the app.
"Overwhelmed with thoughts of death and my newly balding head, on July 22, I went back to Mount Bullion and pulled up to the summit. There, I watched flames devouring my old neighborhood. Under the blackness of night, burning red lit up the hillsides. It looked like I was peering into the gates of Hell. 
"Early reports said the blaze charred 10 homes, which was later updated to 41. The flames took out every inch of terrain I'd e-biked this year. My Strava report says I have spent 150 hours since January in that area, covering some 218,000 vertical feet and 1,800 miles in the process. I was absolutely in love with that region, which climbs into Jerseydale and the Sierra National Forest. You can see into Yosemite at one spot and directly at El Capitan. Now, everything is gone."
Not everything of course, but this was written at an especially raw time. 
These are the last two paragraphs of Chris Van Leuven's most recent article published in Outside about the Oak Fire. Chris is a long time contributor to Climbing, a guidebook author, and an accomplished Valley trad climber. Days before the fire broke out, on July 18th, he was diagnosed with Alopecia Areata, an autoimmune disease characterized by hair loss on the scalp, face, and body. Approximately two percent of the global population suffers from AA over the course of their lifetime. He doesn't know exactly what started it though. 
"I'm in talks with a few doctors who are also friends and climbing partners. If we can find the root of the problem and address symptoms, that would be great. Maybe I have a gut leak, chronic inflammation, food allergies, a reaction to the COVID vaccine, a response to a long ago tick bite, who knows," Chris said. "My body is attacking itself and I'm changing into a new me."
Last week, his house and most of his belongings were incinerated by the Oak Fire, which   has now been burning for a week and has destroyed numerous homes. 
In the aftermath of this drastic life change, I called Chris Van Leuven to talk about what it was like to have his life flipped upside down; his home and community destroyed along with a surprise autoimmune disorder. Instead, I got advice from a sage. And I may even get dragged out trad climbing.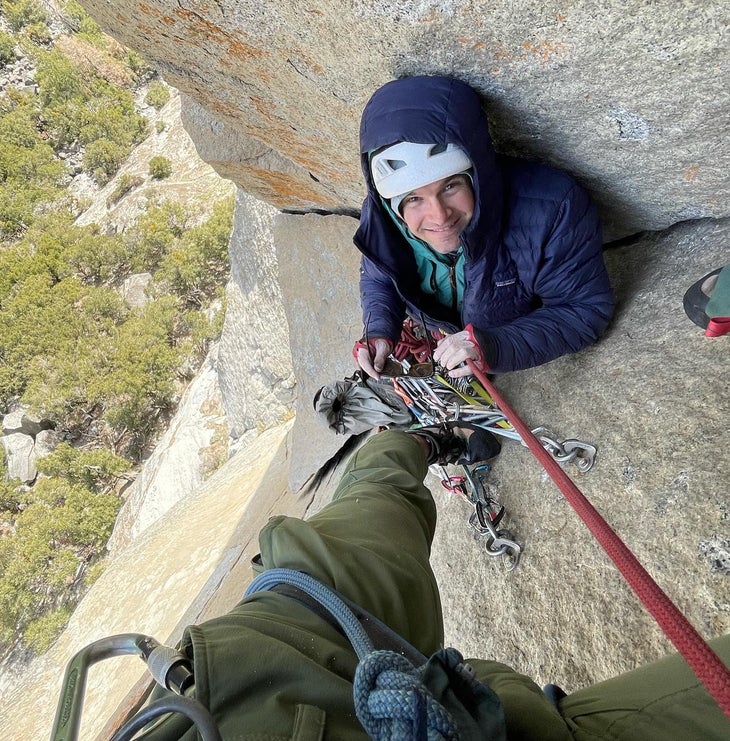 —
Chris rolled the windows down so Fenster, his 100-pound boxer, could breathe. He was dealing with some heat exhaustion. It was over 100 degrees Fahrenheit and the old Toyota Highlander they drove in had no air conditioning. 
Fenster looked over at Chris with wide, big brown eyes, panting and drooling. 
"This is the best I can do for you at the moment buddy," Chris told Fenster. They were on the way to Grove House after failing to reach home to pick up a second load of belongings—the roads had been blocked off as the flames encroached. 
As the fire ripped through the forested hills and valleys of Mariposa, the two searched for a restaurant or bar that might offer a respite from the heat. Chris tried three bars and restaurants, but two were closed due to fire; the third, the Grove House, was open. Once inside, it became clear to Chris that his house was gone. As of today, August 1st, 19, 244 acres have burnt and the fire is 74 percent contained. 
A few days later, Chris and his companion landed in a friend's apartment in Fresno.
"Friends, new and old, are just coming out of the woodwork. They keep asking me if I need anything. How are you doing? What can I get for you? How can I help?" Chris explained to me. 
"I don't need anything, really," Chris added. "But I'm just blown away by how willing everyone is to help." 
Many homes were razed. Some people lost their pets, too. Chris is able to eat and has shelter and that's more than enough, he says. 
While Chris certainly has support from his community, at the moment he is isolated in an unfurnished apartment sitting on a concrete floor eating strawberries while we talk over the phone. A hoodie covers his balding head. Fenster, of course, is more than content to sap the coolness from the concrete. 
"I mean, I have a great place here in Fresno. But I would like to be back in the Mariposa area. I'm out here alone and it's not the same as there. Plus, when I wake up, my pillow is covered in my hair. I'm not depressed or anything though, just busy."
Most of the day, Chris is looking for places to live, talking with experts about alopecia, and walking his dog.  
"I don't need shampoo anymore since my hair is falling out. I also don't need razors because I don't grow facial hair anymore. It's really scary though," Chris said. "One day you wake up and it's like, I have an autoimmune disorder? Fuck, I didn't have that yesterday."
He told me this as we talked over the phone. We've never met before, but he shared his story  with me as if we were longtime friends. Chris somehow seemed unphased, making jokes, laughing and remaining positive.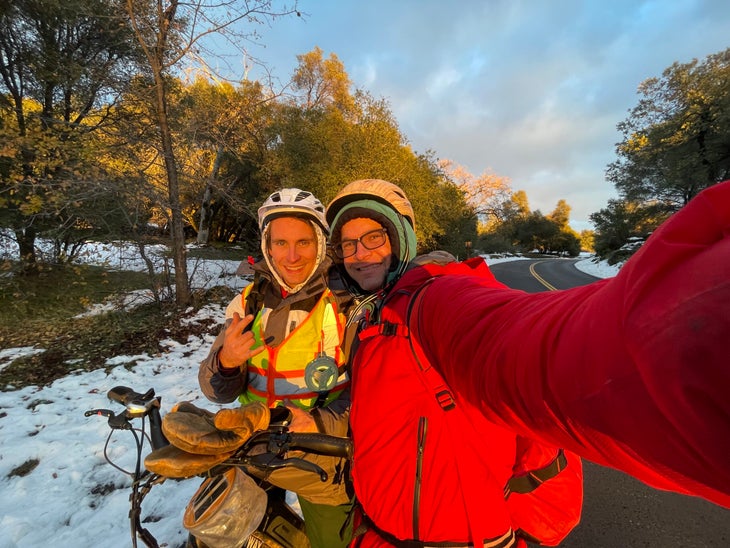 Earlier in the week up in Sacramento, I overheard people in the climbing gym talking about how the smoke had wrecked their plans in Tahoe for the weekend. Poor-me stuff. I've been guilty of complaining about the heat as well and how it's keeping me from getting out. Silly, right? Talking with Chris reminded me that I should be grateful for what I do have, because things can change at a moment's notice. 
"I have a taco shop a few blocks away. I can also walk to a coffee shop. So, that's good," he said. "I'm working on replacing my stuff, looking for a place to live. Those seem to be pressing things. It takes a while to rebuy your life. I'll have to get to my health on Monday. It is the weekend, after all."
Chris has been climbing in Yosemite since he was a teenager. He has climbed routes that normal climbers like myself only ever dream of climbing, but he doesn't brag about it. I had to drag it out of him. 
"My life hasn't exactly been traditional. All I do is climb, bike, and write."
And so that's how our phone call started, with Chris and Fenster set adrift in Fresno for the time being. 
—
Initially, when I called him up to talk about the fire and his health, I figured he would be an absolute wreck. I thought that our conversation would be a tough one, some kind of a sob story, given the fact that the fires completely destroyed his home, his e-bikes, and his circuits through Jerseydale, in addition to his hair falling out from an autoimmune disorder. Instead, we talked as if nothing really serious was happening at all. He sounded psyched, even. Maybe that's part of the Yosemite culture: An incredibly reliable, resilient, open, and spirited community. An interconnected tribe of individuals that accept their current place and move forward no matter what. 
Chris's story, as it relates to climbing at least, starts high above San Francisco up on Ring Mountain in Tiburon. From 1991 to 1995, he used to go there literally everyday, until sunset sometimes, to climb. Chris mostly climbed alone. But at the age of 15, he started climbing with Russ Bobzien, who helped Chris hone his technique, footwork, and route reading abilities. He learned to sport climb, then to trad climb, onsighting 5.12 sport as a teenager, and leading 5.7 trad.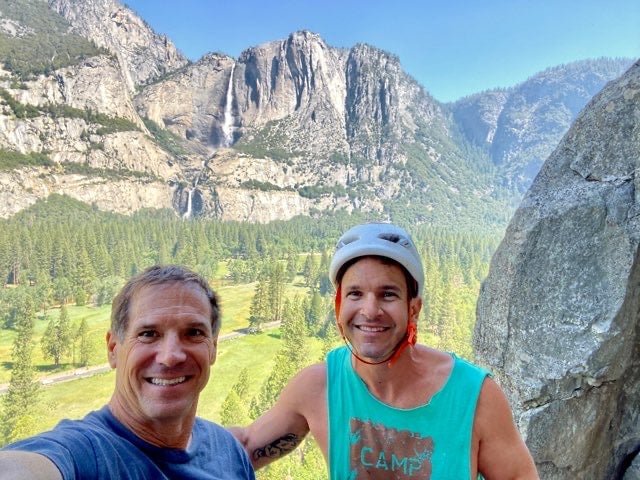 After graduating from high school in 1995, he left Marin and moved to Yosemite Valley; he's been in and out of the area ever since. While living in Mariposa, writing to pay the bills, he was introduced to a place called the Yosemite Boulder Farm. He started climbing there a lot. It reminded him of where he got started. 
He began to share the same things he was taught as a kid to others. That's where e-bikes come in. He would bike just 10 miles down winding dirt roads from Mariposa to the farm, where he would demonstrate and teach movement to new climbers. Luckily, the fire has left this sacred place untouched. 
"Long story short, I was able to take what I learned and apply it to climbers of all levels in Mariposa. And it's not like everyone was new to the sport. There are old school climbers in the area [who] are way better than I'll ever be," he told me, but what made it so special at the time was that he could teach climbing, take people biking, and push himself in one of the most beautiful places on Earth whenever he felt like it. This made him feel grounded in the local community more so than if he were just there writing and climbing for himself. 
"If you don't go anywhere for a while, ya know, you stay in one place, and keep going back to the same hangouts, things grow from that." Chris learned this from Dean Fidelman, one of the Stonemasters.  
Needless to say, he loves Mariposa. Other than a decent nightlife, live music, scenery, history, and old-fashioned charm, there's something else about the culture that became embedded in his soul. "Everyone shares the same principles of Yosemite. People want to go to the river everyday. We want to look at the sky. We want to admire the clouds. We'd do these big outings, go out for 70-mile rides, going 20 miles an hour, biking along. It's an amazing place, covered in black oaks and rolling hills."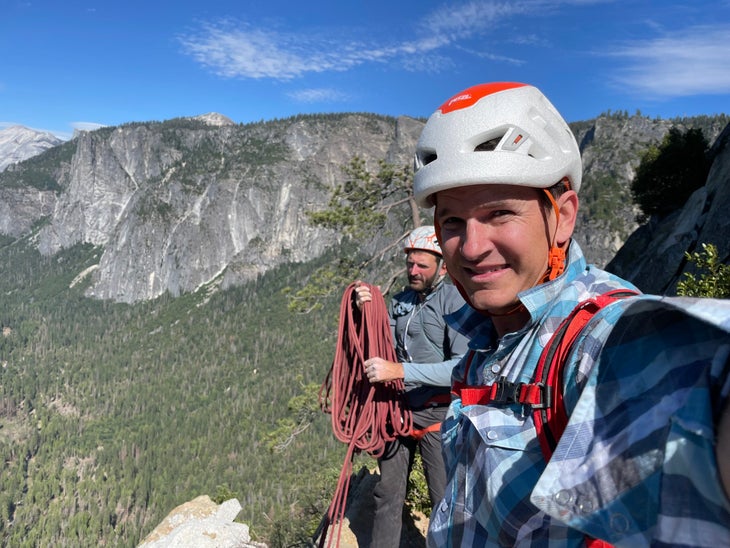 — 
Chris told me he's not the strongest, boldest, or most confident, but his modesty belies his accomplishments. He climbed The North Face of the Rostrum for the first time at the age of 19. Since then, he's repeated the route somewhere around 40 times. He's climbed the Nose in a day "a bunch" and he's climbed Astroman "a bunch," even though he admits he used to lead more pitches on it than he does now. Chris has also freed the Westie Face of the Leaning Tower and freed Half Dome. For those climbs, he and his partner freed every pitch in a day. 
"Boldness was never really my strength. It took me a lot of work to do different types of climbing well. I'm more conservative these days. I still have it in me though. It's just that I'm more focused on writing now than climbing. "
"What is it about getting older that you think has made you less bold?" I asked. 
"Oh, just the fact that I've decked a few times, been knocked out, been dropped on a Grigri and an ATC," Chris explained. "I've also had bad shoulder and elbow injuries. So my goal is to not get my injuries back. I used to push it. And that was a long time ago. And I don't really push it like I used too. I just try to make it consistent." 
Having lost something like 30 close friends  to accidents over the years, he says he uses the best practices out there, follows a routine, makes sure he has the best gear, and goes from there. But climbing in the Valley, or any big wall-type objective, is ultimately risky and can be dangerous to varying degrees no matter what you do.  "I was recently hit in the head with a rock. Luckily, I was wearing a helmet," said Chris. 
Given all the dangers of climbing and all that Chris has climbed over the years, I wanted to know more about what makes him tick, and his approach to climbing in general. "How do you do this rock climbing thing up on these big walls in Yosemite and actually enjoy it with such a seemingly casual, happy, calm mindset?" I asked.
Most accomplished climbers are selfish to some degree by nature. You have to be selfish to do most objectives in the first place; it's par for the course. But Chris's approach is different. He explained to me that at the very basic level, climbing well just takes dedication, passion, and experience. But being a good climber is more than just about climbing well.
"I'm not trying to get better as a climber, I'm trying to get more graceful as a climber and as a partner and as a friend," he said, beginning to illustrate to me that the circle of progression as a climber extends far beyond the crag. "I've got a lot of things that I work through, and so it's nice to set goals to do that on and off the rock."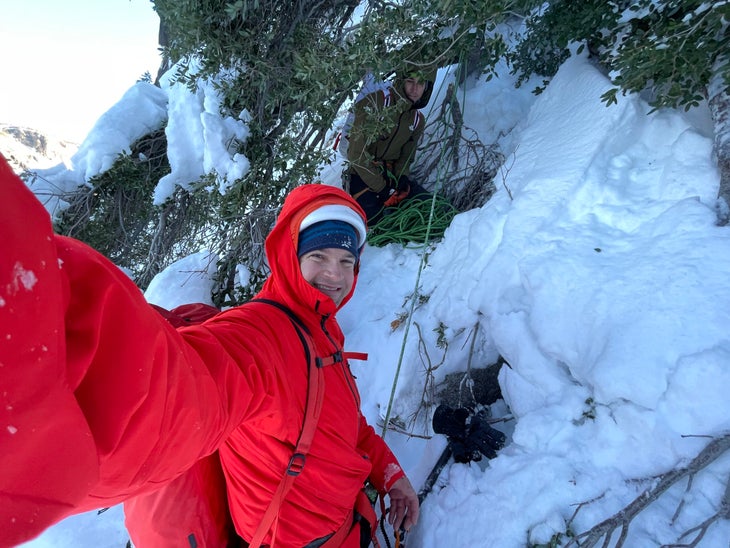 Even before the fires and the diagnosis, life off the wall hasn't always been peachy. Chris uses some tools as a framework to stay balanced. He told me about the Seven Spiritual Laws of Success, in which Dr. Deepak Chopra reveals that such desperate striving isn't necessary or even desirable. In the natural world, creation comes forth with ease. A seed doesn't struggle to become a tree–it simply unfolds in grace. Also part of Chris's spiritual foundation is Don Miguel's Four Agreements: Be Impeccable With Your Word. Don't Take Anything Personally. Don't Make Assumptions. Always Do Your Best.
Above all, Chris finds solace in the people he climbs with."The person is the most valuable thing at the end of the day. The more you can get into the heart, the easier it is to go through life."
Deepak Chopra says that these powerful principles, when put into practice, set you on a direct course to authentically achieve your goals. "So if I'm always giving [to others], then I'm not worrying about some redpoint move and the next thing I know is I'm on the route and I'm able to do it or I'm not. If you just direct that energy towards supporting people around you, things seem to turn out better because that's the ticket to doing anything in life. At the end of the day, it's just about trying to be graceful. So that's the only thing I've tried to do."
In Mariposa, even in the midst of complete devastation and disaster, there seems to be the burgeoning light of a silving lining based on the integrity of those who have spent their lives there. 
"Everyone has seen me struggle. Everyone has seen me have some success. I've seen the same with them and now I feel like we're all reuniting through this in a really nice way and making new relationships along the way. It's a beautiful process. It's very emotional. But there's no one I would rather be associated with than the people that I have known from Yosemite and the extended climbing community. I'm far from perfect, but they're the most amazing people I've ever met. So I feel really blessed that they've embraced me as much as they have over the years, especially right now."
—
As we finished up our conversation, I had to pry a bit more. I wanted to know more about how he has been feeling on the big stone in one of the most challenging climbing areas on Earth. 
"It took me a few years to recover from my shoulder issues. I could only do 5.9 for a while, so getting back to 5.12 is cool. And cracks are easy on the body. But now I'm just climbing in the 5.11 +/12- range," he responds. 
The last time Chris climbed El Cap, it didn't go well, he says. Maybe he'd been away too long. He's still interested to see how it would go up there if he went back, if his body could handle it and if he could be at his desk writing the next day.  
"5.12 sport or trad?" I asked.
"Oh, trad, I don't really care about sport climbing. Trad climbing is so much fun. I've never found anything cooler," he said like he was 19 again, voice pitched high and genuine, something of a spirit I feel that I have lost over the years and haven't quite found again. 
"I'd like to think so someday too," I responded.
"Let's change that," Chris said. 
Just thinking about following him up makes my stomach drop a bit. 
"Yes, please," I said, knowing that I would be grateful to have the chance to climb with Chris. By the end of our phone call, I nearly forgot about the seriousness of our initial tone: The fire and his health, both of which remain open-ended.
"Cool, let's do it," he replied.  
I'll be just as scared and intimidated as ever as I drive through the Wawona Tunnel, staring straight down into what feels like the jaws of the Valley. 
But I'm psyched. I'll keep trying. Chris seems to think it's the only way forward. 
***
Editor's Note: A Gofundme has been set up for Chris to help him rebuild his life. Find it here.