Malcom Daly in ICU After Suffering Stroke
Heading out the door? Read this article on the new Outside+ app available now on iOS devices for members! Download the app.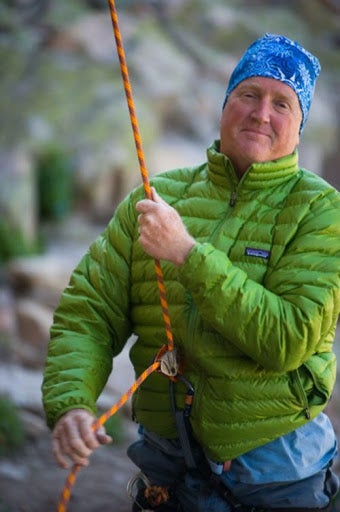 Malcom Daly, a longtime climber and influential member of the community, suffered a stroke yesterday. He is now stable, but in intensive care.  According to a GoFundMe campaign launched by Daly's family, "Malcolm sustained another stroke yesterday afternoon. The quick response of Karen, the Hailey emergency department, and the Flight for Life helicopter were all instrumental in him getting immediate, and life saving medical services. He is currently in stable condition in Boise, Idaho and starting the recovery process."
Climbing's sister publication SNEWS spoke to Karen Daly, Malcom's wife.
"When he arrived at the hospital he was paralyzed on the right side," she said. "But the best news is that when they removed the clot, his dexterity and mobility was completely and immediately restored. He's shaky, but he should regain full mobility."
She went on to explain that the biggest challenge will be neurological damage. While they're still assessing Daly's condition, the language centers in his brain have been affected and he will face a long road to recovery. Unfortunately, the COVID-19 pandemic prevents his family from visiting him in the hospital at this time. Read the full story at SNEWS.
Daly has contributed much to the climbing community over the years. Beyond his climbing achievements, which include many first ascents, Daly founded Great Trango Holdings—the parent company of gear manufacturer Trango—he was a founding board member of the Access Fund, and he also co-founded Paradox Sports, which makes climbing accessible for climbers with disabilities.
Daly himself lost part of a leg after an accident on Alaska's Mt. Hunter in 1999.  He was leading an ice pitch 2,500 feet above the glacier when he believes he was hit by a chunk of ice which caused him to fall on lead. Daly and his partner, Jim Donini, attempted to descend under their own power, but they feared Daly might bleed out or go into shock due to his injuries. In a 2011 Climbing article, Daly described waiting after Donini left him in search of rescue:
"I decided to live. It was a very conscious decision. Every time I felt cold or wanted to fall asleep, I would do 100 sit-ups and windmills with one arm. After awhile I could only do 80, then 50, then 10. It became a counting game. That's how I lived."
Read the American Alpine Club's full report on the accident and rescue here.
Five years after the Alaska accident, Daly had another close call. He suffered a heart attack while ice climbing in Ouray, Colorado, in 2004.
"The last thing I remember after they packed me in the back [of the ambulance] was looking out the back window," he told Climbing. "Then my heart stopped. I woke up and the paramedic was holding smoking paddles. He looked at the other paramedic, whose eyes were huge, and said, 'Don't get used to it because this never works.'"
In more recent years, Daly could often be seen chatting with customers and offering friendly advice at Neptune Mountaineering in Boulder, Colorado, where he worked. The long-standing gear shop's mountaineering museum includes a jar with Daly's amputated toe. Just recently, Daly and his wife had moved to Idaho. "We were so excited and happy to be off the Front Range and be able to Nordic ski and hike and mountain bike out the door," Karen told SNEWS.