Marmot Athlete Fabrizio Zangrilli Set to Lead Unprecedented Expedition to K2
Heading out the door? Read this article on the new Outside+ app available now on iOS devices for members! Download the app.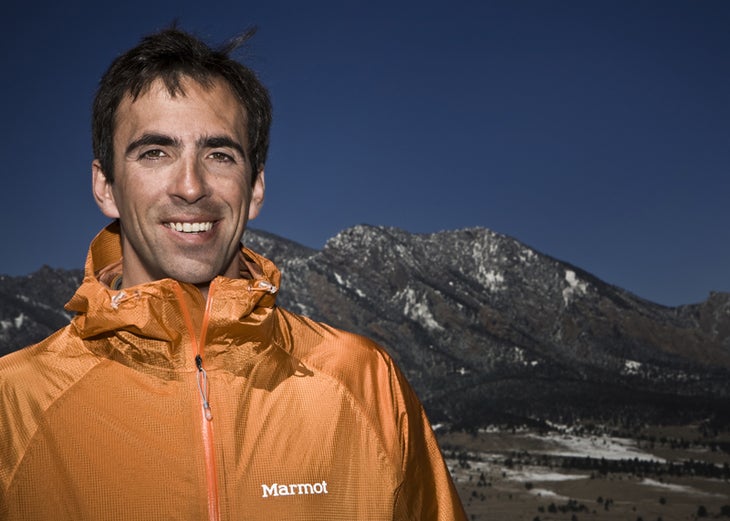 Boulder, CO: Top alpinist Fabrizio Zangrilli – a recent addition to Marmot's global athlete team – will lead what might be the first-ever commercially organized expedition of its kind to K2. Australian/US-based outfitter, Field Touring Alpine developed this unprecedented expedition and tapped Zangrilli for his extensive high-altitude climbing background and knowledge of the mountain – to lead the climb. K2 is the world's second highest peak (8611 meters / 28,251 feet) and is considered by climbers to be one of the most challenging mountains in the world. The K2 expedition which will depart this June for Pakistan ushers in a new era of Himalayan mountain-guiding or "Super Guiding" and is unparalleled in scope: seven seasoned high-altitude climbers will employ a commercial guide service and the leadership skills of Zangrilli — one of the strongest alpinists in the world – to attempt one of the most difficult mountains ever. "This is a total departure from the mountain guiding that we've traditional seen on Everest or on some of the smaller 8000-meter peaks" explains Colorado-based Zangrilli. Because K2 is such a difficult and high mountain, Zangrilli's clients all need to be competent at 8000 meters and be keenly aware of how their bodies respond to the extreme altitude (8000 meters / 26,250 feet or higher is commonly referred to as the "Death Zone"). "All of my clients have previously climbed on 8000 meter peaks – some of them have even climbed four 8000 peaks in preparation to handle K2," he adds from his home in Boulder. Zangrilli's experience with K2 is extensive and unique. On his first expedition to the mountain in 2000 he rescued Mohammed Ali Junjoba from 8350 meters – a Pakistani high-altitude porter who had collapsed from exhaustion and extreme altitude – deciding to turn around just 250 meters from the summit. "I saw the challenge of getting him down to be far more important than the pending summit which I knew was well within my reach," he explains. Zangrilli brought Ali Junjoba back down though the infamous "bottleneck" to Camp IV at (26,250 feet). He spent three subsequent days bringing the affected climber down the mountain through technical terrain to Base Camp. In 2005, Zangrilli returned to K2's south face, reaching 7700 meters just below the southwest spur on the famous Magic Line. In 2007, Zangrilli received the American Alpine Club's Zach Martin Breaking Barriers Award – a humanitarian and climbing grant. In a single light and fast push on the Cesen route, Zangrilli and his partners completed a 36-hour round trip ascent from 5100m to 8000m in under than 36 hours. At the end of the expedition Zangrilli completed a feasibility study to build a girl's school in Khane village in the Hushe Valley, where many of the Balti high altitude porters live. Zangrilli (36) is a full-time, professional climber based in Boulder, Colorado. He has led over 20 successful commercial expeditions to 8000, 7000 and 6000 meter peaks in Nepal, Tibet and Pakistan. Some of the expeditions he has either previously guided or climbed on include: Everest, K2 (3 times) Makalu, Cho Oyu, Shishapangma, Gasherbrum II, Nuptse, Ama Dablam (5 times) and Pumori. His mountaineering resume, which spans over 22 years of experience with high, alpine climbing, includes new alpine, ice, rock, big wall and mixed routes around the world — from Queen Maud Land (Antarctica) to the Alaska Range. "We're extremely proud to have Fabrizio representing Marmot as an athlete. He is a gifted high-altitude climber who inspires alpine climbers everywhere" explains Andy Meyer, Marmot's Athlete Team Manager. "The guy also embodies the spirit of 'Marmot's At Work', which is a big part of our company's heritage" Meyer adds. 35 year-old Marmot Mountain LLC is one of only a handful of outdoor companies in the world offering a full-service product line to serious alpine climbers and ski-mountaineers: from skin-to-shell apparel, extreme-temperature down goods to expedition tents, packs and sleeping bags. Because of Marmot's vast and technical offering, the company has been able to support professional mountain guides and guide services in North America and Europe for nearly two decades. Marmot has also sponsored international expeditions and world-class athletes. To learn more about Fabrizio Zangrilli visit MarmotPro.com or check out his blog: fabriziozangrilli.blogspot.com. Fabrizio Zangrilli's sponsors: Marmot Mountain LLC, CAMP-USA, SCARPA North America and BlueWater Ropes.
To follow the K2 expedition visit: fabriziozangrilli.blogspot.com