Heading out the door? Read this article on the new Outside+ app available now on iOS devices for members! Download the app.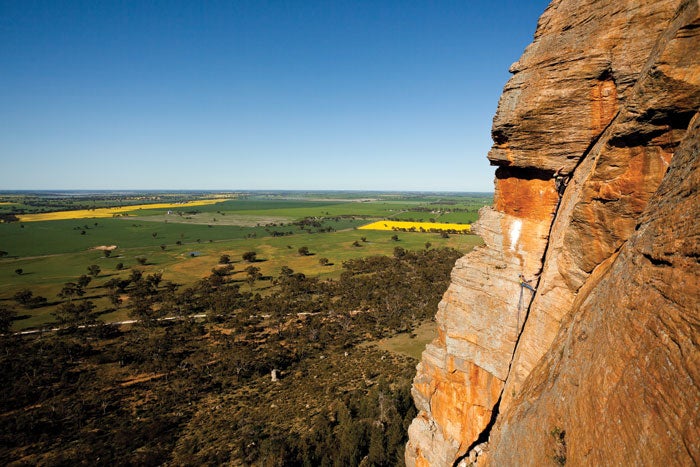 Moderate trad paradise at Mt. Arapiles
Deep within the southeast Australian state of Victoria, the towering orange quartzite cliffs of Mt. Arapiles rise amid seemingly endless rows of flat farmland. From afar, this lumpy cliff band seems to be a Legoland of blocky ledges and lichen-covered faces. But up close, a complex network of towers, gullies, and open faces reveals bomber rock and juggy holds—both Aussies and international climbers alike have called Mt. Arapiles "the best cliff in the world." And although it's home to the world's first 5.14, Punks in the Gym, the area is most celebrated for its volumes of classic traditional routes under 5.10, with dependable jugs and—usually—solid protection.
The view from atop Araps' vertical cliffs encompasses fields of bright yellow canola and unique wildlife. The famed kookaburra can often be found in the area's old gum (eucalyptus) trees, along with other exotic, brightly painted birds, and kangaroos and wallabies are always up for a photo op during the early mornings and late afternoons.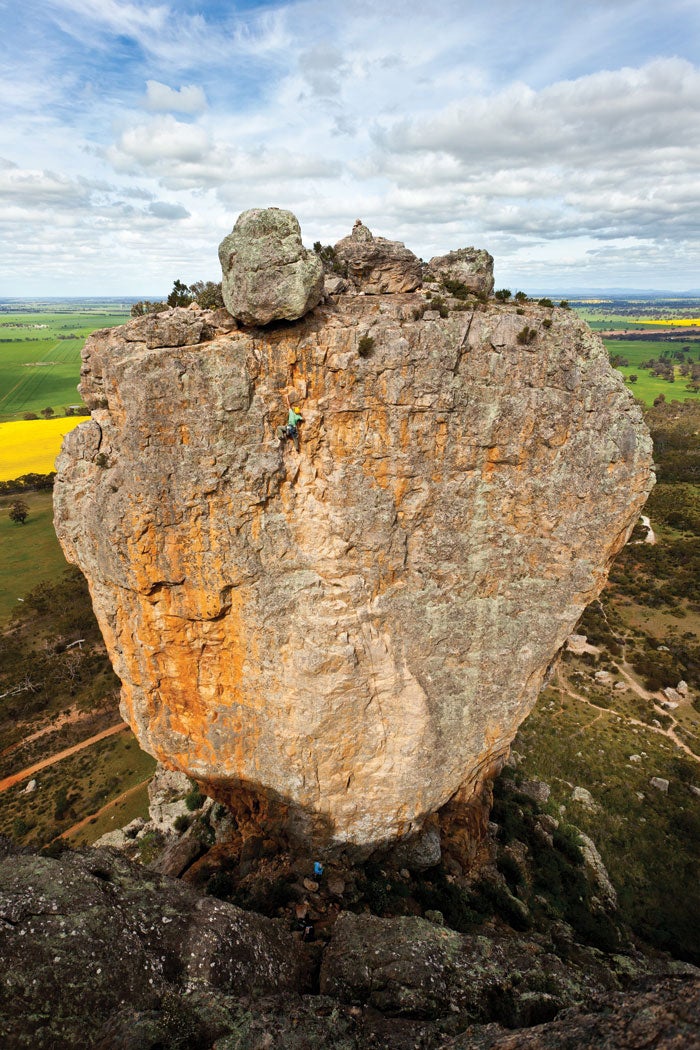 Whether you fancy the thin, runout slabs on the Watchtower faces or the massive jugs that litter the imposing Tiger Wall, Arapiles offers something for every moderate trad leader. There are nearly 3,000 routes on the mountain, and the majority of them are packed within a five- to 30-minute walk of the shady campground. It's not hard to fall in love with the place.
The following 10 routes, listed from east to west, provide ample evidence for why Mt. Arapiles is considered such a moderate mecca. All weighing in at 5.9 or under, they cover the gamut of rock climbing styles and will certainly provide a satisfying trip.
Agamemnon (5.5, 2 pitches), The Atridae. It's hard to find more excitement at such a low grade. Face climbing in the depths of a narrow chimney eventually leads to the airy crux of stepping across the dark chasm and stemming your way to the top. Regardless of how hard you climb, this chimney fiesta will surely be at the top of your tick list.
Horn Piece (5.6), The Organ Pipes. Located in the very popular Organ Pipes area, with an approach of less than five minutes, this is the perfect spot for a quick late-afternoon send. With a plethora of moderate classics as neighbors, Horn Piece stands out with its sustained arête, providing exposure you didn't think was possible in a 90-foot pitch.
Eskimo Nell (5.5, 5 pitches), Central Gully. Sitting on the famed Dunes Buttress, this route cruises through 350 feet of every style of climbing. The fifth and final pitch is a steep lead with an exhausting finale through the crux crack system. It can't be beat, especially with a belay ledge named the Oasis.
Bard (5.6, 5 pitches), Bard Buttress. This route is the most obvious, most talked-about, and most crowded multipitch line in Arapiles. After a delicate slab, an airy chimney, a sustained jug haul, and a comical traverse, you'll find yourself atop the Bard Buttress. Even the descent through Ali Baba's Cave is an adventure.
Kaiser-Resignation (5.8, 4 pitches), Tiger Wall. This is a classic variant up the middle of Arapiles' most prominent face, the Tiger Wall. It combines the first two pitches of Kaiser and the last two of the route Resignation. The bold, initial crack leads to sustained roof sections. Bring long slings for the drag.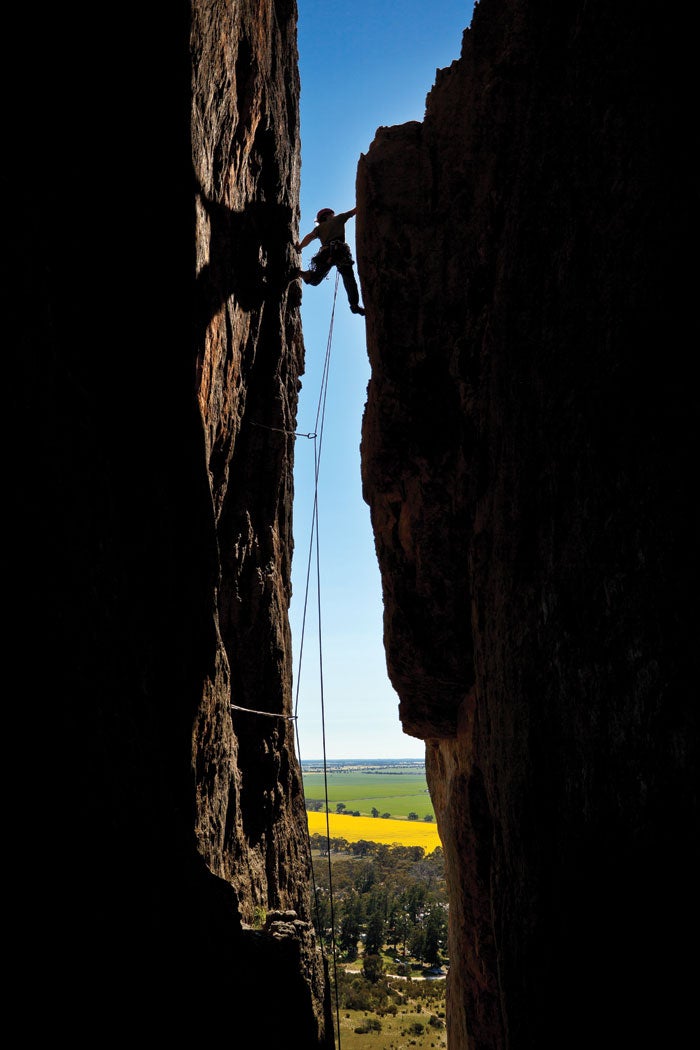 Yo-Yo (5.8, 4 pitches), Tiger Wall. Yet another on the long list of ultra-classic climbs on the towering Tiger Wall. Corner climbing, chimneys, and exhilarating laybacks get you 315 feet off the deck to a perfect lunchtime hangout on a large terrace called Flinders Lane. Larger cams are helpful with protection.
Watchtower Crack (5.8, 4 pitches), The Watchtower. When you first see this line, it's hard to believe the grade. An initial slab pitch up this daunting wall leads to three more pitches of roofs, laybacks, chimneys, and chicken wings. Bring a couple of large cams as well as micro wires.
Vandal (5.9, 3 pitches), The Far Northern Group. With the guidebook describing the third pitch as "an absolute snorkeler," I was unsure of what to expect. Two enjoyable pitches lead to a third pitch of cursing offwidth, which buries you into an overhanging corner. Small wires are a must to protect the start of the last pitch.
The Entertainer (5.9), The Far Northern Group. Simply a perfect line. The unreal orange streaks of rock are broken up by mini-roofs and cracks of all sizes. The rap chains and pine tree atmosphere at the base make it a great choice for a single-pitch cragging day.
Missing Link (5.9), The Bluffs. Once you pull past the cruxy start sequence, you'll cruise this aesthetic line—if you enjoy committing runouts above brass micronuts. This climb tops out to the most amazing view at Arapiles, high atop the Bluffs. Access to the base of this climb is provided by the via ferratta–like route Alis.
THE BETA
GETTING THERE: The nearest international airport is in Melbourne, about four hours away; if you are coming from Sydney, the drive will take upwards of 14 hours. Check VAustralia, Qantas, and United for cheap fl ights. Inexpensive rental cars can be found at each airport; for extended holiday trips, buying a car is a viable option. Mt. Arapiles is 18 miles west of Horsham, off the Wimmera Highway.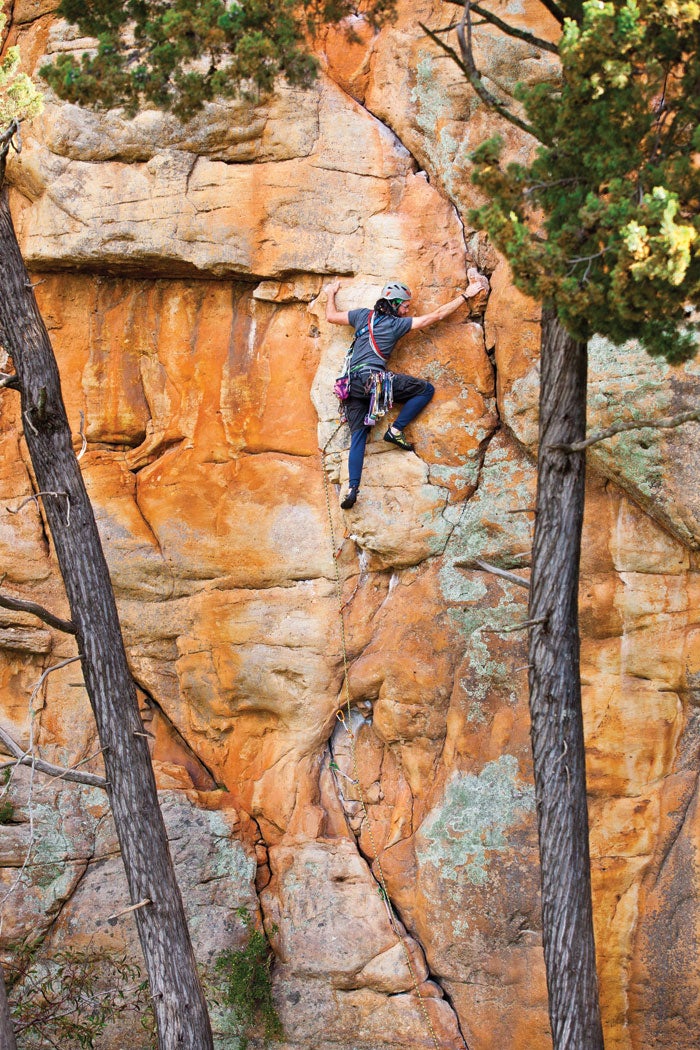 SEASON: October and April are the ideal months to visit, with highs in the upper 60s and lows around 50˚F. Avoid the Easter holiday if you're looking to get away from the crowds. The many gullies provide shady climbing options for most of the day during the hot summer months of November through February.
CAMPING: There are two main campgrounds, the Pines and the Gums. Each has a toilet block and access to well water. (The water is safe to drink, but many elect to bring their own.) The Pines has a handful of semi-permanent residents staying for months at a time. A large picnic shelter is available on site, and many people hang out on fallen pine logs around established fire pits. This allows for a great atmosphere of slacklines, hacky sack, fire twirling, and campfire guitars. There is a fire ban from November 1 to April 30; the fee is $2 per night per person. A rest day in nearby Horsham can yield a $3 swim in the local pool, which includes shower facilities.
FOOD: Horsham has the closest supermarket, with all the Australian Vegemite and bacon/cheese rolls you could need. If you don't feel like cooking, be sure to check out the Bull and Mouth Hotel in Horsham to get a very large, traditional Aussie pub meal of chicken parmi and chips.
GUIDEBOOK:Arapiles Selected Climbs, by Simon Mentz and Glenn Tempest is a superb guide with more than 1,200 classic climbs. It can be found at any climbing shop in Australia, including the local shop in Natimuk. Buy it direct from the publisher at osp.com.au.
RACK: The standard Arapiles climbing rack consists of a full range of cams up to No. 4, a double set of nuts, a double set of micro wires, a dozen quickdraws, and a handful of long slings. The more small nuts you have, the safer you will be. A 60m rope is preferable.
OTHER OPTIONS: Coastal towns like Bridgewater and Portland are only two and a half hours south and offer some great surfing. The Wimmera River or nearby billabongs outside of Natimuk provide cool swimming holes.