Meet Kyra Condie and Hear How She's Preparing for Tokyo
One of America's four Olympic climbers to speak at the Outside Games as she prepares for her biggest comp yet.
Heading out the door? Read this article on the new Outside+ app available now on iOS devices for members! Download the app.
Join us for the Outside Games, where Outside+ members can interact with USA Olympic team members like Nathaniel Coleman and Kyra Condie. Meet these two USA Team members virtually and hear what it's like to blaze a trail in climbing's debut Olympic performance. Climbing's Senior Editor Alison Osius will host and curate the interviews at 6 p.m. MST on June 14. Registration is limited, but free for Outside+ members, so reserve your space today. Not a member? Learn more about Outside+.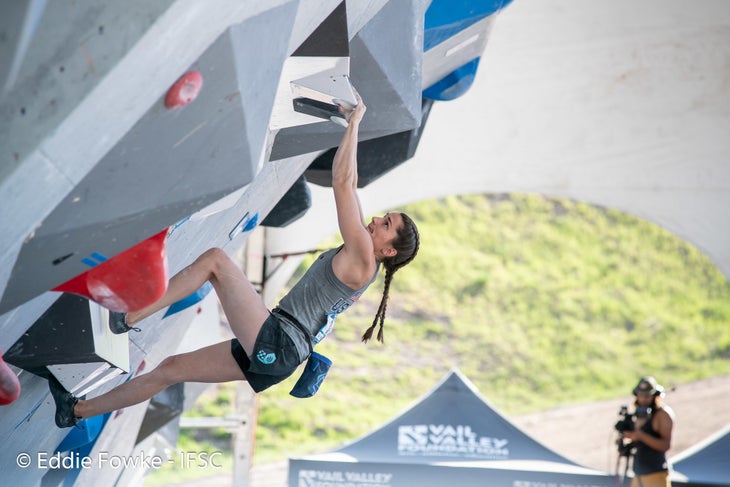 If you were paying attention, you could have picked out Kyra Condie, from Minnesota, in 2016, when she placed sixth at Vail in the qualifying round. That result, had it been in the semis, would have put her in the finals—lost to the record, it still showed what she could do. Condie, now 24, finished a hair out of the top 10 with an 11th place.
Kyra started climbing at age 11 at her local gym, and was crazy about the sport and already competing at age 13 when she underwent major back surgery, a 10-vertebrae spinal fusion for severe idiopathic scoliosis. Her doctor gave her faith, telling her, "Send me a picture when you're on the podium."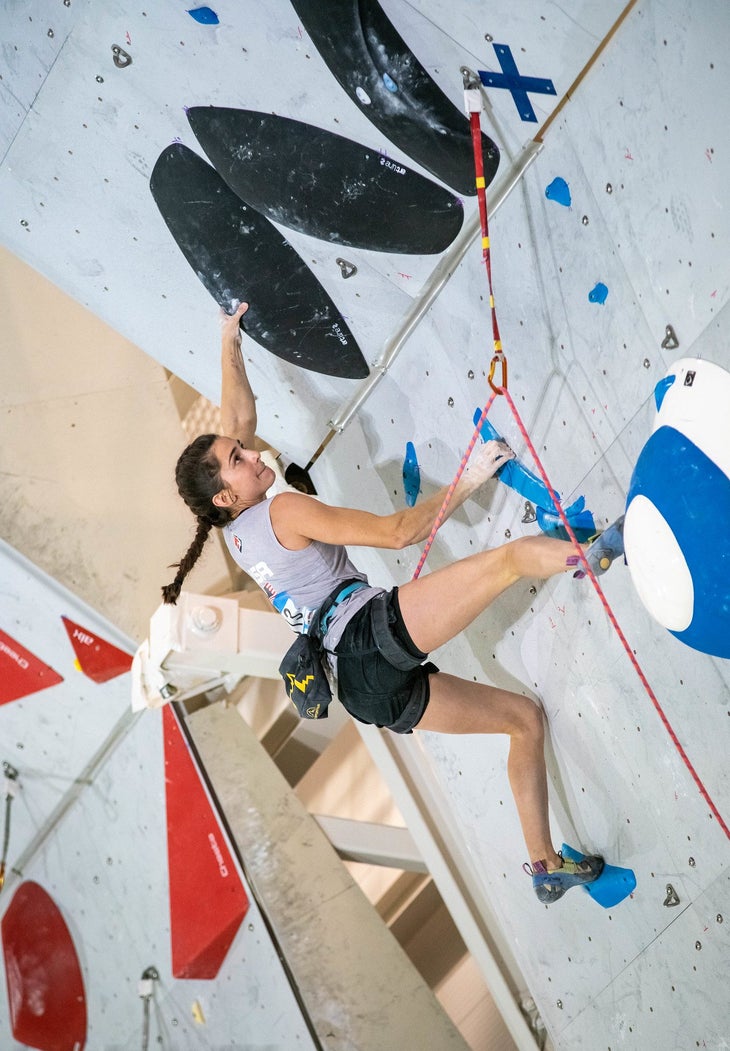 Condie has since made both home podiums and international finals—in 2018 coming in fifth in the Bouldering World Cup in Vail and sixth in the one in Tai'an, China.
While bouldering is Condie's specialty, her versatility has made all the difference. Unlike many, she entered her Olympic campaign with a background in speed climbing, and she has also reached semifinals in lead. On the World Cup, progressing through any round is a credit.
As for home shores, in 2018 she won the USA Combined Invitational Nationals, first in bouldering and sport and third in speed. She then won the Combined Final in the 2019 Pan American Championships, in Guayaquil, Ecuador, an event that was an early adopter of the new Olympic format. Showing the importance of consistency, she placed fifth in speed climbing, fourth in lead, and sixth in bouldering.
Also in 2019 she was an excellent eighth at the Meiringen Bouldering World Cup. Aside from the ups and downs experienced by most international competitors, when fields are stacked and a hand or foot slip (or not) can make all the difference, you could call 14th her lucky number. In that last season of competition before the pandemic, she was 14th four times at World Cups and in the World Championships in Japan (with two events there), Slovenia and Vail, with two of those being lead events. The 14th place in lead at Inzai, Japan, clinched her invite to the Olympic Qualifying event in Toulouse.
At the end of 2019, though, her luckiest number was seventh in Toulouse—which put her on the Olympic team. Since then, she was 21st (a heartbreaking one spot from passing to semis) at the World Cup in Meiringen, while over Memorial Day weekend she was an excellent eighth at the Bouldering World Cup in Salt Lake.
Condie, now living in Salt Lake, has a fast, confident, aggressive style. In the future, she hopes to attend veterinary school to become a small-animal veterinarian.
Read about Nathaniel Coleman.