Heading out the door? Read this article on the new Outside+ app available now on iOS devices for members! Download the app.
Blake Herrington on Mt. Goode's East Ridge.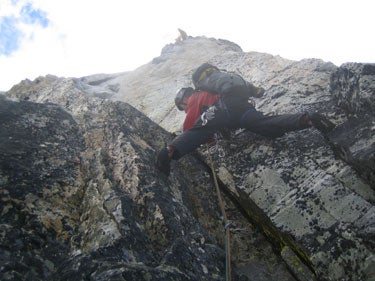 Young Cascades Climber has a big summer of Washington FAs
After a summer packed with hiking, scrambling, bushwacking, wading, rappelling, climbing, and first ascents, Blake Herrington, of Bellingham, Washington, needs a job… or perhaps just more virgin stone.The 21-year-old recent graduate of Western Washington University has the credentials and the drive to thrive in any outdoor environment. Just take a look at his résumé: he's one of many active Cascades' first ascentionists pioneering big, remote lines in the spirit of Fred Beckey. This summer, Herrington was in on seven new alpine routes, including the FAs of Gunrunner and Megalodon Ridge, the former an 18-pitch ridge along the spine of Gunsight Peak, the latter a similar monster on Mount Goode.
Mt. Goode from the North (Aerial View).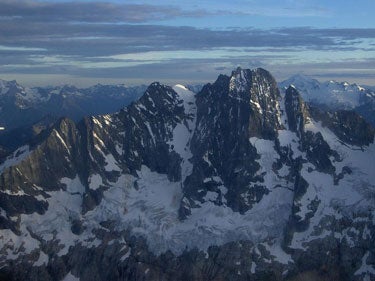 On July 9, Herrington and 20-year-old Dan Hilden nabbed the first ascent of Gunrunner, which offered up 5.10 climbing, splitter cracks, and a particularly heinous two-day approach deep in the North Cascades. (See Climbing No. 260's Hot Flashes for more.) "Nothing 'attracts' me to heinous approaches and jungle fun," said Herrington via email. "It is just a necessary character builder if you want to get to enjoy these routes…"
Herrington grew up in Washington State and has spent the last seven summers in the North Cascades, an area known for its mythically punishing approach slogs, through dense underbrush, deadfall, and up active glaciers. Later in the summer — September 6 — Herrington and buddy Sol Wertkin bagged the first ascent of Mount Goode's 2,800-foot East Ridge, a line they dubbed Megalodon Ridge, named for the giant prehistoric shark. "That was Sol's idea," said Herrington. "This dinosaur-shark was evidently the largest fish to ever live. Before the climb I kept saying that this thing was going to be big, fierce, and personally rather intimidating. Throughout the climb we kept joking about all kinds of 'fishy' things and it actually helped lighten the mood on route."
Blake Herrington on Mt. Goode's East Ridge.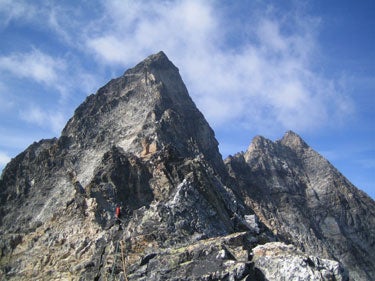 Herrington predicts that if Megalodon Ridge were broken into pitches, the total would equal more than 20; however, the duo did most of it simul-climbing, and only belayed for seven or eight pitches, using twin 60m ropes. After a 12-mile approach, 3,000 feet of bushwacking, and 11 hours of climbing, the two spent the night on the summit, the highest point in North Cascades National Park. The next morning, they descended 5,000 feet down the south side of the mountain, skirting a forest fire, and hiked the remaining 19 miles to their car.
Although Herrington has heard of a couple groups planning a second ascent of Gunrunner, these efforts proved unsuccessful due to frustrating weather in the area this summer. However, Herrington maintains you cannot judge the quality of a route by the number of people climbing it. "Jim Nelson's route on [the West Face of Gunsight Peak] went 20 years before seeing a second ascent, and it was featured in two alpine guidebooks," Herrington wrote in an email. Meaning, a lot of these deep Cascades routes are superb in quality – they're just hard as heck to get to.
The East Ridge of Mt. Goode. CLICK HERE TO VIEW THE 1200 PIXEL TOPO.Photo by Donn Venema.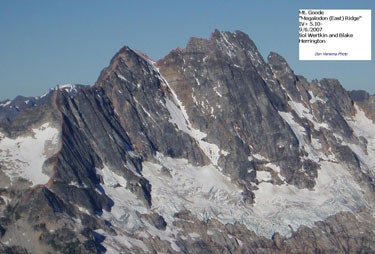 In a recent interview, Herrington answered some of Climbing's in-depth questions about his thirst for Cascades first ascents.
Your partners describe you as a young climber well-versed in local knowledge and history. Can you describe some of the important early ascents and climbers in the area of Mount Goode?Well, [Mount] Goode was an enigma to the early climbers of the area. Many folks (including an early husband and wife team that was WAY ahead of their time) came close to the summit but could not find a way to the top. It was finally climbed using some European techniques that had recently been incorporated locally, and the first piton ever placed on lead in the Cascades was placed on the first ascent of Goode. The ascent of Goode's mega-classic Northeast Buttress, by Fred Beckey and Tom Stewart in 1966, was an important climb in the area, and the first on Goode's broad north flank.
As far as role models, while living in the North Cascades I had a neighbor named Bob Nielsen whose climbing stories intrigued me as a teenager. Early on, he told me about bivying atop Mount Goode in a Megamid and almost knocking his boot a few thousand feet down the mountain. That incident stuck with me ever since, and Sol and I were careful to keep everything secure while on top.
Sol Wertkin on Goode's East Ridge.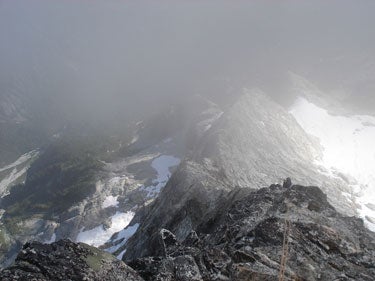 Who do you admire as a climber or mountaineer and what lessons have they passed on?There's a group of ambitious Northwest alpinists that do some very inspiring climbs and ski descents, among whom I am a mere neophyte. I admire all these local climbers who are dedicated to training, climbing challenging routes in the mountains, and who are eager to see other ambitious folks get out there because that's where their passions lay. I kinda chuckle when I hear sponsored sport climbers at Smith Rock or Squamish complain about being cold at the crag, when I think about all these guys in the alpine who buy their own stuff, drive all night to the trailhead after working late, and are out there pushing it in these harsh and inhospitable places.
I've been fortunate enough to climb with a few local veteran hardmen, including Gordy Skoog and the man who showed me the basics, Bob Nielsen. Bob taught me to be a resourceful climber first and foremost, by belaying and rappelling with little or no gear, tying my own harness, and prusiking up a fir tree in his yard. The importance of being resourceful and adaptive, rather than technology dependent, has struck with me ever since. The first time I ever tied in to a rope was with Bob on a failed attempt of a new alpine route. I started school in Bellingham the next fall after having only climbed in the mountains. I didn't know what bouldering was and I spent my first day in the climbing gym trying to convince other climbers that if they spent an hour trying to make it eight feet up the rock, a storm would come in and night would fall before they were off the route. I went back and completed the alpine route the next year, but I still can't boulder worth a darn. I am definitely backwards in that regard, though, having learned in the mountains, and then taken that to crags, boulders, and indoors.
Sol Wertkin on Goode's East Ridge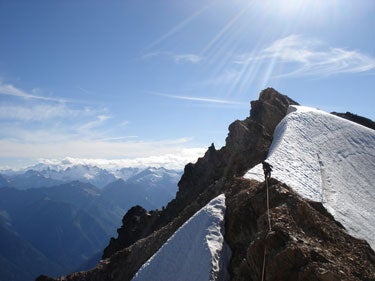 What advice would you give climbers attempting the Megalodon Ridge?Climb the Northeast Buttress! Seriously, Beckey picked the plumb on this mountain (surprise, surprise). Sol and I were discussing how climbing the Northeast Buttress route is like getting your Bachelors degree in North Cascades alpinism. The climb has a long on-trail approach, major stream crossing, steep brush 'schwacking, glacier issues, exposed, technical rock, and a complex descent. No one part of the package is very difficult, but it's got it all.
What do you do when you're not climbing?I graduated in June and I'm looking for a job that will facilitate my outdoors addiction.