Alex Megos Climbs Australia's Hardest Route (5.14d)
Heading out the door? Read this article on the new Outside+ app available now on iOS devices for members! Download the app.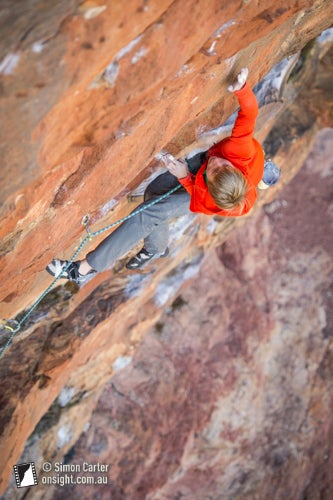 8/19/13 – Twenty-year-old German climber Alex Megos continues to add to climbing's history (see the world's first 5.14d onsight), this time with a first ascent of the long-awaited Red Project at Diamond Fall in the Blue Mountains, Australia. He called the route Retired Extremely Dangerous and proposed the Australian grade 35, or 5.14—the first of the grade the country has seen.
Australian Garth Miller bolted The Red Project in 1999. Fellow Aussie Lee Cossey has given the route serious projecting time, but when Megos arrived in the country, Cossey handed over the reins and some helpful beta.
Megos spent three days on the route, and photographer Simon Carter, who shot the ascent, reckons the young climber gave about 20 redpoint efforts. A crux sits near the end of the route, and while the specific moves didn't give Megos trouble, he struggled to link everything from the ground. On the day of his ascent, Megos' fingertips were raw, and he took more than several whippers from the upper crux. But rather than take a solid rest, he charged up the route a final time, linking all the moves on a cold and windy afternoon.
Megos also finished several other of Australia's hardest routes, including Somalia at Mt. Arapiles. Young U.K. climber Wiz Fineron made the first ascent in November 2012 and called it 33 (5.14b). Megos needed just four redpoint attempts to send the line, which is just around the corner from the iconic Punks in the Gym (5.14a). He also climbed Groove Train (5.14b) in the Grampians, first climbed by Ben Cossey, on the Taipan Wall in the Grampians. According to Carter, Megos said Groove Train was "one of the best [routes] he's ever climbed." And on one day in the Blue Mountains, he flashed Pooferator (31/5.13d), climbed Truckstop 31 (5.14a) first go, onsighted Fabricator (5.12d), and then ticked Keep on Trucking (5.14b), which is a link-up of Pooferator and Fabricator. Another day, he completed Mechanical Animals (33/5.14b).
Source: Simon Carter
Date of ascent: August 18, 2013