Megos Sends Old Sharma Project in Céüse at 5.15b
The Ratstaman Vibrations project was made semi-famous by a 2012 Petzl video of Chris Sharma bolting the line and working the moves; it memorably includes a gigantic sideways dyno [insert Sharma scream] to a flat edge.
Heading out the door? Read this article on the new Outside+ app available now on iOS devices for members! Download the app.
Battling severe summer heat in Southern France, Alex Megos, 28, has made the first ascent of Ratstaman Vibrations, a longstanding Chris Sharma project in Céüse's Face de Rat sector, calling it one of the best lines he's tried in the 5.15b range. 
Megos initially dabbled on the route during his first trip to Céüse in 2014—a trip during which he made his historic one-day ascent of Biography (5.15a)—but he only climbed about one-third of the way up Ratstaman before calling it quits. After that, the project sat largely dormant until 2020, when it saw a brief slurry of attempts by French strongmen Seb Bouin and Charles Albert, who ultimately walked away without sends.
Megos returned to Ratstaman Vibration last summer after the Briançon World Cup. He spent only three days on the route but managed to climb it in three parts, which convinced him that it was possible. Last month, with a 12-day gap between the Chamonix and Briançon World Cups, Megos returned again—this time trading burns in the heat with one of the world's best boulderers, Shawn Raboutou. 
With temperatures consistently cresting 100 degrees in the valleys below the crag,  Megos and Raboutou (who was also reputedly trying' Bibliography, 5.15c, despite the fact that, according to Megos, "he has not got endurance") climbed in the evening, between the hours of six and eight, and battled with bad skin. By his third day on the route, Megos was consistently sticking the jump from the ground but falling on the high redpoint crux. On his sixth day, he stuck this move but fell on the next one. After a brief break for the Briançon World Cup, where he placed third—his best result in an otherwise disappointing competition season—he returned and made the first ascent of the route on his second day.
Describing the route to me over the phone, Megos emphasized that Ratstaman Vibrations is consistently hard. The route begins with a few tensiony moves on crimps followed by the hard sideways dyno. Megos and Raboutou estimate that to stick the jump from the ground is V14. Two or three quickdraws of relatively mellow 5.14- then lead into the upper crux, which Megos described to Climbing as "a low-percentage deadpoint into a tiny three finger slot"—a move that's probably V11 on its own. "It's a serious redpoint crux for sure," he said. "You kind of end up missing [the hold] all the time and not getting it quite right and not being able to hold it. That was the name of the game for a couple of weeks."
But it's not necessarily over when you stick that move, he adds, noting that he fell once on the next move—a small jump to a 3-finger pocket—just before leaving for Briançon. And after that there's a large, uncomfortable move with bad feet. If you're taller "you can kind of just keep your feet low and lean back and grab it," Megos said. "So for me, I knew I was not gonna fall, but it was still like one of those really uncomfortable moves. But for Shawn, he almost thinks that that move is harder than the second crux. Because he is really short. For him it just feels super awkward."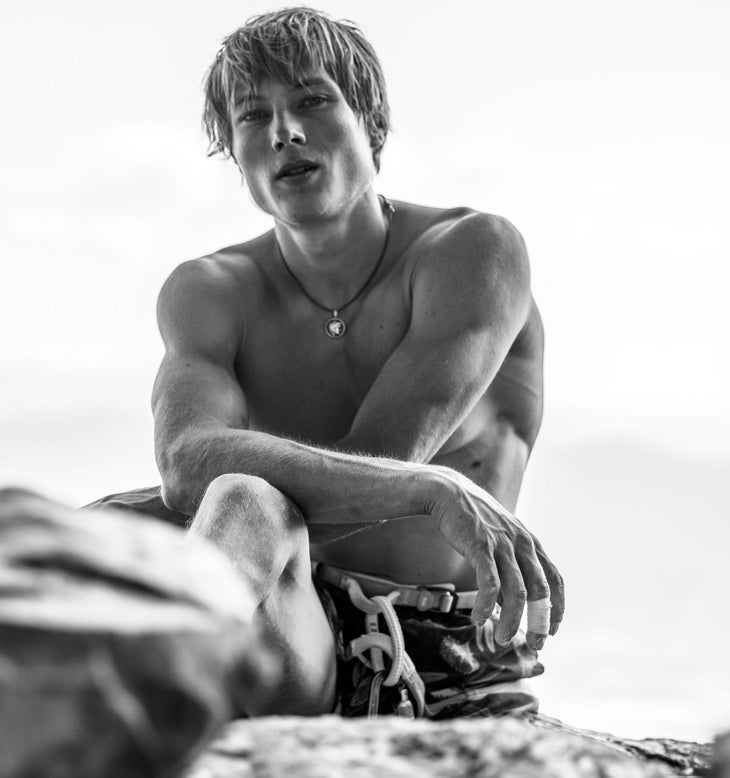 Despite his solid 3rd place performance in Briançon last week, Megos had a disappointing comp season, missing finals multiple times. "I don't want to say I was 100% prepared—because I wasn't—but I put decent effort into performing well, and it just didn't happen for some reason. So obviously that's a bit frustrating." 
Heading to Céüse after Chamonix was "definitely a welcome break for me," he said, and it may have even contributed to his 3rd place finish at Briançon. But in general, balancing rock climbing and comp climbing has never been easy.
"Ideally, you'd just say, 'Okay, it's competition season now, and during competition season I just don't go outside.' " But that's not something Megos wants to do. "I'm still jumping too much from the one to the other because I kind of want to do both, which I can't do. It's hard to accept. It would be nice to focus in the future, maybe pursue one, then the other, and ideally perform better in both. But, we'll see."
In the meantime though, Megos has four climbing days left at Céüse, and he's working hard to finish his nemesis project: Chris Sharma's often tried but rarely repeated opus, Three Degrees of Separation (5.14d/5.15a).
"I just can't jump for shit," Megos said.
"Good luck," I said.