Heading out the door? Read this article on the new Outside+ app available now on iOS devices for members! Download the app.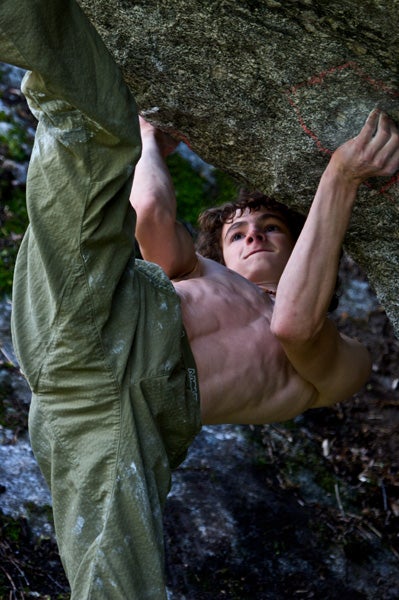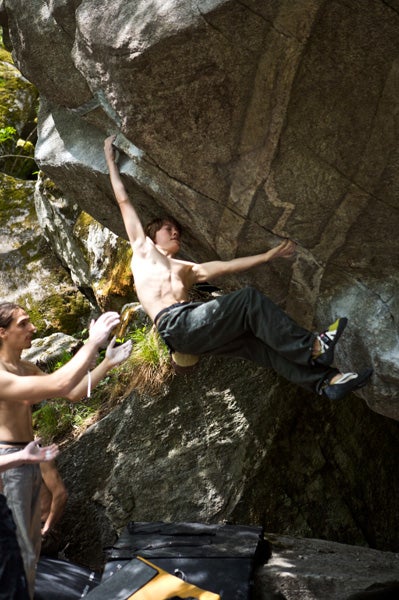 Record numbers at the great international bouldering festival in Val di Mello, Italy
On May 7-10, (Thursday through Sunday), 2009, over 2100 registered climbers and more than 5000 visitors gathered for the sixth annual Melloblocco, or "bouldering game", at the most famous international bouldering meeting in the world, Val di Mello (Val Masino – Sondrio), Italy.
The event, organized by Comune di Val Masino (comune.valmasino.so.it), attracted everyone from champion climbers, to passionate boulderers, to children and beginners, all there to enjoy Val di Mello at it's finest, to climb and respect nature, without using cars (only the shuttle bus).
It was meant to be a celebration and what a celebration it turned out to be! Once again Melloblocco lived up to all expectations and the sixth edition of this international bouldering meeting in Val Masino (Val di Mello) – organised by the Val Masino Town council – didn't let anyone down. Climbers from all over Italy and 37 different countries were joined by at least another 3000 passionate boulderers in a grand finale on the fourth and final day.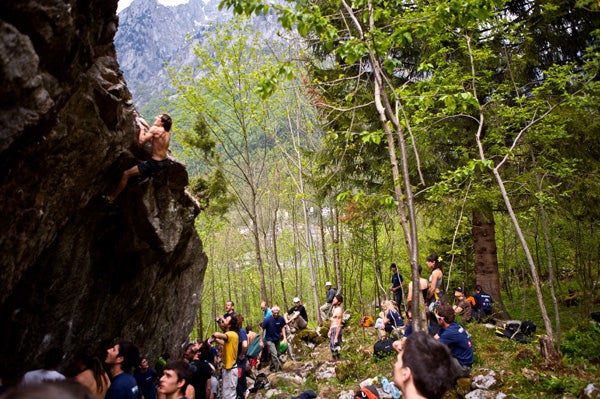 This event has slowly but surely become an unmissable occasion for all climbers and thanks to them the meeting has grown from strength to strength. This year the Melloblocco broke even the most ambitious of records and registered more participants than ever before with an incredible number of young and extremely talented climbers. This is indicative of the Melloblocco's future — a great one! The numbers demonstrate clearly that the event was a success. As does the number of foreign climbers who reached the valley early on Thursday to experience this adventure and collective celebration unfold day by day. Further proof of the success is how the valley welcomed the bouldering "tribe". These people thanked the valley by leaving it as clean as they had found it. The marvellous natural habitat was respected fully and the cars were left firmly parked, as the Melloblocco had only one simple rule: reach the climbing areas on foot or via shuttle buses.
Because Val di Mello's meadows, boulders, rock faces and beautiful waterfalls have only recently been transformed into Lombardy's biggest Nature Reserve and the "melloblockers" celebrated in the best way possible by calling it their own and, above all, personally taking on the responsibility of defending and safeguarding its future. Melloblocco 2009 will be remembered for all of this. For the 700 boulder problems, of which 300 were new for this edition. But also for the incredible performances of the many champions who, like every year, climbed along side other passionate climbers. One person in particular astonished all and his incredible magic is destined to remain etched in people's memories for a long time to come. We're talking about the youngster who has become known to the media as the Harry Potter of climbing. Adam Ondra, the 16 year old from the Czech Republic sent a record of 8 special boulder problems this year. Set by Simone Pedeferri for the champion climbers, Ondra's climbs were true magic and his ascents excited and amazed all. As did those of the entire Russian female bouldering team. Olga Bibik, Yulia Abramchuk, Anna Gallyamova, Aleksandra Balakireva, Silvie Raifova and Natalya Vasylenko all sent all 8 female problems, as did Chloè Graftiaux from Belgium.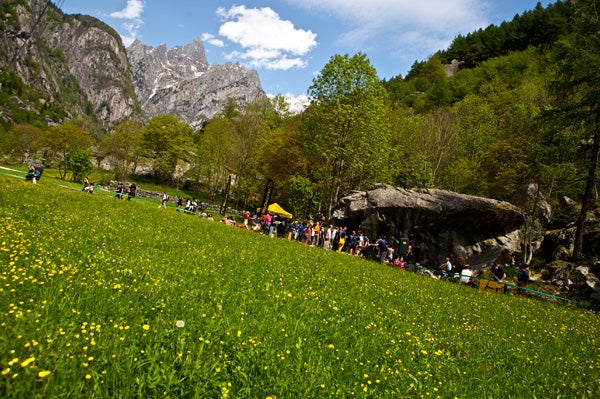 "It's been beautiful, the valley and the Melloblocco are fantastic" said Olga Bibik, the great Russian bouldering champion who took part in the event for the first time. We're certain that was also what the thousands of climbers thought about the 6th edition of Melloblocco! Val Masino and Val di Mello have already invited them for next year, for another great bouldering festival!
RESULTS:Women: Alexandra Balakireva: 8 Silvie Rajfovà: 8 Yulia Abramchuck: 8 Olga Bibik: 8 Anna Gallyamova: 8 Chloè Graftiaux: 8
Men: Adam Ondra: 8 Guillaume Glairon Mondet: 5 Alexey Rubtsov: 4 Sean Mc Coll: 3 Mykhaylo Shalagin: 3
THE CHAMPIONSAdam Ondra (Czech Republic), Anne Laure Chevrier (France), Anthony Lamiche (France), Daniel Woods (USA), Gabriele Moroni (Italy), Gareth Parry (United Kingdom), Guillaume Glairon Mondet (France), Klem Becan (Slovenia), James Pearson (United Kingdom), Jenny Lavarda (Italy), Jorg Verhoeven (The Netherlands), Mauro Calibani (Italy), Michele Caminati (Parma), Mykhaylo Shalagin (Russia) Nalle Hukkataival (Finland), Sean McColl (Canada), Olga Bibik (Russia), Yulia Abramchuk (Russia) SPONSORSMELLOBLOCCO is organised by COMUNE DI VAL MASINOMain Sponsor: LA SPORTIVAIn collaboration with: THE NORTH FACE, ENEL, CREDITO VALTELLINESEPatronaged by: PROVINCIA DI SONDRIO, COMUNITà MONTANA VALTELLINA DI MORBEGNO, ERSAF, REGIONE LOMBARDIA SPORT, FORESTE DI LOMBARDIA, ASSOCIAZIONE OPERATORI VALMASINO, CONSORZIO TURISTICO PORTE DI VALTELLINA, BIM, COLLEGIO REGIONALE GUIDE ALPINE DI LOMBARDIA, IFCS, VALTELLINACommunication partner:PLANETMOUNTAIN.COM, VERSANTE SUD, PARETI, KLETTERN, ALPSponsor Village participants: DF-SPORT SPECIALIST, E9, STERLING ROPE, CASSIN, PETZL, REVOLUTION, SHERPA ON LINE, BLURR, LEGAMBIENTE.
Click here to see a photo gallery from the event.
Fore more information visit: www.melloblocco.it