A Climber We Lost: Merrill Bitter
Each January we post a farewell tribute to those members of our community lost in the year just past. Some of the people you may have heard of, some not. All are part of our community and contributed to climbing.
Heading out the door? Read this article on the new Outside+ app available now on iOS devices for members! Download the app.
You can read the full tribute to Climbers We Lost in 2022 here.
Merrill Bitter, 68, January 19
Merrill Bitter, the man who originally brought 5.12 to the climbing areas around Salt Lake City, was "the" area hard rock climber in the early 1980s and stayed with the sport for over 40 years. Friends saw Bitter, age 68, at the climbing gym just days before he was found in the side country of the Alta Ski Area after a ski-touring accident.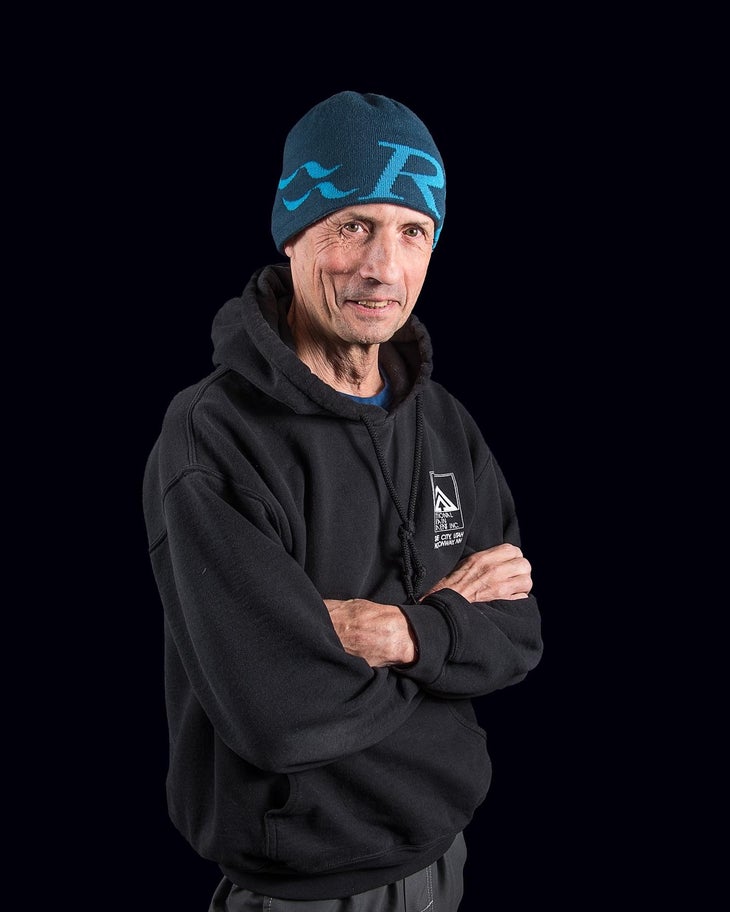 Bitter was an early hard trad climber, climbing extensively in Little Cottonwood Canyon and farther afield in Canyonlands and elsewhere in the Utah desert. He also made trips around the country and the world, including to Yosemite, various areas in Colorado, and multiple locations in Australia. He eventually transitioned to sport climbing, visiting areas such as Smith Rock, Oregon, climbing many 5.13s and verging into 5.14, and he was part of the decades-long evolution of gym climbing in Salt Lake City. In 1988, he competed in the country's first international competition, on the side of the Cliff Lodge at Snowbird; coming in third in the open category, he was a big crowd favorite.
A 22-year employee at IME (also a retail worker at REI before that) who had retired only last summer, Bitter set out on a ski tour on January 19, with a plan to go to Grizzly Gulch, but he missed a 3:00 check-in call with his longtime partner, Diane Emmerichs.
She called IME and spoke to Josh Schmidt, who had just closed the shop for the evening, and immediately went up Little Cottonwood Canyon to Alta with three others from IME: Shingo Ohkawa (also a part owner), Megan Budge, and Santiago Vega. Arriving at about 7:45 p.m., they found Bitter's car. While Schmidt coordinated with search and rescue, ski patrol, and family, the others went above and searched, with various people staying until 1:00 a.m. The next morning the search resumed, and an Alta ski patroller spotted a speck in Wolverine Bowl, which connects to Grizzly Gulch on a ridge line. Bitter's body was found around 9 a.m.
Gordon Douglass, an Alta ski patroller and longtime climber who had taken many climbing trips with Bitter, says: "What we've kind of pieced together is that he was ascending. He still had skins on. Choosing one route or another, he got above those cliffs and slid and went over the cliffs."
Some reports have cited avalanche activity, but that was not a factor, Douglass said.
The bowl is south-southwest and receives much sun, then freezes hard. The cliffs above where Bitter was found are about 60 or 70 feet. Bitter died of trauma.
"That afternoon, clouds came in, and it started snowing. It was cold and foggy, with limited visibility. Maybe he didn't know how close to the cliffs he was, or how hard the snow was," Douglass says. "His feet probably went out from under him and he started sliding and couldn't stop."
Described by many as an icon, Bitter was known best as kind, helpful and a gentle soul. Andy Ross, co-owner at International Mountain Equipment, where Bitter worked, says, "It's just a humongous loss for the community. Nobody had a bad word [about Merrill]—I almost can't think about it."
"Just one of the nicest, most understated, most welcoming people always," says Bob Palais of Salt Lake.
Douglass says of his years climbing with Bitter, "He was always great to be with. Very positive, no matter what level you climbed, always there to give you some help and support."
"He was very positive and friendly and always excited to hear about your latest adventure," says Schmidt. "A lovely guy. He enjoyed seeing [people of] all levels of experience out there having fun."
Nikki Smith, another Utah climber, wrote in a heartfelt message on Facebook: "In his late 60s, Merrill … was still one of the strongest climbers in the gym. More importantly, he was one of the nicest."
Says Dr. Catherine Harris, a climber-skier in Salt Lake, "He always left me with the feeling that I wanted to work harder to be kind and respectful to more people, as he was."
—Alison Osius
You can read the full tribute to Climbers We Lost in 2022 here.