Midtboe Joins 5.14c Onsight Club
Heading out the door? Read this article on the new Outside+ app available now on iOS devices for members! Download the app.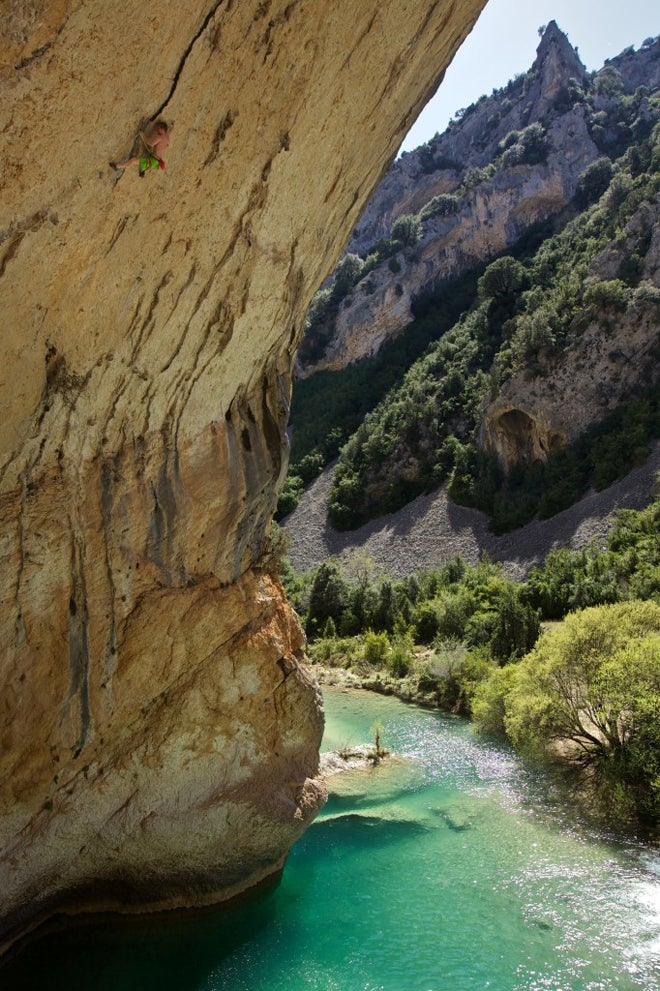 4/19/13 – Norwegian climber Magnus Midtbø has joined the very small number of climbers who have onsighted 5.14c with an ascent of Cosi Fan Tutte in Rodellar, Spain.
For the last month and a half, Midtbø has been in Santa Linya, Spain, working on Neanderthal (possibly 5.15b), a route put up in 2009 by Chris Sharma. It starts with a 5.13b section to a no-hands rest, followed by sustained climbing to a dyno, and then more hard climbing to the top of the cave. Working Neanderthal has proven to require much patience on Midtbø's part, as it's been consistently wet throughout his visit.
On his "rest" days he's made ascents of other hard routes, including Ciudad de Dios (5.14d) in the cave, and Terrence Hill (5.14a, onsight) in Margalef. On the last day of his trip, he ventured to the Piscineta sector of Rodellar with his mind set on onsighting routes, in particular the 180-foot Cosi Fan Tutte, which Midtbø opines is the best line on the wall. Below is an account of his ascent:
"The first part of it is 8a+/5.13c, which I managed to climb without any difficulties. I got through a wet part of it without hesitation. The first part was followed by some easy climbing before I got up to what I thought was the physical crux; a section of some small, but positive holds. Again I didn't hesitate. I got through the part, by looking at it, choosing a sequence and sticking to it. I started getting pretty pumped, but got it back on some jugs higher up. I was now on the very top of the route; all that remained was getting around the lip and a few meters of slab. I stalled as I couldn't see any obvious holds. From a good undercut, where I could rest, I grabbed a two-finger pocket and reached as high as I could in hopes on finding something to pull on. Many times I retreated to the undercut. The sun was shining directly on the slab and in my eyes, making it even harder to see where I was supposed to go. After repeating the process of searching for holds and resting, I knew I had to do something before getting too tired to have any chance. So I grabbed the pocket and reached as far as I could. I only got two fingers on a slopey edge, and thought I was going to fall. I then bumped to get my remaining fingers on the hold, before I jumped to a dicey-looking hold. My feet cut, and I desperately got them above the lip. I grabbed some slopey crimpers without any chalk. Then reached out to the top hold, thinking I could fall at any moment. Not until I had clipped the chains was I safe."
Midtbø is only the fifth climber to have onsighted this grade. Patxi Usobiaga was the first climber to claim this feat, in 2007 with his first ascent of Bizi Euskaraz. And then there's Adam Ondra, who's onsighted more than a dozen 5.14c's. Almost a month ago, 19-year-old Alexander Megos made history with the world's first confirmed 5.14d onsight.
Date of ascent: April 17, 2013
Source: magnusmidtboe.com