Heading out the door? Read this article on the new Outside+ app available now on iOS devices for members! Download the app.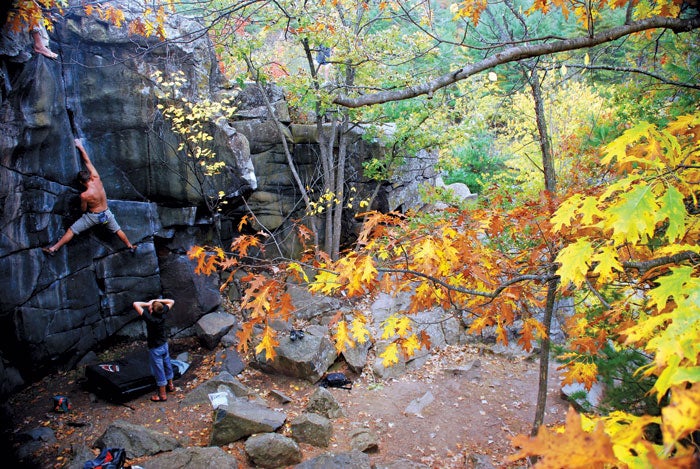 Taylors Falls (Interstate State Park)Only an hour from Minneapolis and St. Paul, on the Minnesota/Wisconsin border, along the rocky shores of the St. Croix River, the town of Taylors Falls is by far Minnesota's most popular climbing destination. And for good reason—hundreds of short (seven to 70 feet) but tricky trad lines and boulder problems on dark, river-washed basalt are scattered throughout the 298 acres of the Minnesota side of Interstate State Park (there's good climbing on the Wisconsin side, too). Known for its quirky geology, the area is covered with thousands of naturally forming potholes, some with bus-swallowing capabilities. The routes go anywhere from 5.4 to 5.13, and clamping the well-worn holds often takes more technique than torque. This is a traditional area—no bolts!—though toproping is popular, and if you're feeling spunky, many of the routes can be done as highballs. A climbing pass (free at the visitor's center) is required. Camping: Sites on the Minnesota side of Interstate State Park start at $12 a night. Want to save two bucks? Walk across the bridge and pay $10 in Wisconsin. Reservations recommended in summer. (dnr.state.mn.us/state_parks/interstate/index.html) Rest Day: Wild Mountain Recreation Park, featuring water slides, alpine slides, and Formula K go-carts, is just minutes north of Taylors Falls. To enjoy the river, climb aboard one of two authentic paddlewheel riverboats on the St. Croix (Taylors Falls Scenic Boat Tours; $15, taylorsfallsboat.com). Ticklist:The Crack (5.10/V1), Number 6 aka The Bulge (5.10a), B2 Bomber (V4), Fancy Dancer (5.11b), Lunge or Plunge (5.12/V4)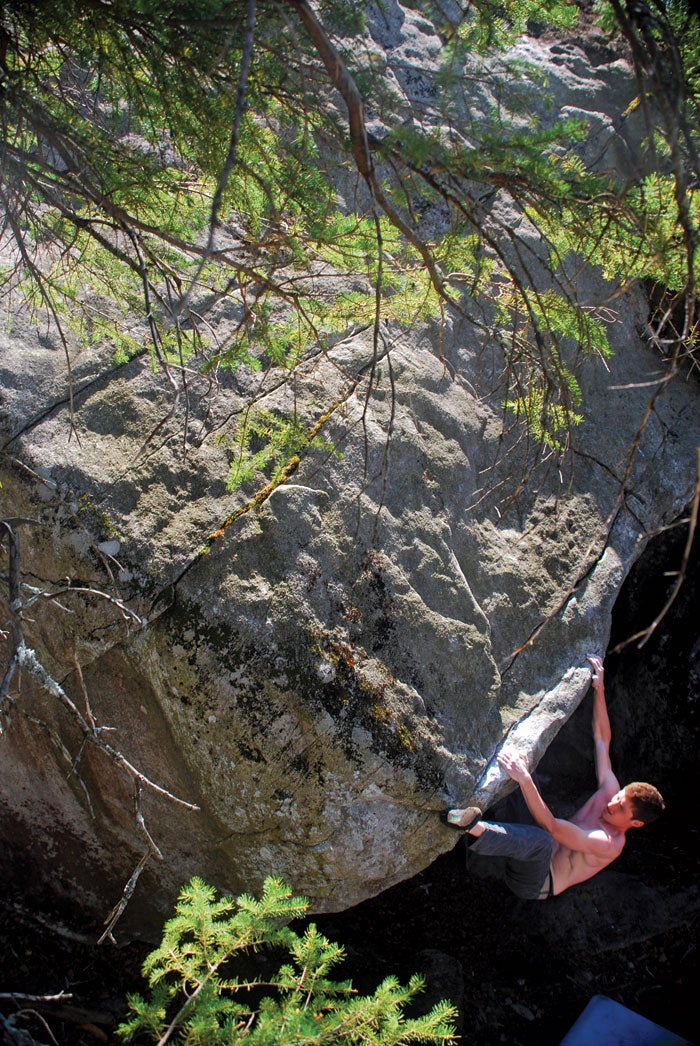 SHOVEL POINT Enjoy the whole climbing-over-the-lake thing, but not the commitment level at Palisade? Unless you're really motivated (and float in via boat or rap in and build a hanging belay), this top-access peninsula is pretty much toprope-only, thanks to it not having a serviceable beach/staging area. The park service recently installed 36-inch (!) bolt anchors atop the most popular climbs, so no gear's needed up top. Just choose routes well within your abilities or double-check that your partner has his haul system dialed. The climbs are generally easier (5.5 to 5.11d) than at Palisade. Ticklist:Dance of the Sugar-Plum Faeries (5.8), Cornered (5.9), Straw House (5.11b) Camping: Sites at Tettegouche State Park start at $16 per night (dnr. state.mn.us/state_parks/tettegouche/). Rest Day: Hike along the scenic Superior Hiking Trail (SHT) or up the Baptism River to 60-foot High Falls.
Sawmill Creek DomeThis is anorthosite-boulder heaven. The volcanic rock type is named after the Greek words an and orthos, meaning "not" and "upright," respectively, because of the billions of super-sharp (read: grippy), oblique feldspar crystals that comprise it. Bring calloused hands and tape.
Sawmill is just up the road from Tettegouche State Park on Lake County Road 6. A short hike on the SHT brings you to the upper Midwest's highest concentration of good bouldering—at least 46 established problems in a square mile. (The dome has some decent trad lines, but that's not the main draw.) There is one V1 warm-up; everything else is V3 to V12, with most problems falling in the V7 range. Much of the climbing is friction-based, so catch Sawmill on one of the many cool summer days, or in early autumn to see the leaves changing. Camping: A free designated campsite sits atop the dome (bring your own water). If that's full, you can always follow the Superior Hiking Trail back out and camp at Tettegouche State Park. Rest Day: Take a leisurely hike on the SHT, and practice your photography skills from the many awe-inspiring overlooks. Or just sleep—you'll probably need it after a day at Sawmill. Ticklist:The Prow (V3), Jaws (V7), Payback (V7), Counselor Moon (V7+), The Juggernaut (V9), The Amateur (V12)