New Climb in Tetons' Death Canyon
Heading out the door? Read this article on the new Outside+ app available now on iOS devices for members! Download the app.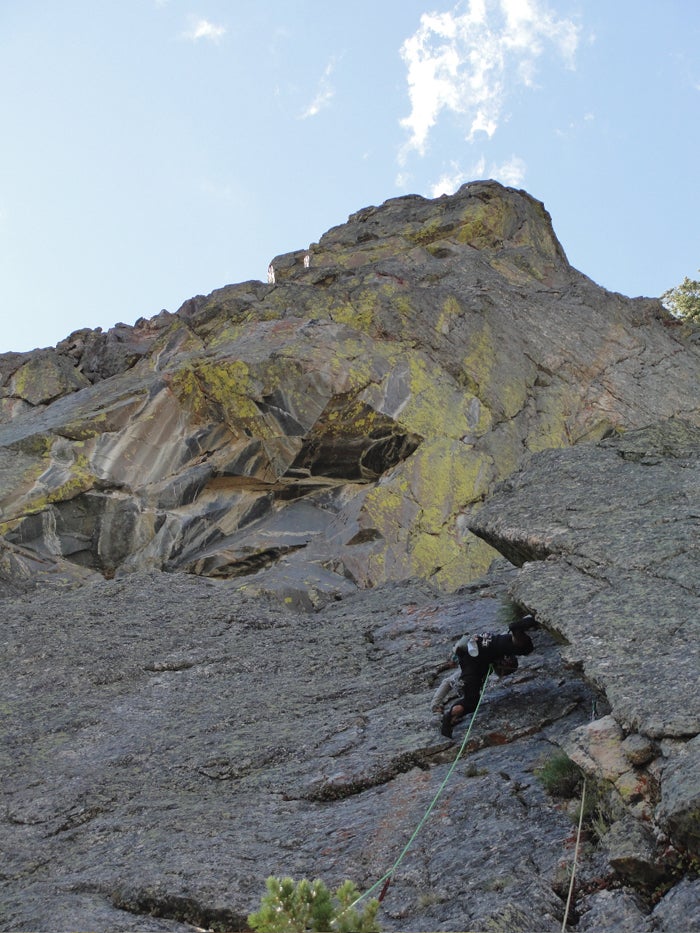 In early September Mark Givens and Joel Kauffman climbed a new moderate free route in Death Canyon within Wyoming's Grand Teton National Park. The Alien Wall (IV, 5.10-) is the first new multi-pitch free route on the south side of Death Canyon in over 20 years.
Below is the first person account from Exum Mountain Guide's Mark Givens about the first ascent:
As you probably know, the north side of Death Canyon holds two of the most stellar, and popular rock routes: The Snaz (IV 5.10-) and Caveat Emptor (IV 5.11-). When you are climbing either one, what often catches the eye across the canyon is a huge, 1500 foot wall that has seen little summer activity in over 20 years. In fact, the last route put up was Jack Tackle and Jim Donini's route Predator in 1987. I remember that night clearly; my worried mother, among other concerned friends, dispatched my Dad and I to collect Jim and Jack after they had failed to return at what she deemed a "reasonable time." It seemed that even those two consummate climbers could not escape the watchful eye and worried mind of my Mom. We met them safe and sound on the trail around midnight and I was enthralled and a bit horrified when I heard their story of a mini-tornado whipping through canyon, fouling their ropes up proper, and causing a delay.
With this history in mind Joel Kauffman and I set out to take a look at Predator and explore this amazing wall. After about 150 meters of scrambling and a roped pitch of easy face climbing (with the obligatory spicy move thrown in), we eventually gained the bench where the real climbing starts. After an initial pitch of 5.6, we had our first good look at Predator. To us, I am sure it looked way more intimidating than it did for Jack and Jim, with the crux pitches looking like they required a bit more jungle mountaineering and cleaning than we were up to. Joel bravely traversed out to the middle of the face. What we found truly surprised us: a beautiful, clean, protectable and enjoyable Teton moderate.
The Alien Wall (III, 5.10-) follows a fairly direct line left of Predator. We climbed the route in 7 long pitches. The climbing was wild and varied for the grade with a good mixture of steep face climbing, stem-box corners, thin flakes, and cracks from fingerlocks to a small offwidth section. Pitch 4 would be a face-climbing classic anywhere with some of the wildest rock I've seen in the Tetons; dense, dark, solid rock with the classic knobs and chicken heads twisted into psychedelic formations. Pitches 5-7 also have stellar climbing with good protection. Nine long rappels plus some down-climbing get you to the base of the wall and back to terra firma.
To read more about the route and see a topo visit Mark Givens website.
Date of Ascent: September 2, 2009
Source: Mark Givens / straightdopestraightrope.blogspot.com
MORE NEWS: