Access News: New Northeast Climbing Destination Secured
Western Mass Climbers Coalition, Ragged Mountain Foundation, and Access Fund partner to acquire Hanging Mountain in Southwest Massachusetts
Heading out the door? Read this article on the new Outside+ app available now on iOS devices for members! Download the app.
November 20, 2019, Sandisfield, MA – Western Massachusetts Climbers Coalition (WMCC), Ragged Mountain Foundation (RMF), and Access Fund are pleased to announce the acquisition of Hanging Mountain, a new climbing area in Sandisfield, Massachusetts. Situated on 14 acres, Hanging Mountain may be the biggest find in Northeastern climbing in decades. Once fully established, this hidden gem will provide climbers with approximately 150 – 200 traditional and sport routes, some up to two pitches.
Hanging Mountain sits in the southwest corner of Massachusetts, just a few miles from the Connecticut border. WMCC struck a deal led by former board president Jeff Squire, to purchase the lands encompassing the mountain in early August. WMCC worked with Access Fund to secure a $79,500 loan from the organization's Climbing Conservation Loan program.
Given the crag's proximity to the Connecticut border, WMCC sought assistance from neighboring Ragged Mountain Foundation, whose mission is to protect recreational climbing and hiking in Connecticut. RMF recognized that WMCC's efforts to secure Hanging Mountain would contribute significantly to opportunities for Connecticut climbers. With that in mind, RMF contributed over $15,000 to cover initial acquisition expenses and will assist WMCC with fundraising to pay off the Climbing Conservation Loan.
"We are deeply committed to preserving high and wild places, but at first we were uncertain about supporting the purchase of a crag outside of Connecticut, says RMF board president Matthew Conroy. "It was only after walking this exceptional property and witnessing the energy and enthusiasm of the WMCC board that we were fully won over to the project. This is an undreamed of win for the region. RMF is proud to be part of the Hanging Mountain acquisition and hopes to continue its partnership with WMCC far into the future."
Squire agrees, saying "Farley Ledge has long been our flagship crag but it's starting to see the impacts from increased use. To discover and protect a virtually unknown cliff like Hanging Mountain, including access and parking, is a huge win for climbers in the region, and will help to relieve some of the pressures at Farley."
Access Fund has collaborated with both WMCC and RMF on land acquisition projects in the past, including the protection of the Farley Ledge parking lot in partnership with WMCC, and the acquisition of Ragged Mountain in partnership with RMF. This new acquisition of Hanging Mountain marks the first time RMF and WMCC have collaborated on a climbing access project and one in a handful of acquisition projects pursued in partnership by local climbing organizations from different states.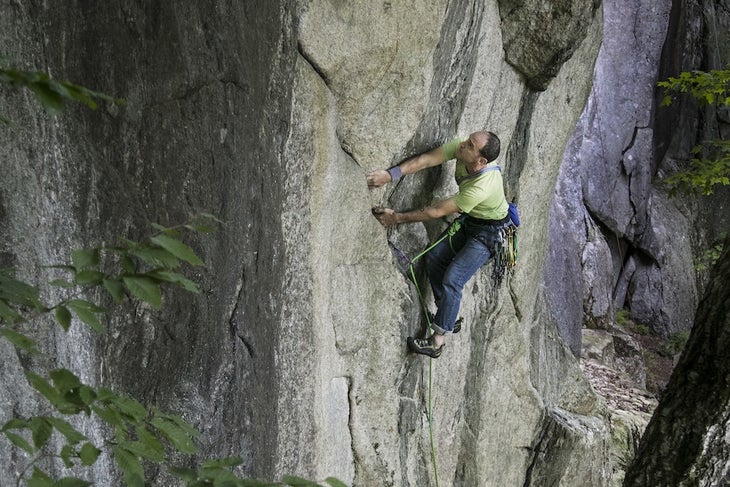 "Projects like Hanging Mountain are exactly why Access Fund launched the Climbing Conservation Loan program in 2009," says Mike Morin, Access Fund's Northeast Regional Director. "Local climbing organizations like WMCC and RMF need quick access to funds and transaction expertise to rapidly secure new or threatened climbing areas for long-term conservation."
Hanging Mountain is the 26th climbing area that has been conserved through the Access Fund Climbing Conservation Loan Program. As a revolving loan program, loan money is repaid into the conservation fund, allowing Access Fund to loan the money out again to protect other threatened climbing areas across the country.
Community Support Needed
We now need the community's support to raise $120,000 to pay off the Climbing Conservation Loan and complete site improvements that will include an access road, parking lot, and trailhead amenities to facilitate public access. Donate today at http://www.climbgneiss.org/product/hanging-mountain-fundraiser/.
A Note About the Property and Access
Hanging Mountain is a largely raw, undeveloped cliff that will require road improvements, a parking area, and a short access trail before it will be ready for public use. This unusually blank slate creates the valuable opportunity for the thoughtful development of climbing routes accessed by a network of sustainable trails planned and installed by the community. These projects will all require significant time and effort to plan and implement. A joint committee comprised of both WMCC and RMF members have begun establishing a broad management plan and long range vision; both organizations will seek input, expertise, labor and financial support in the coming months. We anticipate a gradual opening of sections of the cliff over a period of time as the supporting infrastructure is put into place. In the meantime, please respect the initial closure, contact WMCC and/or RMF if you are interested in becoming part of the process, and stay tuned for an official opening date and access details in early summer 2020.
About Western Massachusetts Climbers Coalition
WMCC is a 501(c)(3) grassroots organization that promotes the protection of natural resources and represents the concerns of rock climbers and human powered recreationalists in Western Massachusetts. Achieved through environmental stewardship, resource planning, and by maintaining strong working relationships with landowners and stakeholders, WMCC has been the leading voice for climbers in Western Massachusetts since 2000. For more information, visit www.climbgneiss.org.
About Ragged Mountain Foundation
Ragged Mountain Foundation (RMF) was formed to take over the stewardship and eventual ownership of Ragged Mountain in Southington, Connecticut with the goal of preserving access to an iconic New England cliff for climbers and hikers.The acquisition of Ragged Mountain was just one step in a larger mission that revolves around the preservation of, and public access to, the regions high and wild places. With this in mind, RMF's mission is three-fold: (1) promoting safe, responsible, recreational use of local natural spaces; (2) advocating for recreational access (including but not limited to climbing); and (3) acquiring and preserving areas of importance to the regional climbing community. For more information, visit www.raggedmtn.org.
About Access Fund
Access Fund is the national advocacy and conservation organization that keeps climbing areas open and conserves the climbing environment. Founded in 1991, the Access Fund supports and represents millions of climbers nationwide in all forms of climbing: rock climbing, ice climbing, mountaineering, and bouldering. Six core programs support the mission on national and local levels: climbing management policy, stewardship and conservation, local support and mobilization, land acquisition and protection, risk management and landowner support, and education. Since 1991, the Access Fund has supported 76 land acquisitions by land trusts, public entities, and local climbing organizations, totaling 17,323 acres across twenty-seven states. For more information, visit www.accessfund.org.