New Route on Beautiful Taulliraju
Heading out the door? Read this article on the new Outside+ app available now on iOS devices for members! Download the app.
Mixed climbing in the upper North Face of Taulliraju. Photo courtesy of Dave Turner.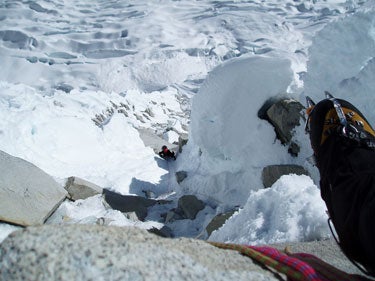 Californians Dave Turner and Micah Retz have climbed a new route on the North Face of Taulliraju, the 5,830-meter "ice flower" of the Cordillera Blanca in Peru. Only two lines had been climbed on the remote "back side" of this prominent peak at the head of the Santa Cruz valley: the 1956 original route up the mountain, which mostly climbed the Northeast Ridge, and the 1979 Bajan-Busch route up the center of the North Face. In late June, Turner and Retz approached via the col west of the peak, and then climbed the 800-meter face in a single night.
The key to the route was an ice runnel in the middle 400 meters of the right side of the face. The two started climbing at 7 p.m. in order to ensure decent ice conditions on the wall, and Turner took the first block, overcoming a 60-meter rock wall with 5.10 climbing in crampons to gain the ice runnel. Retz took over the leading in the upper half of the face, finding vertical and overhanging passages of water ice through the summit bulges. "After climbing to the top of the mountain, both of us were unwilling to surf out onto the last few meters of the cornice," Turner said in an email. The two reached their high point around 8 a.m. and then took another four hours to rappel their route.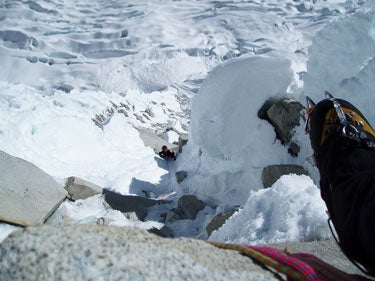 Turner said the route went at 5.10 WI5 M6, although, he added, "the nature of Peruvian climbing is always variable, so grades here are hard to translate." He said, "We were lucky to have a heavy snow and ice pack from the previous winter, as I have seen photos of the face when it was almost entirely rock."
Turner, who cut his teeth soloing on El Capitan, spent most of last summer in Peru, where he climbed a new route on La Esfinge, a possible new variation on the West Face of Tocllaraju, and a solo new line on Huandoy Sur's Southwest Buttress (without reaching the summit). He thanked Black Diamond and Casa de Zarela in Huaraz, Peru, for their support of this year's trip.
Date of Ascent: June 2007
Approaching the summit mushroom on Taulliraju via the new Retz-Turner line on the North Face. Photo courtesy of Dave Turner.