New Routes on Alaska's Pika Glacier
Heading out the door? Read this article on the new Outside+ app available now on iOS devices for members! Download the app.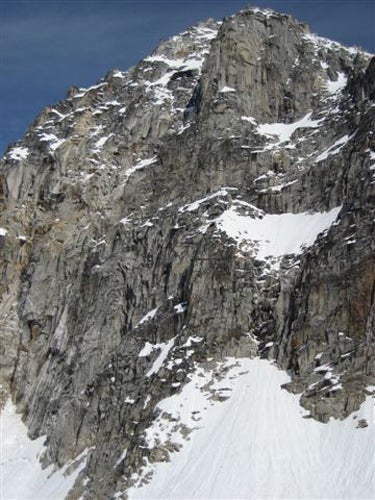 Martin Gutmannn and Lucas Iten, both from Switzerland, and the Coloradoan Jack Sasser took a successful spring trip to Alaska's Pika Glacier, climbing three first ascents and repeating two routes, without placing any bolts or pitons. Sasser took a National Park Service patrol a few years ago in the Pika Glacier area, returning with a list of unclimbed faces. He asked Gutmannn to join him this year. Gutmannn and Iten's expedition name was "Return of the Swiss;" Sasser, arriving later and not feeling right being a part of the Swiss name, registered as "Not Neutral".
On May 16, Gutmannn and Iten repeated The Lost Marsupials in alpine boots, and three days later completed a new route on the south face of the Throne called The Lost Schnurpfel (5.10+). Gutmannn said they two found rappel slings after the first pitch, before one of the cruxes, but no signs of previous climbing above that. Iten and Gutmannn then established another Swiss-friendly route on the west face of the Throne: Swisser than Swiss Chocolate, mostly 5.10 climbing with a "bouldery, exposed, and sustained" 5.11+ crux halfway up.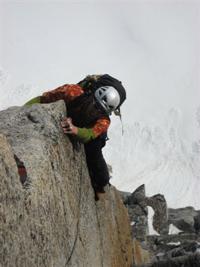 Sasser joined the group on May 26, and the three put up a new line on the Giant Virgin Pillar on the south side of the Royal Tower, beginning from the Crown Glacier. They called this route Got Lucky? The team forgot all but three of their quickdraws and alpine slings at basecamp, and "managed to make every pitch 50-60 meters without any rope drag." The route had a few 5.11 pitches, but the Gutmann's mental crux consisted of a sustained, dripping 5.10 offwidth. After reaching the top and re-energizing, the team pushed their luck yet again, when the rap lines hung up above the offwidth. "We almost lost it, because neither Jack nor I seemed to have the strength or confidence to re-climb the vicious final pitch," Gutmannn said. Luckily, Iten re-climbed it again, freeing the lines. Got Lucky? ended up being all three members' favorite route… ever.
All three new routes come highly recommended, because of the solid granite and enjoyable pitches. Rest days were full of memories, as well. "We had brought with us two bottles of scotch, two bottles of wine, one bottle of Appenzeller, and one case of beer," said Gutmann. "Then the Alaskans who had camped next to us took off and donated one bottle of whiskey, one bottle of rum, one bottle of vodka, and one bottle of scotch, as well."
Date of Ascents: May 2007
Source: Martin Gutmann, Lucas Iten
Photo by Lucas Iten