These Guys Took 45-Foot Whips On Their Way To a New El Cap Speed Record
"It's cool doing an older route that doesn't get climbed. That's part of the appeal."
Heading out the door? Read this article on the new Outside+ app available now on iOS devices for members! Download the app.
On May 13, Yosemite big-wall climbers Lance Colley and Tyler Karow cut three hours off the obscure and striking Sunkist on El Cap, setting the new time at 15:57. SuperTopo rates the 2,900-foot line 5.8 A3. Other outlets rate it 5.9 A4. Colley and Karow called it more challenging than the A4 Native Son on El Cap's Southeast Face, which they climbed earlier this season.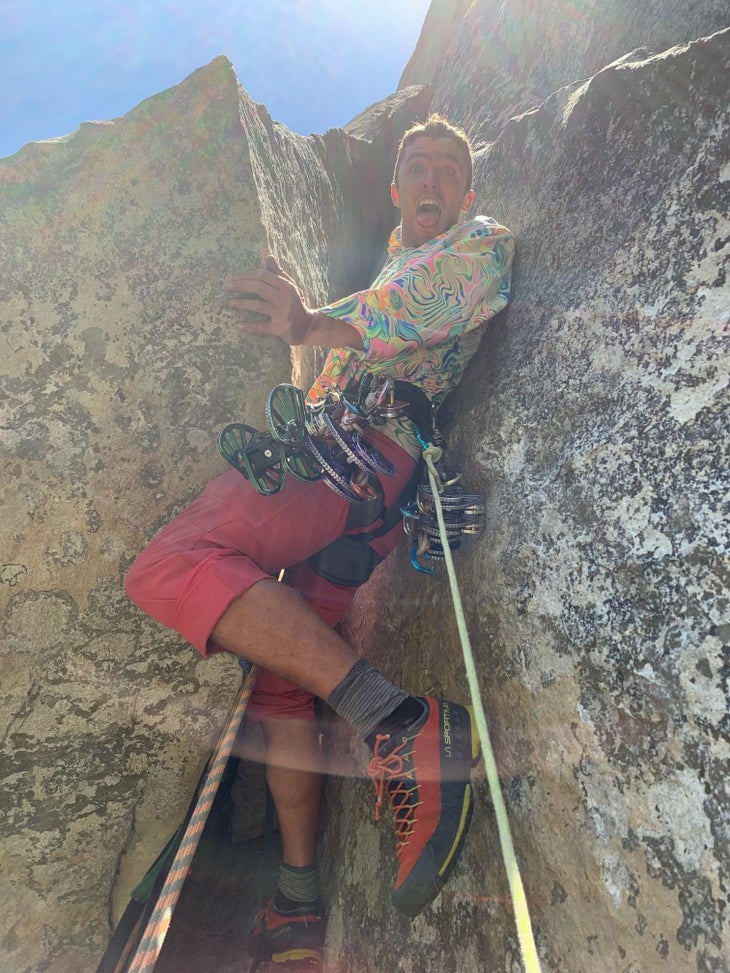 "Overall, I thought the route was harder than we thought it would be," said Colley.
"We thought it was a sandbag," Karow said.
 Sunkist appears on the cover of Yosemite Climbs: Big Walls (1998) in a Greg Epperson photo of Pete Takeda ascending the route's incredible headwall seam. That iconic photo has inspired big wall climbers for generations. Chris McNamara, the publisher of SuperTopo, says that Sunkist ascends "some of the most beautiful and steep sections of the Southwest Face."
 Despite the route's jaw-dropping exposure and clean nailing, it receives less attention than its neighboring climbs, including the free route El Corazon. The previous record on Sunkist was set by Hans Florine, Mark Melvin, and Steve Schneiter at 19:24. The record has remained in place since 1999. 
 Bill Price and Dale Bard established Sunkist in October 1978. 
"I wanted to do this for a long time but needed a raging free climber. So, I recruited Tyler," Colley told Climbing from El Cap meadow the day after their climb. 
 What sealed the deal was when Brandon Adams—who Colley called his aid climbing mentor—told them, "Go climb it; it will be fine." 
 And everything did go fine until Colley took a 45-footer. He was a move away from the security of a machine-head rivet (like a mini bolt) when a fixed copperhead blew, sending him down the wall like an elevator from pitch 25. Three beaks blew, the fourth unclipped from the rope, and Colley blazed past the anchor before Karow caught him on the Grigri. Arresting the fall, Karow shot up and slammed into the belay.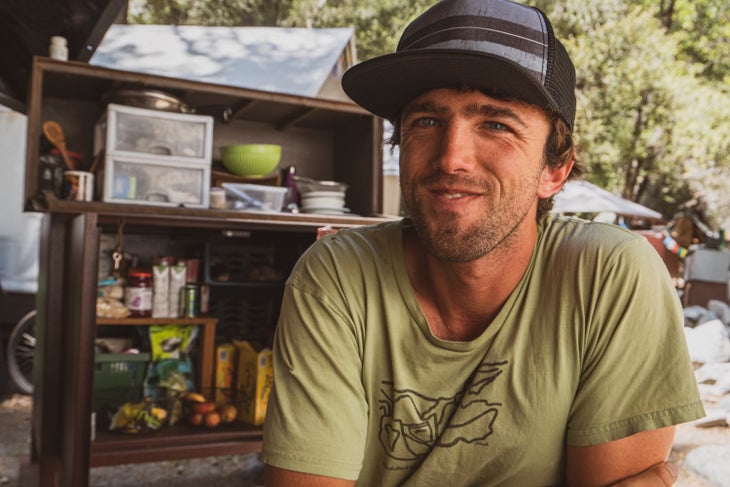 Colley, now hanging 12 feet below Karow, bat-manned himself back up, crawled back on lead and slowly regained his high point. With shaken nerves and praying he wouldn't fall again, he began pasting copperheads up the micro seam that moments ago put the fear of God in him. Though he's climbed El Cap 21 times over the past two years, he'd never placed a copperhead. He promised himself that he would offer up the lead to his partner if he fell this time. "I told Tyler, I'm not taking the giant whipper three times."
 "That was the best moment of the climb, clipping that rivet," Colley said.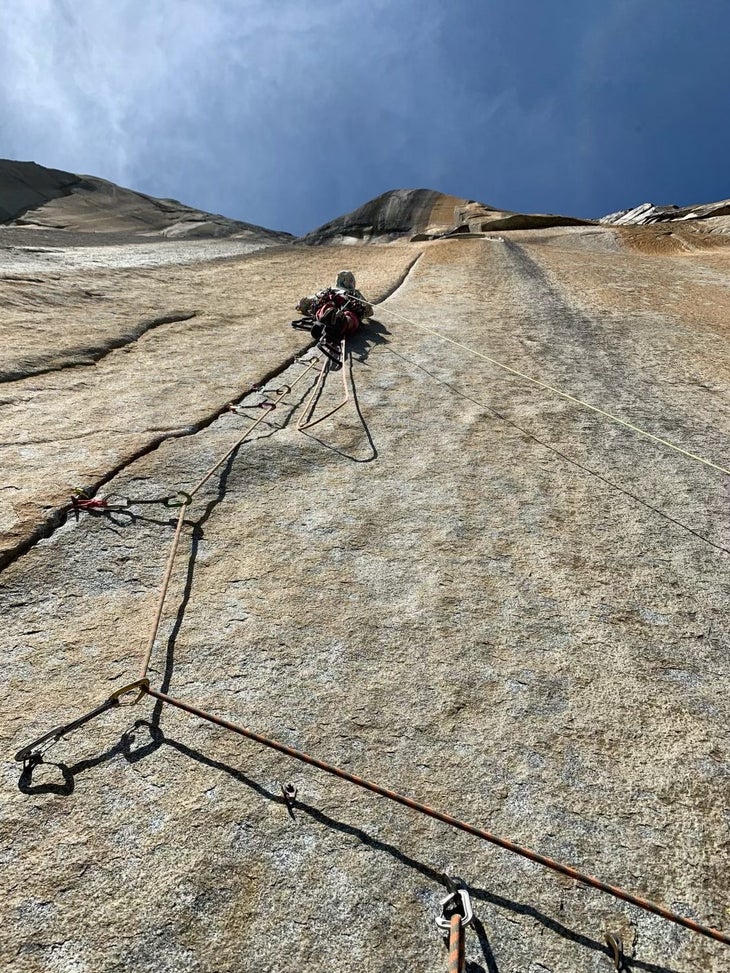 Sunkist was Tyler's fifth El Cap route in the past 30 days. Three days before the climb, he did El Cap and Half Dome in a day. In that same week, he did the long and scary 5.11+ on Half Dome called Autobahn. This marks his ninth overall El Cap route and 11th ascent. 
 Earlier this season, Colley partnered with Adams to smash the record on the demanding aid line Aurora (A4), taking 13 hours 2 minutes. That was Colley's first big-wall speed climb, and it set the pace for his later ascents. 
 On Sunkist, Karow led the first 15 pitches, which ascend the Freeblast portion of Freerider at 5.10 A1 and follow several back-to-back traversing pitches across Magic Mushroom to connect with the start of Sunkist. Colley took over from here, leading the next 10 pitches, falling big on pitch 25, then slowing down as he eked his way through the next few leads. From here, the duo led in blocks to reach the summit. 
 They carried 18 beaks, a triple set of Totem cams, and assorted cams and nuts of all sizes. They also packed an emergency copper-heading kit, which was crucial. 
 While descending by headlamp down El Cap's East Ledges, they moved quickly to meet their friend "our hero," park wildlife biologist Heather Mackey, who had Baked Ziti waiting for them. Colley and Karow reached the Valley floor at 11:30 p.m. and ate dinner in El Cap meadow. 
 The two chose to climb in a day with no pre-hauling of loads and no pre-inspection. For them, it raised the adventure. "We were psyched to do it in the best style we could," Colley said.
 As for what's next, Karow said he's mentally and physically exhausted from the route and previous climbs last week. He said he'd climbed over 10,000 vertical feet in the seven days culminating with Sunkist, and wants to hang in El Cap meadow for the foreseeable future. Colley, who suffered a strained back during his huge whipper, plans to climb New Dawn on El Cap this week.