New Speed Records on Eldo's Naked Edge, Diamond's D7
Heading out the door? Read this article on the new Outside+ app available now on iOS devices for members! Download the app.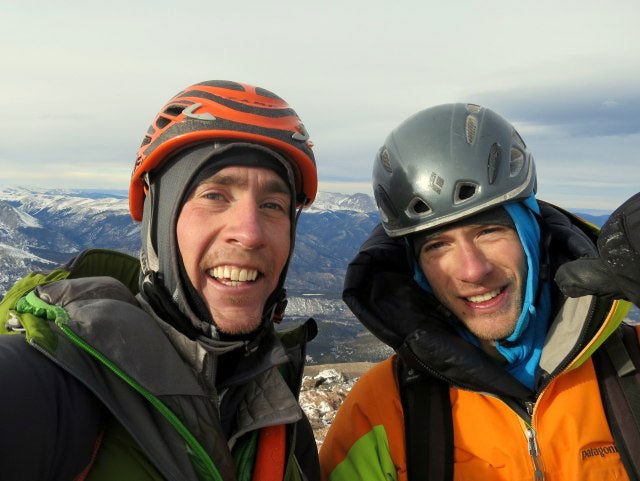 2/7/13 – Boulder climber Scott Bennett has completed two new speed records in Colorado recently: one on the famed Naked Edge (5.11) in Eldorado Canyon, and one on D7 (5.11c) on the Diamond of Longs Peak. Bennett had climbed both routes before ("probably a dozen times" on the Edge in the past few years, he said), but never the Diamond in winter.
The Naked Edge is one of the most sought-after and prominent traditional climbs in Colorado. Layton Kor and Bob Culp made the first ascent in 1962 (5.9 A3), and nine years later Jim Erickson and Duncan Ferguson freed the line. The six-pitch line sits on Eldo's soaring Redgarden Wall, and is on full view to anyone driving or hiking through the canyon. Speed ascents by locals are nothing new, having started in the early 1990s. Bennett first raced up the Edge in 2010 with Blake Herrington in one hour, 13 minutes. This time, on January 27, he recruited Brad Gobright, and the pair sprinted up the approach and route and back down in just 44 minutes—five minutes faster than the previous record set by Stefan Griebel and Jason Wells. Bennett reached the top in 29 minutes, and the pair "nearly reached terminal velocity" on the descent, he joked. They soloed the approach pitches and simul-climbed the rest of the route. Although January in Colorado can be cold and windy, they were lucky enough to have T-shirt weather.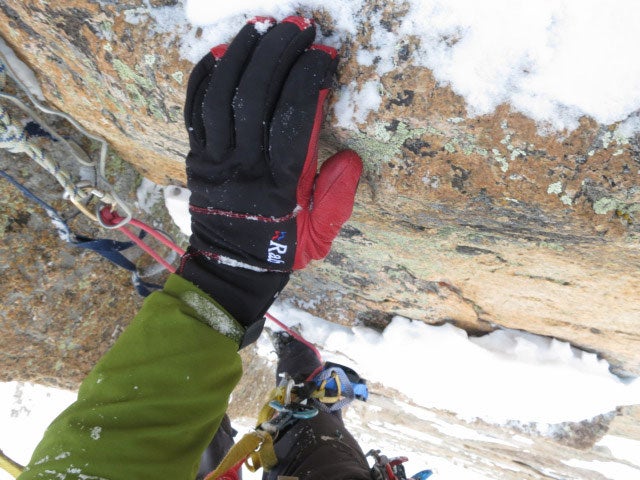 Then on February 3, Bennett drove up to Rocky Mountain National Park with Joe Mills to attempt D7, the Diamond's most popular winter route (and one of its best free climbs, although it's frequently done as an aid climb). More than a foot of fresh snow had fallen since Bennett's last visit in January, and he and Mills made slow progress at Chasm Lake and in the North Chimney (5.4), which they simul-climbed. "Once on D7 itself, I was similarly frustrated by the fluffy powder that filled every finger-lock and camouflaged every crimp," Bennett said. It was windy, with temperatures in the upper teens/low 20s. Bennett led and short-fixed the pitches, and they blazed a new time with 12 hours, 31 minutes car-to-car (11 miles round-trip), almost two hours faster than the old record set by Josh Wharton and the late Jonny Copp at 14 hours, 17 minutes.
Wayne Goss, Larry Dalke, and George Hurley made the first ascent of the eight-pitch route in 1966 (5.6 A2); the entire line was freed by John Bachar and Richard Harrison 11 years later, though other parties free climbed much of the route before then.
"Consciously racing the clock has definitely helped with systems and efficiency," Bennett says. "It gives me the confidence to go up on a long route with minimal gear, knowing that I can move quickly and get down before the weather changes," which can be crucial in places like Longs Peak. "Doing big climbs quickly is just fun. I'm training for an upcoming trip to the Karakorum… and [the Diamond] seemed like good fitness at altitude," he says. Other inspiration for speed climbs? "I love getting home in time for dinner."
Bennett has a great detailed write-up of both ascents on his blog.
Dates of ascents: January 27/February 3, 2013
Source: Scott Bennett/ropeandsummit.wordpress.com