New Study Shows Rock Climbers Spend $3.6 Million a Year in Red River Gorge, KY
Heading out the door? Read this article on the new Outside+ app available now on iOS devices for members! Download the app.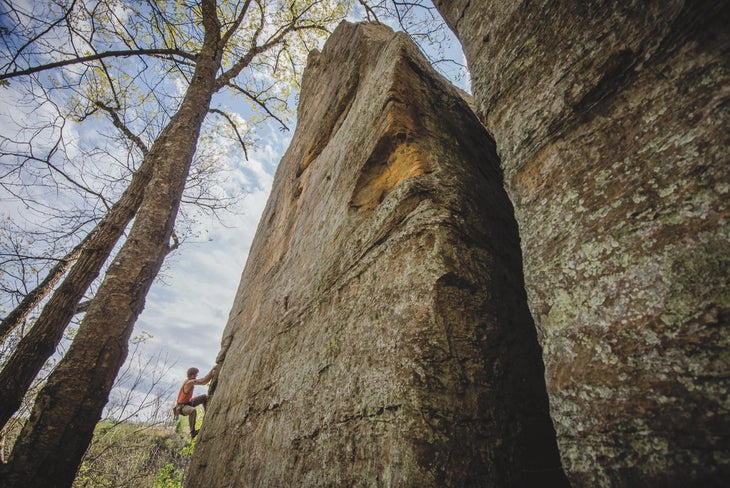 From the Access Fund and Red River Gorge Climbers Coalition:
A new study led by Eastern Kentucky University finds rock climbers have a significant economic impact in the Red River Gorge region of southeastern Kentucky. The Red River Gorge region is renowned for its rock climbing areas, which attract climbers from across the country and around the world.
The study indicates climbers are a substantial economic force in the Red River Gorge, contributing $3.6 million annually. It also indicates that climber spending directly creates jobs and contributes to the local and state tax base.
"Climbing is an economic boon for communities across the country," says Zachary Lesch-Huie, Southeast Regional Director for Access Fund. "Especially in economically distressed regions like southeastern Kentucky, it's critical that land managers, community leaders, and policy makers review this study and recognize the benefits climbing and other forms of outdoor recreation bring to local businesses and families. Responsibly opening more climbing areas on public land can help support a strong, sustainable and growing outdoor tourism economy."
The study was conducted in one of the most economically challenged areas of the United States—a six-county region including Estill, Lee, Menifee, Owsley, Powell, and Wolfe counties. Some of these counties are ranked among the poorest in the nation, with Owsley county at 3, Lee at 11 and Wolfe at 14. Two of the population centers in the study area—Beattyville and Clay City—are ranked 3 and 62 respectively on the nation's 100 lowest income places.
Conducted during the 2015 spring and fall climbing seasons, the study's findings are based on surveys from over 700 climbers. Surveying took place at 95% of known public and private climbing areas in the Red River Gorge, including Daniel Boone National Forest, Muir Valley, Pendergrass Murray Recreational Preserve, and Miller Fork Recreational Preserve.
This study clearly indicates that rock climbing can be a strong economic driver in rural areas. The study recommends increased access to climbing on public land, using rock climbing as a renewable economic resource and supporting a climber friendly environment in the Red River Gorge area.
"Less than a quarter of climbing in the Red River Gorge is on public land," explains Rick Bost, a board member of Red River Gorge Climbers' Coalition (RRGCC). "The majority of climbing is on private land or managed by climbing-friendly non-profits like our organization. There is incredible potential to expand the available climbing on public lands such as Daniel Boone National Forest and Kentucky State Parks. Our organization is ready to work with land managers and other stakeholders to plan and open new climbing areas in the region."
The study also gathered demographic information on climbers, such as education and income level, and measured how often they visit and how long they stay. "This is an important strength of our study," says Dr. James Maples, lead EKU researcher on the study. "It gives us a very good understanding of who Red River Gorge climbers are and exactly how they spend their money. That information can help business owners and communities maximize climbers' economic impact."
Climbing is part of a growing outdoor recreation economy in the U.S. According to the Outdoor Industry Association (OIA), Americans spend $646 billion dollars every year on outdoor recreation, including equipment, vehicles, lodging, food and more. In Kentucky alone, OIA estimates outdoor recreation generates $8.4 billion dollars in consumer spending, $552 million dollars in local and state tax revenue, and more than 100,000 jobs.
Access Fund believes the study has positive economic implications for areas similar to Red River Gorge.
"The rural, mountainous parts of Kentucky and other nearby states are home to the vast majority of our region's climbing areas," says Lesch-Huie. "There is exciting potential for climbers, land managers, and local communities to work together and harness the economic opportunity presented by climbing and outdoor recreation."
The study was conducted with funding support from Access Fund, Red River Gorge Climbers Coalition, and Eastern Kentucky University.
About Access Fund
The Access Fund is the national advocacy organization that keeps climbing areas open and conserves the climbing environment. Founded in 1991, the Access Fund supports and represents millions of climbers nationwide in all forms of climbing: rock climbing, ice climbing, mountaineering, and bouldering. Six core programs support the mission on national and local levels: climbing policy and advocacy, stewardship and conservation, local support and mobilization, land acquisition and protection, risk management and landowner support, and education. For more information, visit accessfund.org.
About Red River Gorge Climbers Coalition
Founded in 1996, the Red River Gorge Climbers' Coalition (RRGCC) is dedicated to securing and protecting open, public access to rock climbing in the Red River Gorge area of Kentucky, and promoting conservation of the climbing environment. RRGCC seeks to promote responsible climbing and strives to maintain positive relationships with private land owners and public land managers like Daniel Boone National Forest. RRGCC successfully acquired and manages two large climbing areas: the 750-acre Pendergrass-Murray Recreational Preserve and the 309-acre Miller Fork Recreational Preserve. For more information, visit rrgcc.org/.