Heading out the door? Read this article on the new Outside+ app available now on iOS devices for members! Download the app.
LA-based model Alice Rietveld climbs into the sunset on New Jack's Room for Improvement (5.10d).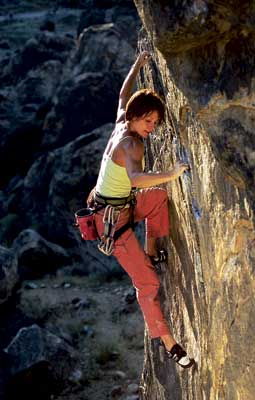 Los Angeles is a town rich in traffic jams, smog, crime, and reality TV programs. The myths prevail: Yes, there are more BMWs than people; Yes, a child's first word is usually either "Botox" or "implant;" Yes, everyone's writing a screen play; No, we didn't dam Hetch Hetchy (that was San Francisco). Living in Hell-A certainly imposes its challenges, but it has its moments too. Just 100 miles east of town, tucked in the San Bernardino Mountains' rain shadow, exists a desert oasis of sorts where jagged, textured, volcanic rock abounds. An ancient and eroded landscape dominates, evoking a time before man walked upright. Blur your eyes for a moment and you can imagine a brontosaurus wandering the background. Focus, and you'll find hundreds of routes up to 5.13. This is a sport-climbing Mecca for those craving steep rock, free camping, and a free-for-all vibe reminiscent of the Burning Man festival. Welcome to New Jack City. With its close proximity to LA and easy vehicle access, NJC attracts a wide variety of climbers. LA's finest — fashion, that is — finds its way to the crags via well groomed, chiseled physiques, and clothing color-coordinated to a T. It's a high-desert catwalk where the kitties roar instead of meow. Occasionally, as these bodies flex on the steep and the light reflects off the sweat, you can almost see the saline and silicone shifting.
On display. Jutta Reichardt experiences the full-value New Jack City scene.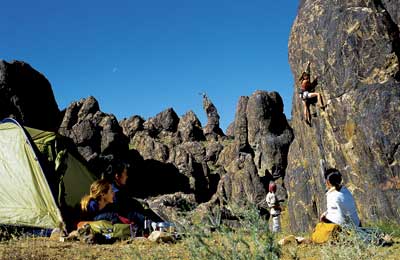 Jack Marshall, the founder of NJC.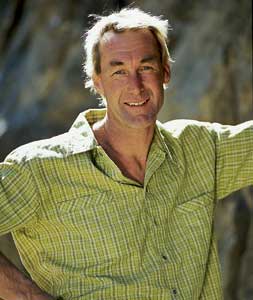 It began about nine years ago when Jack Marshal, a retired builder now in his late forties, wondered if he could find steep rock in the SoCal area. Marshal had climbed for over two decades on what he terms "choss piles" and "dummy domes." After visiting Rifle, American Fork, and the VRG, he realized that SoCal climbing was lagging a decade behind the rest of the sport-climbing world. Asserting that, "we weren't even in the same league [as other areas]," Marshall was impressed with how strong people were climbing elsewhere, and knew that SoCal had to do some catching up. One of Marshall's trad friends mentioned an untouched area that was loaded with rock, but was "too shattered to hold a bolt." To Marshall "too shattered" meant features, and features meant variety of movement. Investigating for himself, Marshal was initially unsure if he should develop the area. The rock was exfoliating and disintegrating on its surface, but he persevered. Nine years later some 350 routes exist from 5.6 to 5.13d, almost entirely established and redpointed by Marshall. To those who frequent the area, Marshall's vision prevails. New Jack City's rock has an angular, fractured texture that allows for diverse sequences on every route. "Ladder climbing" doesn't exist here. A climber, regardless of ability, must utilize all forms of movement, challenging both his strength and technical precision. A single route can have underclings, sidepulls, slaps to giant dishes, pinches, and pockets. You can climb a slab to an overhanging arête, mantel on giant slopers, and finish through vertical crimps. NJC is situated on BLM land, whose slogan, "the land of many uses," couldn't be more appropriate. While the area was once used for cattle grazing, it eventually became an off-roading haven for ATVs and dirt bikes. The area's wealth of unimproved roads and trails easily lent itself to illegal dumping, and with the trash came a lack of respect for the land. Initially, Marshall felt, "It was the place to dump a dead body. We never knew if we were safe out there. We'd be putting up routes and hear gunfire all the time, including automatic weapons. One early morning I drove up and there was an abandoned car on fire right in front of a route." Broken glass, graffiti, and gun shells plagued the landscape. "It was a total war zone." Marshal made a concerted effort to clean the area, carting out literally thousands of bags of garbage. He hired a tow truck to remove the charred vehicle (since the BLM wouldn't touch it), and a dump truck to remove the larger debris. He described one instance when he witnessed some kids honing their paintball sharp-shooting skills — at one of his routes. He politely asked them to stop, but they replied, "Dude, its gonna wash off in the rain." Marshal proceeded to educate the young 'uns that they were standing in a desert.
Jack Marshal sends the Red Devil (5.12b) packing.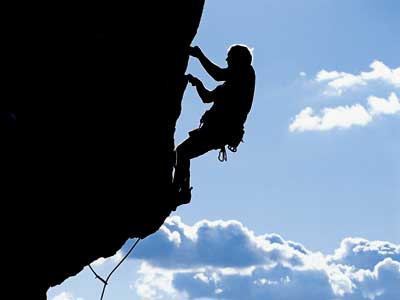 Boy wonder Chris Lindner leaps up Evil Offspring (5.12c), at the Crossfire Crag.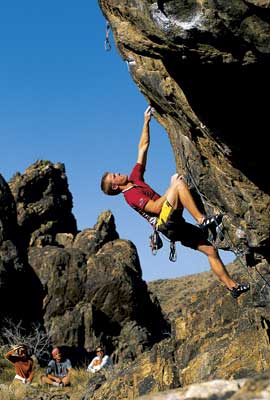 Today, NJC is a landscape transformed. Marshal has built access trails, put up fences to discourage off-roaders from encroaching on the crags, and installed plush belay benches. Over time an amazing thing happened: The desert responded to Marshall's TLC and grew back. Wild flowers flourished in the spring, and birds chirped a melody at dawn and dusk. And people came from all over SoCal to catch a pump. Their mileage on the routes has cleaned off the loose debris, morphing the "too shattered" rock into a worthy destination. At the core of the crag's social scene are people like Tom and Elke Lindner, two 5.13 climbers in their fifties, and their son, Chris Lindner, who is one of America's best sport climbers. Chris, now twenty, led his first 5.10 trad climb at the ripe old age of four. By the time he was nine he was climbing 5.13 sport, and broke the 5.14 barrier when he was, well, fourteen. Now, having graduated with a degree in computer science, and maintaining a relationship with his sweetheart (sorry, girls), Lindner recently quit his job at a software firm to pursue a fulltime climbing career. His first impression of the area, several years back, was relatively poor, but upon a recent return visit, Lindner was surprised both with how much the rock had improved, and with the technical nature of the moves. "NJC is a good pile of shit," he says. Lindner also noticed there were at least twice as many women as men at NJC, improving the odds of buff and tan lads trying to meet ripped and fashionable climbing partners. Also on the attendee list is Natasha Barnes, twenty-one, a top female climber who's still relatively unknown. Barnes has rivaled Lisa Rands and Lauren Lee in national comps for the last couple years, and became one of a select group of women to tick V10 when she sent Low Rider at the Buttermilks. "Although the typical New Jack routes are a bit shorter than areas like Rifle, Charleston, and Owens, most of them are really good quality and a lot of fun," says Barnes.
Natasha Barnes shows her prowess on Red Devil (5.12b).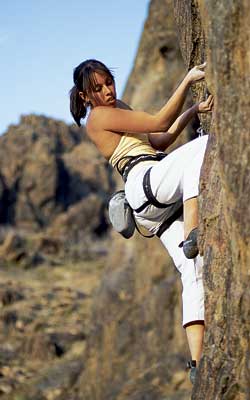 Andrea Pesce feels Good to Be Awake (5.11a) in the desert shade.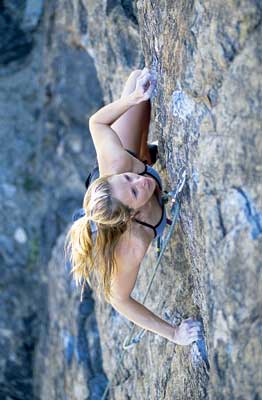 Marshal's motivation stems from the thrill of first ascents — something all climbers can appreciate. He originally developed his playground for a few friends and himself, and assumed a hefty financial burden to make his vision a reality, personally funding countless bolts, hangers, and drill bits. When asked if he thought that he was leading the way for sport climbing in SoCal, Marshall replied, "I don't know about that, but I certainly broke a lot of rules. I took a lot of hits from it, and I still do." An anonymous local, for example, referred to Marshal as, "the leader of the dark side … [who] single-handedly destroyed rock climbing in America." Many people who have visited NJC claim that it's "nothing but choss." And in many ways it is. As Joe Hedge, a strong local climber put it, "In truth, New Jack City is probably the worst, and certainly the ugliest, climbing area in the western U.S. If there was a climbing area in Hell, I'm sure it would look very similar." Marshall says, "I just wanted to do new routes in cool places with a few friends. New Jack City has a certain desert charm where you can climb steep rock. I'm happy with NJC — it's perfect for me." And that's what it's about — having fun in the sun and catching a pump. David Rosenstein is a trad, wall, and alpine weekend warrior from the glorious City of Angels. This is his first feature for Climbing. To see a 7-minute video clip of the makings of Jean-Michel Casanova's "The Catwalk" feature about NJC, visit climbing.local/av
Flashing Crudified (5.11c), Jutta Reichardt struts her stuff.