No sense of crisis: Leading trade shows OutDoor and EUROBIKE post record exhibitor interest
Heading out the door? Read this article on the new Outside+ app available now on iOS devices for members! Download the app.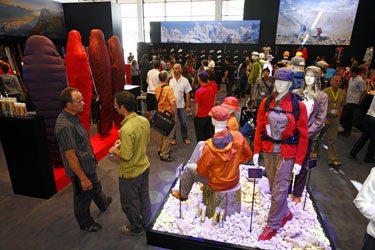 Outdoor & cycling industries buck economic downturn
Friedrichshafen, Germany – When the economy takes a turn for the worse, positive reports are a scarce commodity. The news out of Friedrichshafen is therefore all the more welcome: Outdoor and cycling industry manufacturers appear determined to defy the current economic crisis. In fact, never have so many companies made advance bookings of exhibition space for each of the world-leading trade shows, OutDoor (July 16 – 19, 2009) and EUROBIKE (2 – 5, 2009).
Indeed, even Rolf Schmid, President of European Outdoor Group, regards the economic downturn as an opportunity. "Our industry will benefit from the change in social values. Consumers are spending their money on recreation, their health and leisure time." Two more recently completed exhibition halls, as well as the new East Entrance, will be available for OutDoor 2009. "Exhibition space at Messe Friedrichshafen now totals 85,000 square meters or 915,000 square feet," notes Klaus Wellmann, Managing Director of Messe Friedrichshafen. "We are very pleased to have managed to fill the additional space with high-quality exhibitors already in the first year." Though other consumer and industrial goods trade shows have experienced falling numbers of exhibitors, the expansion at Friedrichshafen has come at just the right time. The completion of the new halls seems to have motivated even more outdoor product manufacturers to appear at this year's industry gathering. Thus far, OutDoor has booked 707 exhibitors from 39 countries, representing a 10 percent increase over the same spring period last year.
According to Horst Penzkofer, head of trade show research at Munich's IFO Institute for Economic Research, it is in one sense a thoroughly surprising development. "Generally, the numbers of exhibitors and visitors at a trade show bear a direct relationship to the state of the economy," Penzkofer explains. With current recessionary conditions, falling figures would therefore have been expected. Penzkofer also points out, however, that particular industries can experience growth in generally difficult circumstances. "Both the outdoor industry and the cycling industry are benefitting from this emerging trend in the marketplace. And both are sending positive signals and will be introducing numerous innovations this year," asserts Stefan Reisinger, Project Director of OutDoor and EUROBIKE in Friedrichshafen.
The fact that the outdoor industry is among the beneficiaries of the current economic crisis is based on its continuous technical development in recent years. This is thanks, not least, to consumers' increasing awareness about quality. A good example is offered by Intersport, Germany's leading purchasing association, which broke the sales barrier of 2.4 billion euros last year for the first time. Intersport simultaneously managed to increase its market share from 33.2 per cent to 34.5 per cent. The leading sales drivers in 2008 were outdoor, hiking and trekking, which together grew by 14 percent.
Adidas, Europe's leading sporting goods manufacturer, also has its eye on the increasingly important outdoor segment. Following a two-year break, adidas is returning to OutDoor in Friedrichshafen. "Outdoor is more than simply sport; it's a lifestyle," states Rolf Reinschmidt, Senior Vice President Global Outdoor adidas.
In spite of the economic crisis, Switzerland's Mammut Sports Group will once again significantly increase the size of its exhibition space at OutDoor in Friedrichshafen. "People want to treat themselves to something. So, they won't be buying stocks with their money; they'll be getting out into nature and enjoying life," reasons Rolf Schmid, CEO of Mammut.
The change in consumer behaviour is also shifting EUROBIKE, Friedrichshafen's second largest leisure and sport trade show, into a higher gear. More and more people are adopting the bicycle as an alternative means of transportation. Thus far, 890 exhibitors from 40 countries have been registered for EUROBIKE 2009; a figure higher than for any comparable time of year in the past. "There's the opportunity during this crisis to further improve the bicycle's position as an alternative means of transportation," maintains Christoph Goebel, CEO of GROFA GmbH.
Outdoor industry manufacturers as well as those of the cycling industry are now hoping that their substantial investments will translate into correspondingly high order figures made by trade visitors. Happy omens already exist: Retailers are also expressing optimism about their future prospects, and Intersport Germany management executives Klaus Jost and Kim Roether report that consumer readiness to spend money on health and fitness continues to grow at an increasing rate. Intersport anticipates that current buying behaviour will produce sales growth this year, as well.
Further information is available at www.european-outdoor.com and www.eurobike-show.com.