Heading out the door? Read this article on the new Outside+ app available now on iOS devices for members! Download the app.
Whit Magro, coolin' on Paso Doble (5.11+), the Waltz, Gallatin Canyon.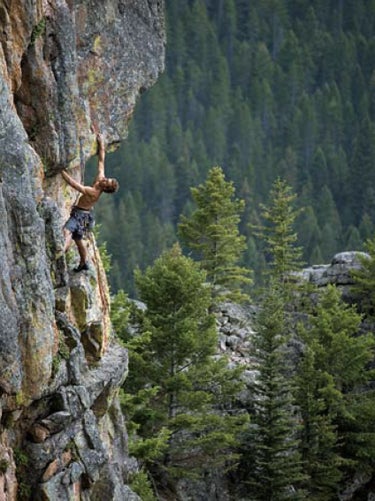 Beat the heat in Bozeman, Montana
It's summer, and the sun has morphed into a Death Star. But while most climbers hole up in air-conditioned gyms, myself and other inhabitants of the 45th parallel revel in the 80 F temps of the Northern Rockies, thriving in the Greater Yellowstone Ecosystem.
Bordering the northern edge of this wilderness is the Gallatin Valley, spanning about 50 miles east to west, from the Bridger Range to the Tobacco Root Mountains; and roughly 60 miles north to south, from the Big Belt Mountains to the Gallatin Range. Nestled on the valley's eastern edge, my home of Bozeman has 57,000 residents, with one-fifth of those attending Montana State University. (In summer, most students head home, taking the traffic with them.)
Most transplants come for what lies on the Gallatin Valley's fringes: mountains. From a rock-climber's viewpoint, Bozeman is Montana's finest town — not only for the high concentration of under-the-radar rock, but also the abundance of enthused climbers (i.e., willing partners).
A 20- to 45-minute drive accesses more than 600 climbs at Gallatin Canyon, Hyalite Canyon, Squaw Creek, and Bozeman Pass, on gneiss, limestone, or basalt. Routes range from 5.6 to 5.13+, and from steep bolted lines, to multi-pitch moderates, to R-rated trad. Most crags also have camping and short approaches.
You can find Bozeman's best trad on the gneiss of magnificent Gallatin Canyon. Gallatin's climbing dates back to 1965 when Pat Callis, the Kanzlers, and others established their climbs ground up.
These gutsy forerunners picked out many of the obvious cracks and only placed bolts when necessary, making for a handful of R-rated classics. (Most routes involve face with a few jams and natural protection.) So this summer, hit up Bozeman's quality trad, sport cliffs, cucumber-cool July temps, and secluded wilderness — you won't be disappointed.
East-side Gallatin formations, including Spare Rib.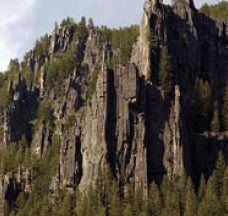 Finding Shade
Gallatin Canyon: stick to the crags' north sides, and save the south sides for early morning or late afternoon.
Hyalite Canyon: find morning shade at Practice Rock, and afternoon shade at the basalt sport routes.
The Pass: for most routes, shade hits in the afternoon.
Squaw Creek/Scorched Earth: morning shade.
A Few Glorious Climbs
Gallatin Canyon:Skyline (5.6), Spare Rib (5.8), Gallatin Tower (5.8), Diesel Driver (5.9+), Stigmata (5.11+) to Never on Sunday (5.10), Fugitive (5.12), Frue-Lowe (5.13b)
Hyalite Canyon, Practice Wall:Wizards Well (5.8+), Theoretically (5.10), Tough Trip Through Paradise (5.11)
Logistics Beta
Guidebooks:Bozeman Rock Climbs, Third Edition, by Bill Dockins; Rock Climbs of South West Montana, by Kyle Vasillopoulos; The Rock Climber's Guide to Montana, by Brad Hutcheson and Randall Green
Guide Services: Montana Alpine Guides — (406) 586–8430, adventuremontana.com; Montana Mountaineering Association — (406) 522-0659, montanamountaineering.org
Camping/Lodging: Most crags lie on national forest or BLM land, with free primitive camping nearby. Designated campgrounds generally cost $9/site. To reserve campsites or cabins, call the Bozeman Ranger District: (877) 444-6777. Here are a few designated sites:
Gallatin Canyon — Greek Creek Campground, 31 miles south of Bozeman on US 191, and 10 minutes south of the parking for the cliffs.

Squaw Creek/Scorched Earth — follow Storm Castle Creek upcanyon to a designated campground (15 minutes from the climbing).

Hyalite Canyon — Langhor Campground, 11 miles south of Bozeman; and Chrisholm Campground, on the reservoir 18 miles south of town.

Bozeman Backpackers Hostel: walking distance from downtown, with dorm beds starting at $20/night; (406) 586-4659
Season: Summer is sublime, fall and spring can be hit or miss with rain, and winters are long, though Hyalite offers superb ice.
Food: For groceries, the Town n' Country Foods co-op, on North 19th, has the cheapest beer, sundries aplenty, and a few organic items.
Rest-Day Activities
Hike, bike, or rent a kayak to float one of the many fine rivers.

Drive two-odd hours to Yellowstone National Park to play tourist.

Bozeman Hot Springs, 10 minutes from town, has hot and cold pools. Norris Hot Springs, 45 minutes away, has camping, bluegrass music on weekends, and climbing (Revenue Flats) 10 minutes away.

The Museum of the Rockies has the largest T-Rex skull ever found.

Music on Main Street every Thursday, 6 to 9 p.m.