Heading out the door? Read this article on the new Outside+ app available now on iOS devices for members! Download the app.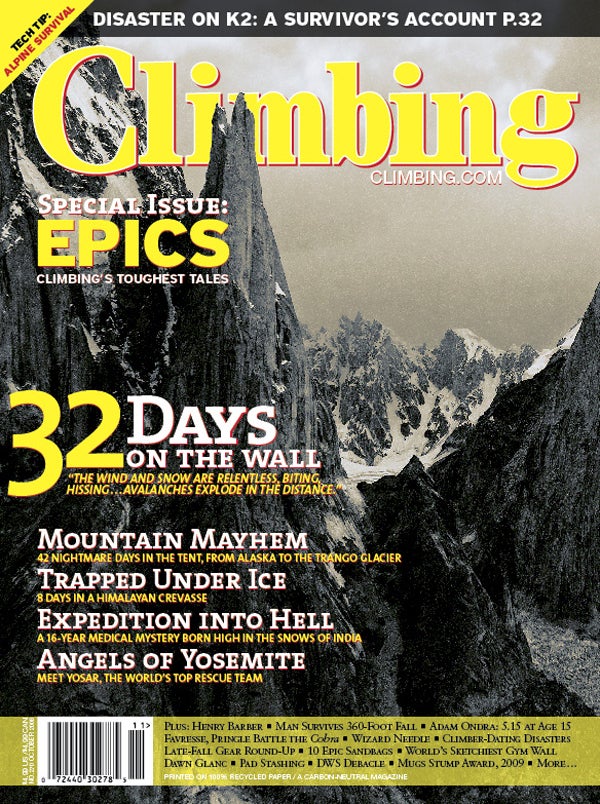 FEATURES
GALLERY Meet the faces of Yosemite Search and Rescue (YOSAR), America's preeminent high-angle rescue group, on call to save your bacon in the Valley.By Fitz Cahall Photos by James Q Martin
THE NOIR OF THALAY SAGAR Sixteen years on, the author revisits his fateful expedition to the Garhwal Himalaya, seeking the cause for a mystery illness that plunged him into years of fatigue, pain, and darkness. By Jordan Campbell
SPINDRIFT MEMORIES Three men, 32 days on the wall, hundreds of pounds of equipment, 20-hour hauls, and monster storms — welcome to summer 1998 on Baffin Island's Walker Citadel, right as "Baffin Fever" swept the climbing world. By Mike Libecki
LOSING THE PLOT Journal entries and images from the "Alaskistan 2007" expedition reveal how being tentbound by storm and fighting endless travel logistics might just be harder (and scarier) than alpine-rock climbing itself. By Cedar Wright and Renan Ozturk
TRAPPED! Two Japanese climbers, fallen 165 feet into a crevasse on Latok IV, fight to escape their icy crypt. By Dougald MacDonald Illustration by Keith Svihovec
Mini Epics Curry Boys Whip Off The Shield How not to rig your portaledge.Stately Displeasure A 360-foot slab ride, in Tuolumne Meadows.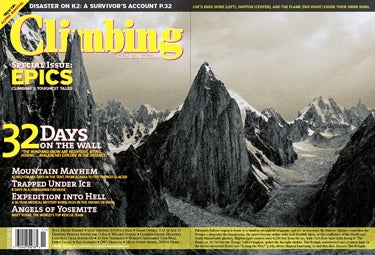 DEPARTMENTS
CONTRIBUTORSJordan Campbell, Tim Kemple, Anne Skidmore, and Mike Libecki
EDITORIAL Epics 2008 and the everyday business of survival
LETTERS
BASECAMP JUST OUT HOT FLASHES OFF THE WALL PLAYERS TEN THINGS WHIPPED ROADKILL SUSTAINED
CLASSIC CLIMBSYellow Brick Road (5.9+) — 300 feet of heaven-hewn granite, in the Needles, California
TECH TIPAlpine: 7 surefire ways to head off epics at the pass
REVIEWS New guide to the eastern Sierra; an anthology of testy tales; Dosage V and Dosage box sets; more. . . .
PERSPECTIVE Henry Barber: free-climbing pioneer, free soloist, trad climber, motivational speaker, purist; North Conway, New Hampshire