If You Like Ice, The Upcoming Ouray Festival Will Blow Your Helmet Back
Colorado's favorite ice park celebrates a return to normalcy with two ice fests, two comps, and a season like no other
Heading out the door? Read this article on the new Outside+ app available now on iOS devices for members! Download the app.
Emerging from both the pandemic and a period of uncertainty following a destructive rockfall event this past March, the Ouray Ice Park is proof that that which doesn't kill an ice fest only makes it stronger.
With post-rockfall bridge reconstruction nearly complete, the park hopes to open December 18, kicking off its biggest season yet. Expect not just one but two festivals—one of which promises to be the most inclusive ice fest ever conceived of. The park will also host a first-of-its kind North American Championship that's expected to draw ice- and mixed-climbing competitors from all over the world.
Here's a sneak peek at each event. 
All In Ice Fest | January 7-9
The All In Ice Fest was created with three goals in mind: to grow the ice climbing community, offer professional development opportunities, and celebrate the accomplishments of historically marginalized climbers.
The festival was founded by program director Liz Sahagún, an experienced climber, alpinist, and neuroscience PhD student based in Indiana. She and a diverse team of climbers designed every part of the fest with historically marginalized groups in mind, including BIPOC (Black, Indigenous, and people of color) communities, as well as LGBTQIA2S+ climbers, larger-bodied climbers, and community members with disabilities.
Historically, alpinism and ice climbing have been dominated by white male athletes. Though this is slowly changing, Sahagun says, the fact remains: many of the groups listed above just haven't had equitable access to ice climbing gear or education.
"We're starting to recognize that there are more of us [members of historically marginalized groups getting involved in ice climbing], and that many of us are accomplishing great things, but we just don't have the space to celebrate it yet," Sahagun says. "Now, with festivals starting up again, I think people are craving a sense of community."
Inspired in part by other affinity spaces like Color the Crag and the Flash Foxy Women's Climbing Festival, All In aims to create a safe, supportive community for people facing unique challenges when it comes to ice climbing access. The fest will provide experienced instructors, accessible clinics, and affordable gear options for all participants. It will also have a unique apprenticeship program to facilitate career development among aspiring guides.
Learn more about the All In Ice Fest here.
Ouray Ice Fest | January 20-23
Every year since 1996, hordes of ice climbers have descended upon Colorado's Uncompahgre River Gorge for the annual Ouray Ice Fest. Well, every year except 2021: Amid the Covid-19 pandemic, the park was forced to take its 26th annual festival virtual. 
But this year, festival goers can expect business as usual, albeit with perhaps a few less indoor events. Right now, there are no mandated Covid protocols for outdoor gatherings, though Ice Park Executive Director Peter O'Neil says he will remain in constant communication with the county health department on that front. As of now, the vendor village, booth games, absurdly affordable rentals, clinics, and film screenings should feel comfortingly familiar to past attendees. The fest's centerpiece Elite Mixed Climbing Competition will also take place; competitor applications should open this month.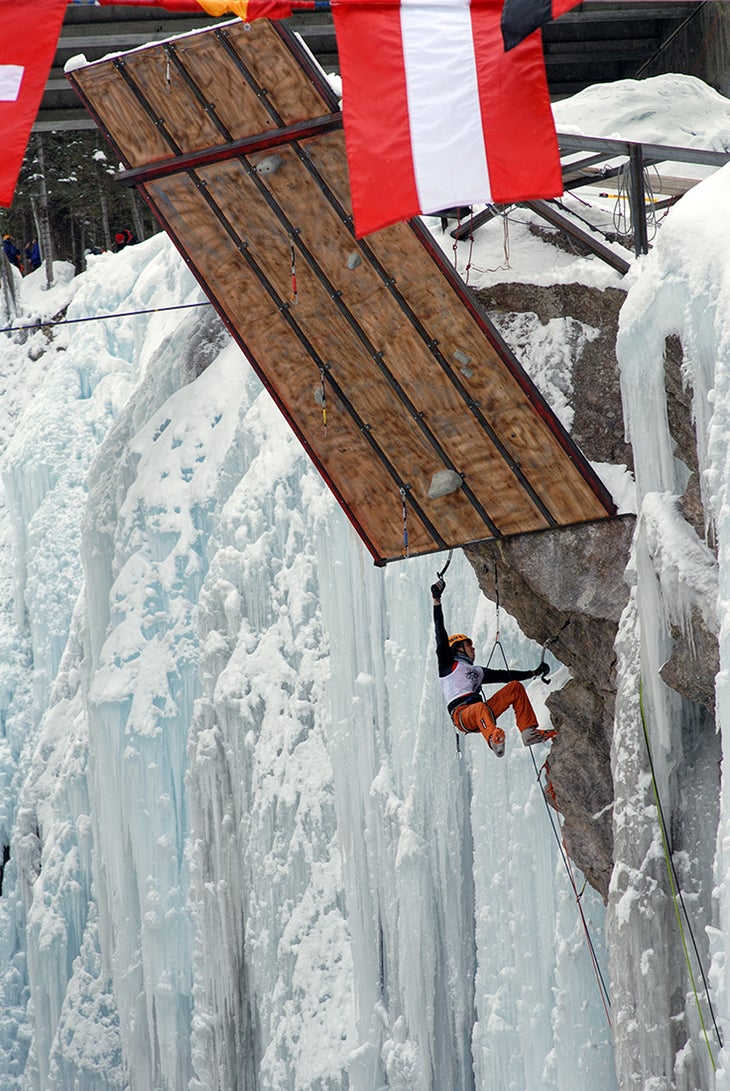 "We're expecting it to be very busy, very exciting," O'Neil says, noting that the park is prepared for thousands of visitors as it has seen in years past. "We are expecting to come back to the ice fest we know and love."
Learn more about the 2022 Ouray Ice Fest here.
UIAA North American Championships | February 4-5
Building on last year's mixed-climbing competition, which turned out to be the park's biggest yet with livestream views topping 300,000, the Ouray Ice Park will play host to an even bigger event this year: the North American Ice Climbing Championships.
Sanctioned by the UIAA, the international governing body for ice climbing competitions, the North American Championships will be the highest caliber event the ice park has ever hosted. Park officials expect to draw athletes from across the U.S. and Canada and beyond—it's not uncommon for athletes from Europe and Asia to come to these events to gain competition experience ahead of the Ice Climbing World Cup season.
"I think Ouray—the Ice Park and the town and the community in general—is interested in being a bigger part of the competitive mixed climbing scene and the growth of the sport," says Lance Sullins, the Ouray Ice Park's competition director. Hosting a North American Championship helps put the town on the map in a new way.
Spectators can expect dynamic route setting, swinging obstacles, and gymnastic movement from some of the best athletes in the world. For a taste, check out the livestream of last year's competition here.