Heading out the door? Read this article on the new Outside+ app available now on iOS devices for members! Download the app.
Photo by Chris Turiano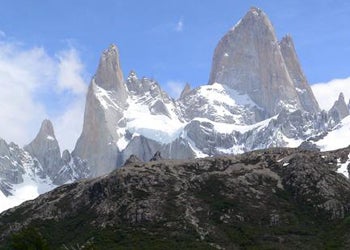 A new route and a couple of superb repeats have been accomplished in Patagonia in the past few weeks. Alexander Huber and Stephan Siegrist climbed a 25-pitch new route up the south face of Aguja Desmochada, reaching the summit at 10 a.m. after a single bivy 800 feet below the top. The new line, Golden Eagle, went almost completely free at 5.11+; they aided only one 15-foot stretch.
On Fitz Roy, the South American team of Edemilson Padilha (Brazil), Valdesir Machado (Brazil) and Gabriel Otero (Argentina) made the second ascent of the Afanasieff Route, a 5,500-foot line up the mountain's northwest ridge, first climbed by a French team in 1979. The trio climbed the route in 36 hours in pure alpine style.
Finally, in the Torres del Paine, the Belgian team of Nicolas and Olivier Favresse, Séan Villanueva and Micke Lecomte repeated the 36-pitch Riders on the Storm on the east face of the Central Tower in an 11-day climb, without returning to the ground. This 4,200-foot route was pioneered over a month and a half in 1990-91 by Wolfgang Güllich, Kurt Albert, Bernd Arnold, Norbert Bätz and Peter Dittrich, with difficulties up to 5.12d A3. The Belgians used aid only on a couple of icy pitches high on the route. The team is now climbing in the Fitz Roy group.
For photos from Paine route, visit http://albums.photo.epson.com/j/AlbumIndex?u=4362503&a=32061098&f=.Comment on this story