PeeWee Repeats Desperate 5.14 Vedauwoo Crack
Heading out the door? Read this article on the new Outside+ app available now on iOS devices for members! Download the app.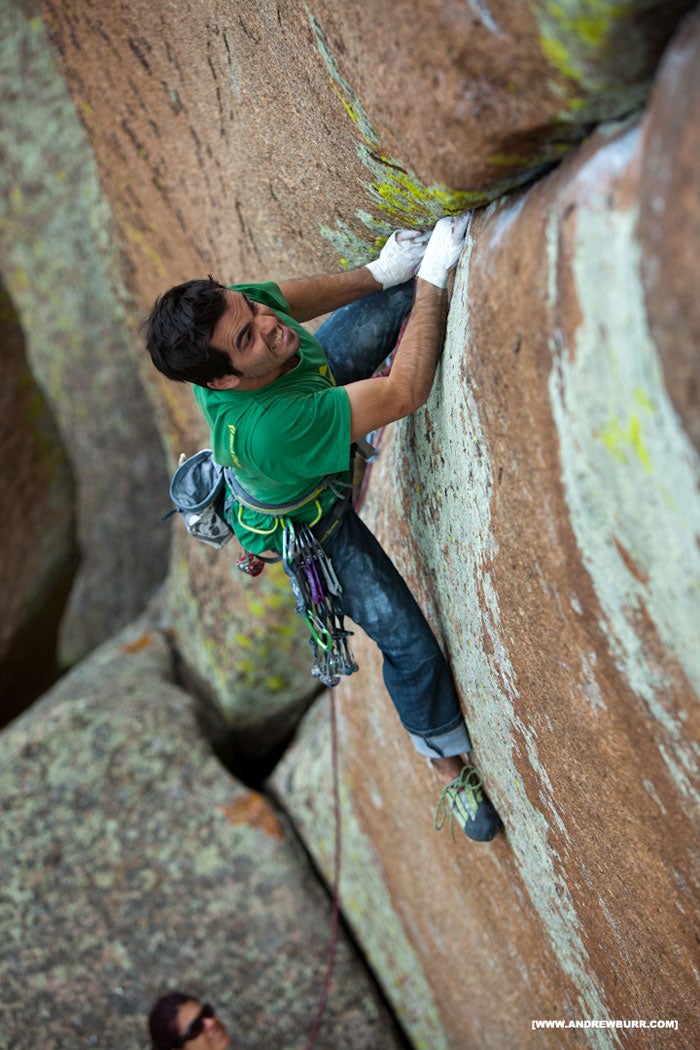 7/27/11 – J.P. Ouellet (aka PeeWee) has made the second ascent of a desperate 5.14 crack in Vedauwoo, Wyoming: Home on the Range. Laramie native Justin Edl established this 50-foot, right-slanting crack in August 2009.
To warm up and train for Home, PeeWee climbed The Vedajuicer (V10), a flared roof crack, also FA'ed by Edl, and Desperata and Psychoshop (V7, both first try).
Here's PeeWee's report from Vedauwoo:
"Although HTR is only 50 feet long, this little bastard is very hard. It is slightly overhanging, and it aggressively leans right at a 45-degree angle. And it is as flared as the Vedauwoo cracks gets… For this kind of crack, I use a weird sloper-hand-finger-jam combo. It works really well until your foot slips or you grease out of the crack. It's an interesting crack skill to develop, but it can be frustrating, as it doesn't take much to just slip out of the crack… You need a good breeze to make the flarey/sloppy/fingery james hold."
PeeWee had trouble on hot and humid days, getting frustrated with the bad conditions. He took about 20 attempts over two weeks and used two different Five Ten shoes on the send: Supermocc on the left foot, Anasazi Verde on the right.
Regarding the thought that Home is one of the hardest trad lines in America, PeeWee said, "Home on the Range is really hard to rate because it is so short. The crux is comparable to a V9 crack, but it's pretty easy before and after the crux. When I compare HTR to other hard cracks I've been on, the grade that comes to mind is 5.13+. It's harder than Fiddler on the Roof, Learning to Fly, From Switzerland, Deadline, Sphinx Crack, No Way Jose, and Master Blaster, BUT easier than Stingray, La Zebree, Cobra Crack, Conception, Bushido, and Orangutan Overhang. No matter how hard it is, it's a pretty cool line!"
Source: blackdiamondequipment.com
Date of ascent: July 2011