Petzl HERAbiner Hits 10,000-unit Mark
Heading out the door? Read this article on the new Outside+ app available now on iOS devices for members! Download the app.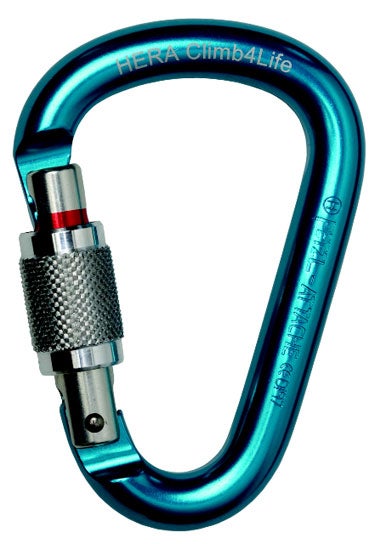 Donation from sales benefit HERA Women's Cancer Foundation
CARBONDALE, COLO. (March 12, 2009) Petzl USA announced that sales of its anodized teal blue Attaché HERAbiner recently reached the 10,000-unit mark. The manual screw-lock lightweight carabiner that's etched in white with HERA Climb4Life features Petzl's Keylock System that allows for snag free body / gate interface. Introduced in May 2007 as a part of the HERA Partners in Action (PIA) program, Petzl donates $1 from each sale to the HERA Women's Cancer Foundation, an ovarian cancer non-profit. The HERAbiner retails at $13.95 and can be found at select Petzl dealers. (Visit www.herafoundation.org for details.) "Sales of the HERAbiner continue to pick up momentum," says John Evans, marketing director for Petzl, who created the HERAbiner program. "The fact that we've raised $10,000, one dollar at a time, is testament to the power of community. HERA has always understood that power and has effectively harnessed it in their fight against ovarian cancer. "For many consumers, given the current economic challenges it may not be possible to write a check to support a good cause," says Lisa Carmichael, interim executive director of the HERA Foundation. "With the Partners in Action program, we're giving them an opportunity to give-back and to raise awareness while they're pursuing their passion." Petzl has supported the HERA Foundation as a sponsor of the Climb4Life event series since its inception in 2002. In 2007, Petzl USA received the HERA Power of One Award for its support of the organization after the debut of the HERAbiner. According to the National Cancer Institute (NCI), ovarian cancer occurs in one in 72 women. Currently, there is no reliable method of early detection, such as the mammogram for breast cancer. Funding scientific research is therefore vital in decreasing the number of lives lost. The NCI reports that 67 percent of cases are diagnosed after the cancer has already metastasized, when the five-year survival rate is only 30.6 percent. For more information on the HERA Foundation, please visit www.herafoundation.org.About HERA Partners in ActionThe HERA Partners in Action program enables companies to "give back" a portion of sales from a product or group of products to the HERA Women's Cancer Foundation. Designated Partners in Action products include hangtags that educate consumers about ovarian cancer facts and symptoms. Partners include: Bronwen, BlueWater Ropes, Etch, Evolv, Friksn, Fox River, MadRock, Omega Pacific, Petzl, Seattle Manufacturing Company and Women's Adventure Magazine. Awareness Partners include Mountain Gear, Sterling Ropes and Stonewear. For more information contact Stephanie Forte at Forte Creative Media, 702.898.2547. About the HERA FoundationThe HERA Foundation is a registered 501 (c) 3, whose mission is to stop the loss of mothers, daughters, wives, sisters, partners and girlfriends from ovarian cancer by empowering women to take control of their health, empowering the medical community to find new directions in ovarian cancer research and empowering communities to provide support. For more information, visit www.herafoundation.org.About PetzlPetzl America is the U.S. division of Petzl, headquartered in France. Petzl America, based in Clearfield, Utah, has been recognized by Outside Magazine's Best Places to Work 2008. For over 50 years, Petzl has been developing innovative tools and techniques used by those entering the vertical world. Today, the Petzl brand is closely associated with adventure, exploration, rescue, and many notable exploits in the worlds of rock climbing and alpinism. Petzl climbing hardware and headlamps can be found in outdoor specialty shops and premium sporting goods retailers around the world. For more information, log on to www.petzl.com.