PETZL ROC TRIP AND RRGCC ROCKTOBERFEST BRING IN OVER $30,000 TO PRESERVE RECREATIONAL ACCESS
Heading out the door? Read this article on the new Outside+ app available now on iOS devices for members! Download the app.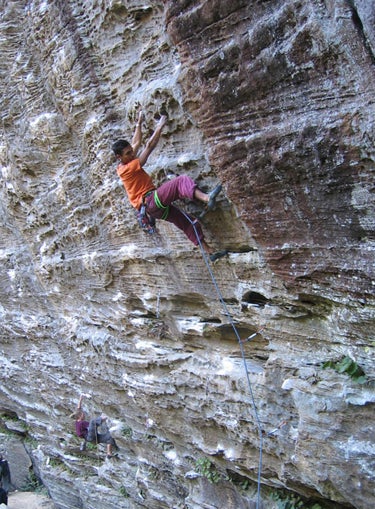 In 2004, climbers and advocates of the RRGCC purchased the Pendergrass-Murray Recreational Preserve, a 750-acre plot of undeveloped land now being sustainably developed for climbing, hiking, mountain-biking, and human-powered recreational access. From October 12th to14th, 2007, an international crowd of nearly 1,000 climbers gathered for a weekend of clinics, competitions, and celebration, while raising awareness and funds that will cover the RRGCC's annual mortgage payment to protect the Pendergrass-Murray Preserve. Without funding for the $29,000 annual mortgage payments due through year 2013, the Preserve faces potential acquisition by interested oil developers, which would shut down climbing on the land.
"This year's Petzl RocTrip showed what can be done when a company with heart and soul gets behind something it believes in," said Robb Shurr, Director of Marketing and Business Development for the Access Fund, a national non-profit organization dedicated to keeping climbing areas open and preserving the climbing environment. "Having places to climb is fundamental to Petzl's business, but they took it one step further and got behind a local access issue with national importance and really pushed for success. It's exactly this sort of involvement, vision, and stewardship that will keep climbing and recreational areas preserved and viable for the future. The Access Fund has always been proud to have Petzl as one of its biggest and longest standing partners—we're especially proud after seeing the success of this year's RocTrip."
"We owe the success of this event to the local community – the volunteers, the RRGCC Board, area businesses, and the one thousand plus people who came out and put dollars down in support of the Pendergrass-Murray Preserve," said John Evans, Marketing Director for Petzl America. "I highly recommend other outdoor companies include this outstanding grass-roots event in their outreach programs for 2008. I guarantee Petzl will be back to support this great cause."
Liv Sansoz, Lev Pinter and Martina Cufar side-by-side on the Undertow Wall.Photo by Luke Laeser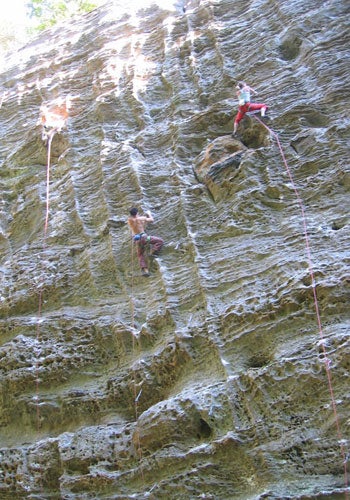 The success of Petzl RocTrip/Rocktoberfest 2007 was supported by The Access Fund, Avery Brewing Company, Five Ten, Keen, the climber-friendly Miguel's Pizza, La Sportiva, Prana, Red Bull, Red River Gorge Cabin Rentals, Red River Outdoors, Rock and Ice Magazine, Sterling Ropes, and The Warrior's Way/Desiderata Institute.
Petzl Roc Trip, now in its sixth year, has proven successful in bringing the international climbing community together in celebration of the sport, from New York's Shawangunks and British Columbia's Squamish to Kalymnos, Greece, and Millau in the south of France. Open to climbers of all ability levels, the 2007 Petzl Roc Trip / Rocktoberfest engaged climbers in a festival of competitions, clinics, and celebration of the sport while raising funding and awareness for access issues locally and nationally. This year's RocTrip was attended by over 35 world-class sponsored climbers.
About the RRGCCThe Red River Gorge Climbers' Coalition Incorporated (RRGCC) is a group of rock climbers who have come together to protect, promote and ensure responsible climbing at the Red River Gorge in Kentucky. The RRGCC is committed to preserving and, appreciating the natural environment in which we practice our sport, as well as education, support, and dedicated efforts with one another, non-climbers, and land managers alike. For more information about the RRGCC, visit www.rrgcc.org.
About PetzlPetzl America is the U.S. division of Petzl, headquartered in France. For over 50 years, Petzl has been developing innovative tools and techniques used by those entering the vertical world. Today, the Petzl brand is closely associated with adventure, exploration, rescue, and many notable exploits in the worlds of rock climbing and alpinism. Petzl climbing hardware and headlamps can be found in outdoor specialty shops and premium sporting goods retailers around the world. For more information, log on to www.petzl.com.